Sehwag Plays 100th Test Cricket Today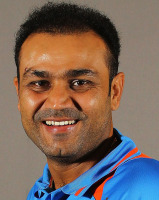 Virender Sehwag, a percussionist in the orchestra of cricket

This outstanding cricketer plays his 100th test cricket today. He is the 9th cricketer to earn this honour in India. Others are Sachin (191), Rahul Dravid (164), Laxman (134), Anil Kumble (132), Kapil Dev (131), Gavaskar (125), Dilip Vengsarkar (116) and Saurabh Ganguly (113).

An Arjun in modern cricket, the dashing batsman sees only the ball as the eye of the fish to strike. He rules the cricket ground as a king pushing the opponents to the boundary. Famous bowlers across the world accept defeats even before bowling a ball and wonder where shall be its trajectory. He treats the ball in no different way, be it T20, ODI or a test match. In hearts of hearts most of the rival captains must be wishing to have more than 11 fielders to stop the flow of runs from his bat! And what a relief when commits a mistake (that could have been avoided in 90% of the cases for normal batsmen!) to return to the pavilion. The spectators silently pray for him to play at least 50 odd balls to reach a century or demoralize the rival teams.

It is rumoured that Sachin Tendulkar's son told him, 'Father, why are you struggling in 90s, instead of taking singles and twos why can't you hit a four or six like Sehwag uncle to complete the century?'

This shows how Sehwag has caught the imagination of everyone. Sehwag's strike rate is more than 82, highest among batsmen with 6000 or more runs. That is a great honour to this lion-hearted cricketer. He is a clever slow bowler, too. In the orchestra of cricket, Sehwag is verily a percussionist. He has scored 22 test centuries and is the only batsman to hit two triple centuries in test (and narrowly missed the third one by just six runs) and one double century in ODIs.

On behalf of all cricket lovers across the world we wish Sehwag to play many more innings for the glory of the game and honour of our country and entertain all of us.

23-Nov-2012
More by : Dr. Kumarendra Mallick
---