I and my friend Arnab decided to spend three days in the lap of Himalayan nature free from urban commotion. As such, we set out by Howrah-Dubrugarh express on 14th November, 2012 (day after Diwali). As we neared New Jalpaiguri the next morning, the Kanchendzonga peak was clearly visible from the train and that freshened our spirit.

Reaching New Jalpaiguri, we went to Siliguri bus-stop (7 km) by auto and booked a sumo for Rs.1400/- to reach us to Kalimpong, a distance of 68 km. Then I requested Lalu, the driver, to take us to 'Bish-mile' ('20 miles' – such is the name of stops on mountain roads). He agreed for an extra of Rs. 500. By then I had already phoned Mr. Dilip Tamang, our host at Sillery village, who said he would be sending a sumo to pick us up from the juncture of Kalimpong-Algarah-Pedong road and Sillery road.

3 km before Pedong, ½ km ahead of 'Bish-mile' along the Kalimpong-Algarah-Pedong road, a rocky off-shoot road takes a sharp elevation through a lush green forest. A trek of only 4.5 km takes one to Sillery Gaon (village), a still lesser known though fast-becoming-popular serene destination – that the locals adoringly call New-Darjeeling. This road is motorable, however, one keen on avoiding a motor/jeep ride that resembles more a galloping horse-ride better trek to enjoy the oft-dense forest and company of birds.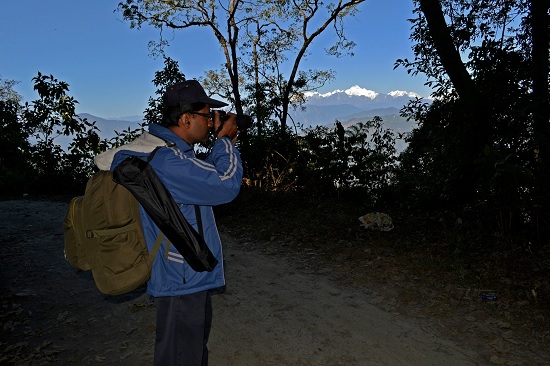 The jungle trek to Sillery with Kanchendzonga playing hide-n-seek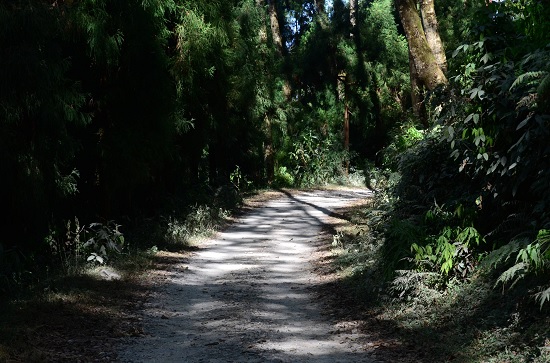 Jungle path to Sillery
As we reached Sillery after that tremendous car-ride, Dilip Tamang welcomed us with a grinning Namaste. We had to ascend some boulder-steps to reach Mr. Tamang's Nirmala Resort, a beautifully decorated Home-Stay in posh green colors.

Picture-3: Dilip Tamang's Nirmala Resort
The sky was clear still though it was 2 pm, a rarity in Himalayan tourist 'seasons' but not in this time of the year. Soon we got busy with our cameras.

We took a stroll in the village and had a most rewarding experience among cheerful people. That day was "Tika" – a festival in this area, in which people apply Tika on each other's forehead, wear garlands, and sing and dance. The Tika festival is akin to the "Bhaifota" festival of Bengalis celebrated on the same day. What we missed at home being here, we got here. The villagers accepted us in their songs and dances.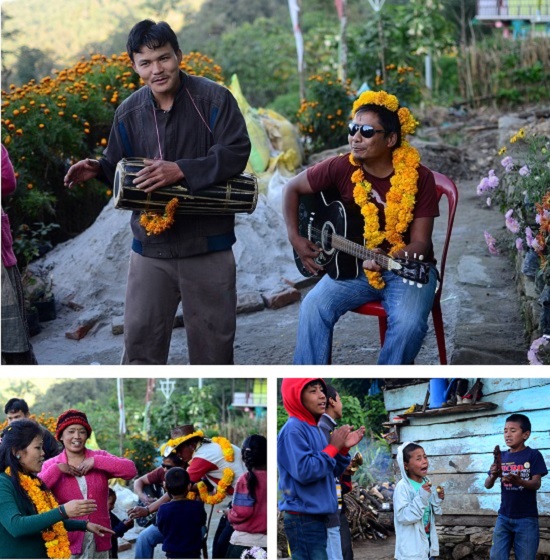 Villagers celebrating "Tika"
There is another part of the festival. Young villagers in groups visit houses singing/chanting the name of God, and the owner of the house then serve them fruits and some money. There is a similar festival in rural Bengal known as "Ghentu-Puuja."
We returned to Nirmala Resort in the evening after watching a spectacular sun-set from the forest just below a school at the bottom of the village. Dilip Tamang made the happy announcement of serving us chicken curry in dinner.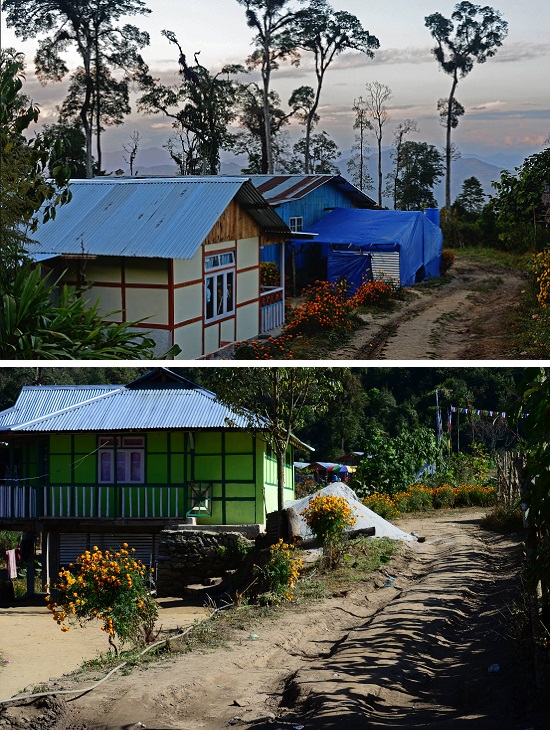 Sillery village path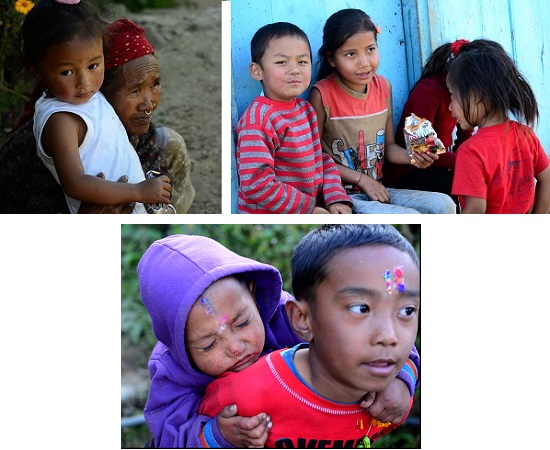 The Village Folks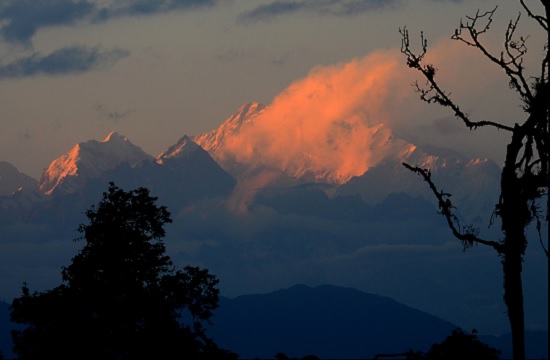 Sunset on Kanchanjangha
"Sillery" derives its name from a plant that grows in abundance in the region. This area is also well-known for its Cinchona Plantation that the British introduced in this region as a source of Quinine for treatment of Malaria.

This village houses around 30 families. Felling of trees and basic agriculture was once a way of life of the villagers, but eco-tourism is the new found alternative source of livelihood that runs parallel and would perhaps overwhelm the traditional one in near future.
Eco-tourism is a collective brain-child of the villagers, and the result is Home stays in many a houses. There is no permanent electricity supply in the village, however, work is on and electric posts and wires have already been installed – that would no doubt provide comfort to villagers and tourists but the unimaginative placements of prosaic electric posts and the commotion of wires have heavily compromised the beauty of the village.

At present, the owners of Home-Stays ensure generators from 6 pm to 9.30 pm (extendable on request) other than providing candles and kerosene lamps at night. Tourists have no problem charging their mobile phones or camera batteries.

The main attraction of the village other than its pristine greenery is the open north with the towering Kanchendzonga and Macchli-Puchhare peaks and mountain ranges as far as the eye can stretch.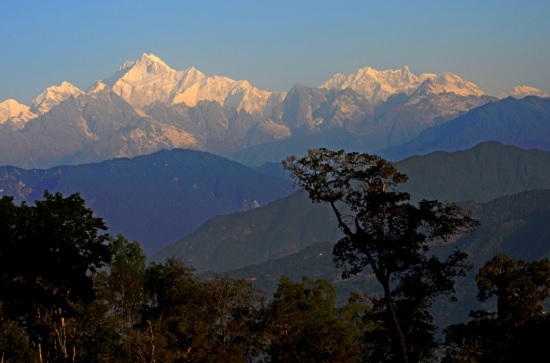 Kanchendzonga in morning


Waking call - Morning coffee
The location of the village is also very interesting. If one stands facing north, beneath the sloping village is Rishi river - the other side of which is Sikkim. To the left is Nepal, and beyond the Skim mountains is Tibet. Gangtok can be seen in front as also the international airport under construction. What a view it would be from this village when flights land there! One has to wait a little more for that. The airport project is scheduled to be completed in 2015.

One can undertake three interesting short treks from Sillery - Silence Valley, Damsang Fort, and Ramitey View Point – other than spending quality time in the lap of nature.

One can go to Ramitey view point by a 1.5 km trek from Sillery Gaon. The 'kacha' road is also motor able. The view point is undoubtedly one of the most vantage locations in this entire region to view both the Kanchendzonga above and the Teesta River below.

This view point offers the longest view of the meandering Teesta river through the valley with its 14 bends, and also the confluence of Rishi river and Teesta river, other than the panoramic view of Himalayan ranges with the crowning Kanchendzonga. The entire region from Teesta Bazar to Majhitar is visible from here on a clear day.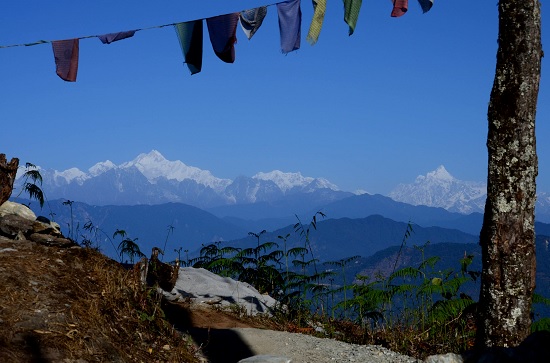 Kanchendzonga and ranges from Ramitey view point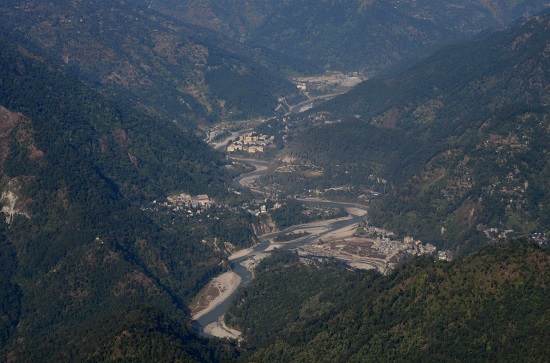 Meandering Teesta river from Ramitey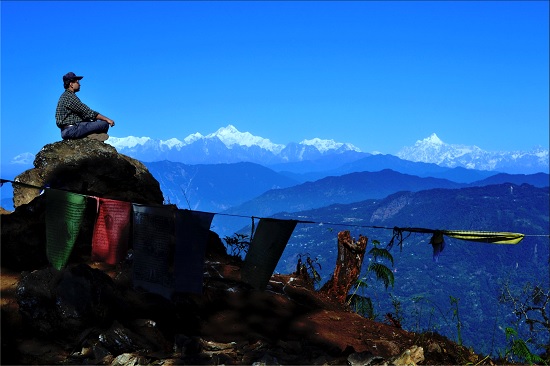 On top of mountains; Ramitey view point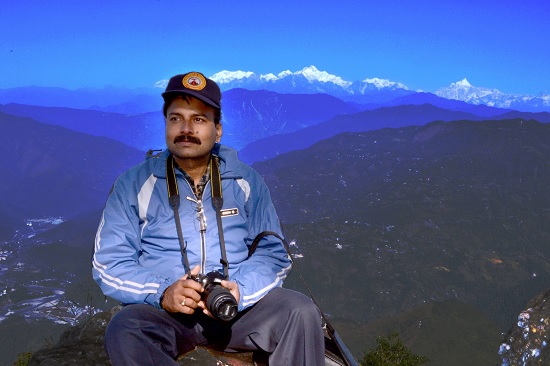 Author on Ramitey top (photo by Arnab Mukherjee)
The other place of interest from Sillery is Damsang Fort built in 1690. It was the last home of the Lepcha King- Gyabo Achuk. The Lepchas lost the fort to the Bhutanese and then it finally passed to the British after the Anglo-Bhutan War of 1864.

Nothing much remains of Damsang Fort today. The inevitable course of history and further the earthquake of Sep, 2012 have left only simple remnants.

The place would interest one more for bird watching. A little beyond the Damsang Fort is the Hanuman Top with a sculpture of Hanuman. A nice bird's eye view of Kalimpong and its adjoining areas is a sure refreshment.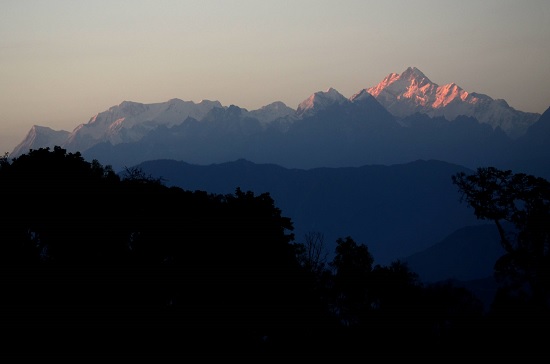 Kanchendzonga at sunset, Sillery village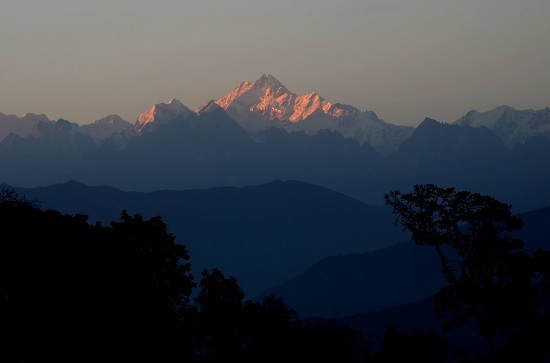 Kanchendzonga at sunset, Sillery village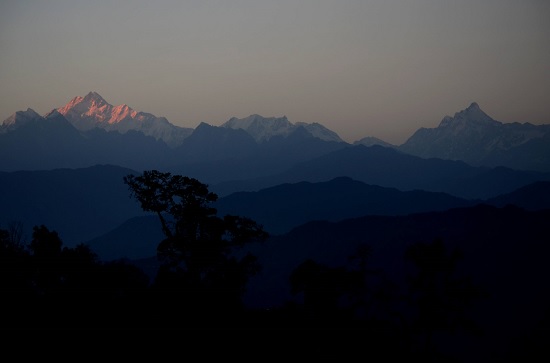 Kanchendzonga and Machhlipuchhare at sunset, Sillery village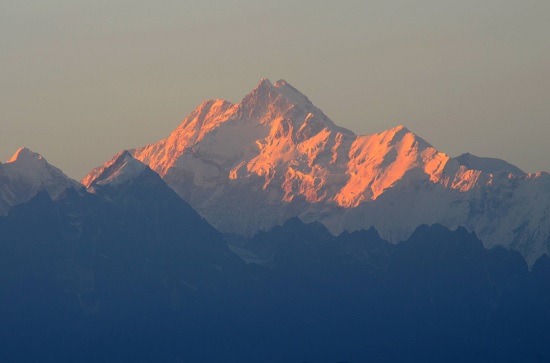 Good bye Kanchendzonga, for now.

"I Will be Back."

Some useful information:
One can visit Sillery throughout the year except monsoon months
It is very cold there during winter months; so, carry adequate warm clothes if you intend to visit in winter
Be prepared for leech-kisses in the forest even in dry months
You may directly contact Mr. Dilip Tamang (ph no. 9635005318), or any other resort from websites or traveling agents (contact numbers are available on net). The rate per head per day (24 hours – including breakfast, snacks, lunch, evening tea, snacks, dinner, and night-stay) is anywhere from Rs. 500/- to Rs. 800 depending on season etc. If you contact directly, bargain is yours.