Julia Dutta's "Until Death Do Us Part"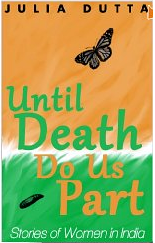 It is a book on a bold subject that deals with female sexuality. Unapologetic, Julia Dutta fearlessly traverses the murky waters hiding within its womb many situations that are kept under wraps for fear of social ostracizing. She writes without inhibitions exploring various relationships which are normally talked about only in hushed tones. Protagonists in most her stories push the boundaries till they break free.

A few stories deal with sexual encounters between adults and children and the coping mechanism they devise to overcome their guilt besides the usual reaction of Indian adult psyche to push every unpleasant situation under the carpet. In few stories people accept what should not be accepted, and in others the characters fight tooth and nail to be accepted socially.

The author has not minced words. Her expressions draw you straightaway into the intricacies of relationships and their eventual outcome. The book is a bold attempt to lay bare passions with impassioned clarity. The wisdom gained through years shine through in later stories, the last one dealing with meditation and vipassna.
It is a well edited book. I loved the language and flow of stories. They draw you instantly into their woven web. Do read it.
You can buy the book from Amazon.
Please note:
The Kindle for PC reader program is a legitimate application offered by Amazon. It's OK for people to use it to download and read books offered under the KDP free promotion program.

You can download Kindle for PC by going to Google search and writing: Free Kindle download for PC. Then wait for the next free Kindle download of the book which will be announce by Julia Dutta on her blog

01-Dec-2012
More by : Dr. Madhvi Karol
---