Ricky Ponting retires...
A great cricketing career spanning over 17 long illustrious years comes to a close. He leaves behind him a blazing trail and a great legacy in modern cricket. It looks as if Wordsworth, Keats and Shelly have packed their pens and ink pots, or Renoir, Picasso and Degas have locked up their studios or singers like Kishore Kumar, Lata Mangeshkar and Bismila Khan have suddenly stopped singing!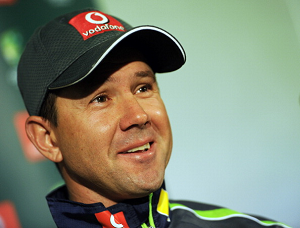 An outstanding cricketer Ricky Ponting, former Aussies captain, bids adieu to test cricket at Perth where he had started his cricketing career in 1995 against Sri Lanka. He played his last match, 168th test, against South Africa. Many cricketers have played during these two decades, but Ricky has made cricketing history not only by amassing 13,378 runs in 168 tests with 41 test centuries and 13,704 runs in 375 ODIs with 30 centuries, second only to Sachin Tendulkar, but by his imagination and positive approach to make Australia, the number one nation in the world. A cheetah to stride those 22 yards, Ricky had magic in his hand. Accurate fielding, great shots all around the field and leading the team with aggression and vision made Ricky a fairy-tale cricketer. He was the most successful captain in modern cricket.

It was befitting that the South African cricketers gave a guard of honour to this dream player as he entered the ground to bat. It was indeed an emotional moment not only for Ricky but for millions across the world who have enjoyed the game of this magician. The world salutes him, and wishes fondly for him to be a great role model for future generations! I wish his post-retirement life be equally enjoyable, happy and healthy.
03-Dec-2012
More by : Dr. Kumarendra Mallick
---