Ethics of The Internet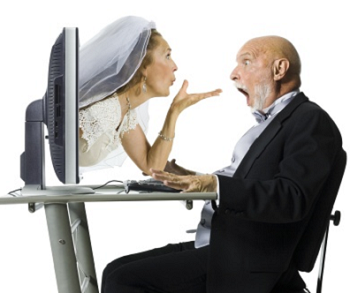 Ethics and the Internet is an issue that is now arousing debate. I was reading an article on such a dialectic in The Telegraph, Kolkata. It was an interesting article which pointed out the import of such an ethic, contexualizing it in the domain of freedom of expression. But that expression cannot be libertine, that is why countries are laying embargo on such forms of writing, that can create both individual and social fissures in societies.

An international meet is being organized in Dubai to debate on this central issue, the centrality is related to content, and not the internet, which means how do we sift quality? The writer contends, that there can be writing on the internet as good as that on print.

The larger question is, I think how we can weed out bad, indifferent or calumnious writing? People often take the opportunity to assail people personally, which is just not done. Some sites caution bloggers on this perspective. Some, maintain a (in)discreet silence! Social networking sites such as Twitter which is more micro blogging, and Facebook however have no control over bloggers, and, right from Ministers of countries to college students are blogging on them, some vociferously. Sites such as LinkedIn are more professional, in the sense that they focus on networking among professionals, and so they are more circumspect, and also because of that more boring! They have a vapidity about them and lack the bristle, brimstone and fire of the former.

Having said this I think it is necessary to examine the internet in its paradigms. The first is FOSS (Free & Open Source Software). This can be of great use to teachers, students, and professionals, as it enables anyone to download material free of cost, from journals, websites and magazines. The journals can be science or social science or literary journals. Professionals, teachers and students must make the most of FOSS.

The second is creativity. There are journals, websites, e zines, even blogs which promote very good creative writing, aesthetics, photographs and painting. Such creative sites exist also for children. This is a concomitant to the creative, and learning process where you not only contribute, but read the contributions of others, and gain immensely from them.

The third is existence of academic or research journals as diverse as the sciences and the arts and social sciences, education, distance education etc.

Fourthly many print magazines and journals, allow prospective contributors to submit online, thereby saving time and postage expenditure.

Fifthly writing on the internet is more immediate, saves time, and acknowledgements come quicker. This saves time and costs.

What, however is embedded in the above points is the question of quality and editing, which are the sites that provide quality writing, as opposed to those promoting indifferent writing. Blogging has become a catchword, everyone seems to be a blogging on his or her own site. But blogging creates true meaning and impacts people on sites which have a global impact. For example two Indian sites Sulekha, and Boloji promote good writing. These can be profitably used to submit good quality stuff, which can be read worldwide.

Again, citizen journalism is becoming popular because of the www, that is the world wide web. It is also becoming very popular in India because of sites such as: www.merinews.com Community portals in journalism enable people to take up local, national and global matters vigorously and independently. But here again, is the matter of not being heady and writing to damage reputation or hurt sentiments, of people and communities. Online activism is becoming very popular, if not a fad. Everyone in Facebook seems to advocate a cause. There are more causes than results, but campaigners such as the American: change.org have users like Archbishop Desmond Tutu advocating causes, such as the release of the Chinese Nobel Prize Winner, and trying to put clamps on tyrannical intersents and totalitarian hegemony. Libya and Egypt saw their insurrection against autocracy through the powerful medium of social networking sites.

But, the crux is how do we decide what is right or wrong in the context of free speech and democracy. In India the recent arrests of cartoonists and college students, have been done on the basis, that utterances or expressions can hurt feelings, or engender diviseness. The truth is, that truth hurts, and the internet creates effectively the kind of visibility, that print cannot.

Lastly I would like to point out the kind of academic interest the internet phenomenon, debate and matrixes, compositely called the www. has led to. Every year the IADIS ( International Association For Dissemination Of The Information Society) devotes an international conference only on the www, from pedagogy to technical virtuosities of computing, to even citizen journalism.

The internet cannot be branded unethical, what goes inside it is a double edged sword. We have to be careful, that's all.The internet is an ethical mass; we have to chose for expressions of creativity and education. That is the ethical 'challenge '.

08-Dec-2012
More by : Ananya S Guha
---