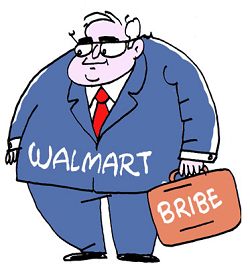 Discharging a legal requirement Walmart informed the US government that it had spent the equivalent of Rs. 125 crores to lobby in India for Foreign Direct Investment (FDI) in retail trade. The opposition parties were quick to smell a rat and accused Walmart of paying bribes. Lobbying is illegal in India but legal in America.

BJP MP Mr. Ravi Shankar Prasad said:
"Lobbying is illegal in India. Lobbying is a kind of bribe. If Walmart has said that hundreds of crores of rupees were spent in India, then it is a kind of bribe. Government should tell us who was given this bribe."
It is surprising that a distinguished lawyer like Mr. Prasad should have weakened a strong case by such sloppy articulation.

There is strong circumstantial evidence to suggest that actual bribes and not any "kind of bribe" may have exchanged hands.

But this does not flow from the simplistic reasons adduced by Mr. Prasad in making his charge.
While lobbying is illegal in India taking recourse to public relations (PR) is not. Lobbying expenses include PR costs. Expenses incurred through entertainment or education is not illegal. Thus parties thrown for journalists or trips organized for them and officials to visit commercial or industrial sites to better acquaint them with facts is not illegal even in India. But in the current controversy three aspects draw immediate and compelling attention.

First, 125 crores could not have been spent in either entertainment or in escorting officials to Walmart hubs. The sum of money spent is simply too large to justify such items of expenditure.
Secondly, the only serious hurdles in the way of approving FDI in retail came neither from media campaigns nor from bureaucratic opposition. The only hurdle was created by political parties who had to vote on the measure in parliament. Parties that voted for the measure, or abstained from voting, directly or indirectly helped FDI in retail to be passed in parliament. Or, the hurdle could have been created by the government itself before approving FDI in retail as policy.
Finally, it transpires that the lobbying for Walmart was undertaken by a firm, Patton Boggs, which was the very same firm that had lobbied for the Indian government in the US for the nuclear deal. It might be recalled that the Indo-US nuclear deal was tainted by allegations of bribes paid to politicians for getting it passed in parliament. Patton Boggs is an important firm with former US Ambassador to India Mr. Frank Wisner being its foreign affairs adviser. Needless to state its past record suggests the firm's close links and previous interaction with officials of the UPA government.
In the light of all these aspects it is legitimate for the nation to know the detailed breakdown of expenditure incurred by Walmart for lobbying in India. Parliament should compel the government to extract this information from Walmart. Its failure to comply could attract at some time in the future blacklisting by a government.