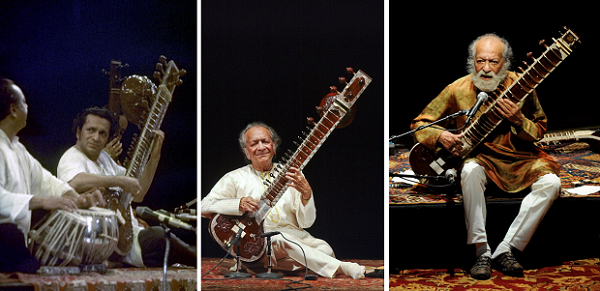 The period was of the years 1952-53. I was studying in the second year of B.A. in St. Stephen's College, Delhi. I was an ardent fan of north Indian classical music. An ageing Omkarnath Thakur and Bade Ghulam Ali were the main draws in music concerts those days.
Pandit Ravi Shankar was a rising sitar player. He was known as the younger brother of Uday Shankar, the great dancer who made a classical film on dance, Kalpana. Ravi Shankar was married to Annapoorna, daughter of the great Sarod player, Ustad Allaudin Khan. My classmate, Parshottam Jhingan, played the sitar and had full access to Ravi Shankar who lived in a ground floor apartment in Mandi House those days.
Almost every evening I would accompany Parshottam to Ravi Shankar's residence and hear him play the sitar while he practiced. His music was still evolving. Playing with his brother-in-law Ali Akbar Khan, another sarod maestro, and taught by Allaudin, Ravi Shankar was an unorthodox sitar player, heavily influenced by sarod playing techniques. I recall that Annapoorna's opinion on Ravi Shankar's music was always the last word that conditioned his approach. He introduced a deeper element of alaap and vilambat which was novel among sitar players those days. He gave a public performance in a duet with Vilayat Khan, widely acknowledged as a great sitar player. Vilayat Khan displayed great speed and dexterity as a traditional sitar player which overshadowed Ravi Shankar's somber music conditioned by his stints with sarod maestros. That performance was a setback to his reputation.
It was some time before he evolved his own inimitable style that swept the public to change the face of Indian classical music. Ravi Shankar was most gracious as he freely discussed music with us two college students. I would praise Omkarnath Thakur and he would refer to Faiyaz Khan whose rendering of alaap was his forte.

Listening to the radio those days I accidentally heard two singers from Lahore station. They were spectacular. Next day I mentioned them to Ravi Shankar and said that their sheer energy and virtuosity made them twice as effective as Bade Ghulam Ali. Ravi Shankar was intrigued. The singers were of course Salamat Ali and his brother Nazaqat Ali. Ravi Shankar used his influence and had the two invited to the annual Harballabh festival held in Jalandhar. Ravi Shankar introduced them to India. Subsequently they frequently performed to enthrall Delhi audiences.
The years passed. We parted. I never again met Pandit Ravi Shankar. My involvement with music concerts waned. Meanwhile from the media I learnt of Pandit Ravi Shankar's spectacular ascent in the world of music.

When we first visited him Indian classical music would arouse snickers from rich sophisticates. But after Yehudi Menuhin recognized Ravi Shankar's unique talent and hailed him the rich drawing rooms of Delhi sat up to take notice. Then the Beatles sought Pandit Ravi Shankar. That was the clincher for the rich and the fashionable. After conquering Albert Hall and Carnegie Hall, Pandit Ravi Shankar succeeded in winning over the drawing rooms of Jor Bagh and Golf Links in Delhi.
I never met him again. I lost touch with my dear friend Parshottam. In vain I tried to trace him but failed. The winds of change had blown us apart and scattered us like autumn leaves. The news of Pandit Ravi Shankar's passing away brought back a flood of memories.

Images (c) Gettyimages.com