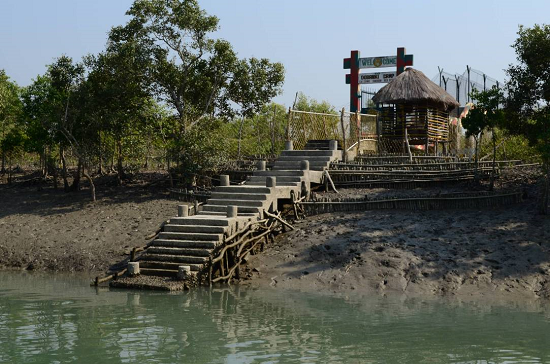 Sundarban covers an area of 2,585 sq. km in West Bengal and extends into Bangladesh. The name 'Sundarbans' means 'beautiful forests' and derives its name from the 'Sunderi' trees. It is designated as a World Heritage site, and is part of the Project Tiger preserving the natural habitat of about 300 Bengal tigers or more (340 tigers by a present estimate).

Other than the Royal Bengal Tigers, Sundarban is the natural habitat of leopards, spotted deer, monkeys, wild boar, large estuarine crocodiles, crabs, hundreds of species of marine wildlife, various kinds of birds and snakes. Sundarban also conserves the Ridley sea turtles.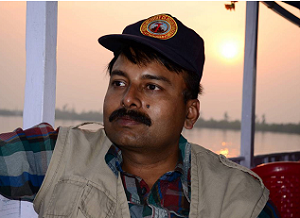 Our tour to Sundarban was arranged by Mr. Subir Chatterjee – Subir-da – a simple man with a large heart, who really loves the forests, and though conducts tours for business, is busier to share with others the joys of the forest even if that does not bring much to his pocket or spills rather than fills.

Our program was for 3 days 2 nights.

I and my friend Arnab reached Sealdah railway station from home by train, and then by train again reached Canning railway station. From there we rode 'maxi-taxi' (local conveyance), and after a brief refreshment at Subir-da's home near the junction of Gadkhali and Jharkhali road, reached Gadkhali Ghat, a distance of 23 km from Canning railway station.

Subir-da had organized the tour for a party of Kolkata, and he with the party would reach Gadkhali ghat from Kolkata by bus (approximately 112 kms from Kolkata), and I and Arnab were to meet them there – such was the arrangement.

Our Launch named Rajlakshmi had been waiting at Gadkhali ghat with snacks ready and lunch in preparation for us and the party to arrive. Since I reached early, I spent the time strolling around Gadkhali Ghat.
Our launch "Rajlakshmi" at Gadkhali Ghaat
Subir-da and the party arrived at 3 pm and soon our Launch-journey began. Our first night halt was to be at a hotel at Pakhirala, a village in the Gosaba Island, 2 hours relaxed boat-ride from Gadkhali.

Himanghsu Mondal, the helmsman or surreng, of village Sonagaon, is an ever-smiling man with soft voice. Chairs were arranged (usual practice) on the roof of the launch in rows, and I took my chair beside the surreng's cabin.

On the other side of Gadkhali is Gosaba. Our launch crossed the Matla River and reached the Gosaba ghat. Subir-da had some work there relating to the tour. After 15 minutes we started again.

Among the party were Wipro staffs from Salt Lake's Sector V. Some of them were real drunkards, and they started drinking no sooner the journey started. They created much chaos and commotion, shouting and yelling, using slang, and despite the surreng's polite warning, they continued.

Well, these sorts of people might have their own definition of forest trip, however, I consider them idiots, and these sorts are the real hazards to wild life. These idiots would have spoiled the pleasure of the tour had it not been for the exclusive beauty of the channels, the villages on the islands, and the trees on them. Fortunately, some of the Wipro staffs had their family with them, and some were sober and real nature lovers – so that they managed to maintain a façade of a very tentative balance. I gathered that the name of one of the drunkards was Mr. Alok something, some sort of 'boss' of some others, and he was a genius in drinking and using abusive languages. He had more talents up his sleeves to unfold for the next two days. It is regrettable that the law of our land has no provision to throw such-like into the water.

As we journeyed, the surroundings began to unfold the beauty of nature. The first river we entered after Gosaba was Durgaduyani, and then through Gumor River we reached Pakhirala.
Pakhirala
Our first night halt was at Pakhirala.
Before reaching Pakhirala, we saw a spectacular sunset from the launch.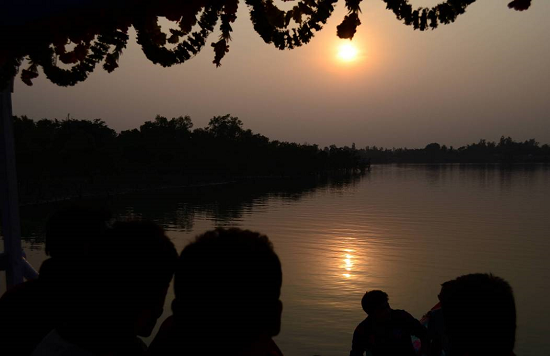 Sunset from launch roof
Reaching Pakhirala, I spent some time at the market near the jetty.

Subir-da had arranged a wonderful accommodation for us at Sundari hotel, a 100 m walk from the jetty. As we entered the hotel at about 5.30 pm, we were greeted with snacks and tea.

At Pakhirala hotel, we met Mr. Joseph Vairagi, a tall thin man of 48. He is now quite famous in that area after surviving tiger attack on 23rd October, 2012 (Navami of Durga Puja). What Mr. Vairagi narrated to me on request is really thrilling. The firsthand narrative of a tiger-attack survivor is also memorable to me being the first of such experience to me.

Mr. Vairagi, his son and some friends went to a jungle in Pakhirala. It was about 2 pm. A tiger had crossed the river from the other side (Sajnekhali) and had been lurking in a bush. It attacked Mr. Vairagi. When the tiger was about to bite his neck, he fought back, and caught its mouth and jaws with both hands. As the struggle was going on, Mr. Vairagi's son hit the tiger with a stick, and the tiger shifted its attention to him and attacked him. The other men who were with them initially fled when the tiger attacked Mr. Vairagi, but now they came back with sticks. Fortunately for them, the tiger lost courage and fled.

Mr. Vairagi was however, severely injured receiving deep trenched fang and nail scars on his palms and thighs. He had to be hospitalized, and after – what is called in Bengal "Yame-Manushe-Tanatani" (tug of war between the Yama, the God of death, and man), he survived to gain the status of wonder-man, to be visited by almost 30000 people (including journalists and all).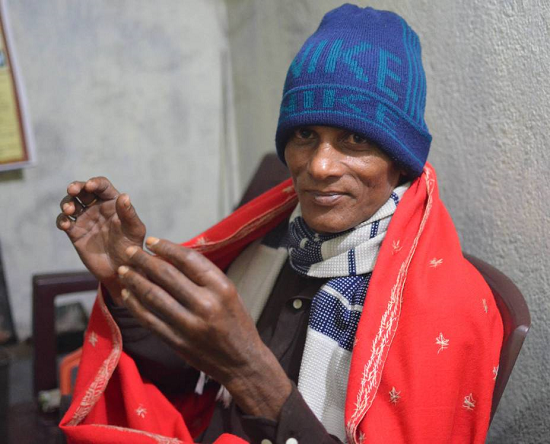 Mr. Joseph Vairagi narrating his tryst with destiny

Smells of tiger on Mr. Joseph Vairagi's palm
It was for Mr. Vairagi that I had a wonderful evening as the drunkards were busy with bottles and creating hullabaloo on the ground in front of their tents. The sober members and gentlemen and gentle ladies stayed away from them, but it is regrettable that they did not protest.

Next morning, I rose up at 5 am when it was still dark to capture the beauty of Pakhirala at sunrise. At 5.30 am I called the chaukidar to open the gate of the well fenced hotel premise when the early morning light was just waking up the misty village.

I was joined by Arnab, Nilu and Prerana (Subir-da's nieces), Rhitankar (9) (Subir-da's son) and Don (4) (Arnab's son). We walked along the path through the market, and then passed the Zila Parishad Bungalow to take our way along the solid mud "bandh" (raised muddy wall along the bank) that protects the sea-level village from being flooded.

Soon we were rewarded with a wonderful sunrise on the bank and lush green village.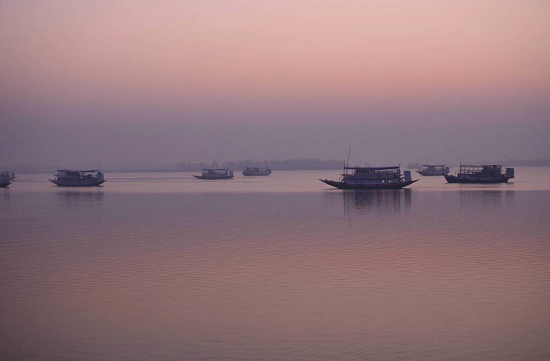 Morning at Pakhirala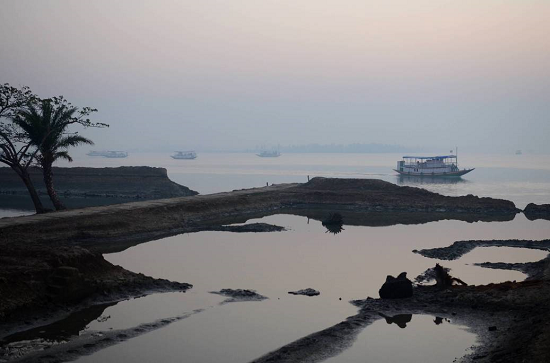 Morning at Pakhirala – from the "bandh"

Walking along the "bandh"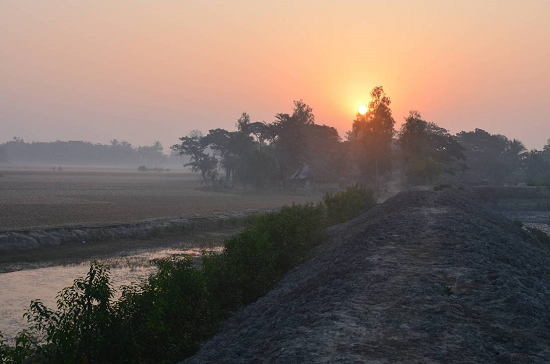 Sunrise at Pakhirala village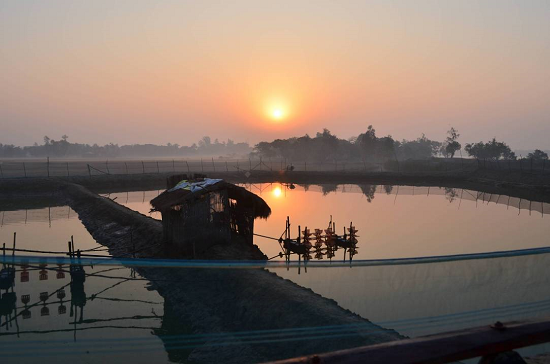 Sunrise at Pakhirala village "Bheri"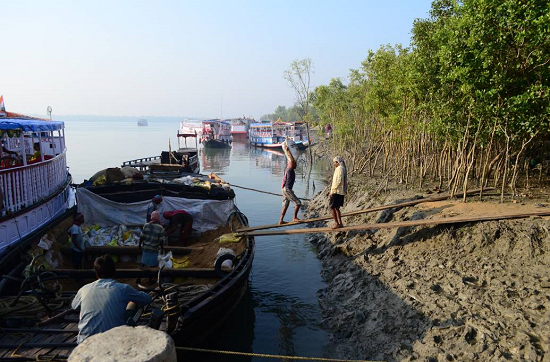 Daily life at Pakhirala jetty
We had to return at 8 am after a tea-break at a local tea-stall because our launch was to start at 8.30 am. I wanted to start early but that was not possible because our drunkard friends could not wake up early after an evening long bottle-revelry that spilled well into midnight earning the hotel authorities' wrath.

These idiots brought with them crackers and started burning them at night breaking the silence of the serene atmosphere and highlighting the uncanny silence of local administration regarding such nuisance.
Sajnekhali
Today – the second day – we would sail the whole day and stopping at three halts – Sajnekhali, Dobanki, and Sudhanyakhali.

Several launches started from Pakhirala ghat one by one.

Sajnekhali is on the other side of Pakhirala. Reaching there, Subir-da completed the entry formalities (we had earlier given to him Xeroxes of our identity cards).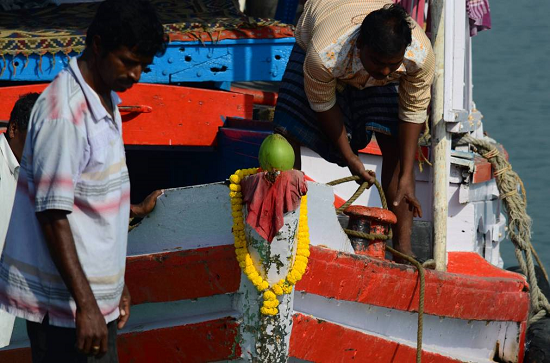 Anchoring at Sajnekhali.
Every Boatman worships the tip of the boat with coconut and garland.
It is painted with red, and placing foot there is a big NO.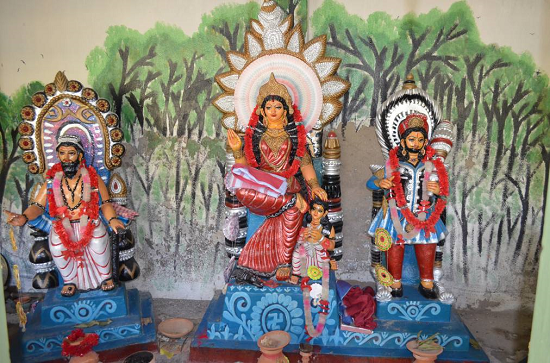 Goddess Banabibi (centre) at Sajnekhali
Passing the forest office, there is a pool surrounded by net. A distant crocodile drew much attention of the tourists. Two giant effigies of tigers on the grassland stood reminding us of the inevitable destiny of the most beautiful animal on earth – the Royal Bengal Tiger – unless we are really serious in protecting the environment.

Other than crocodile enclosures, there are shark ponds, turtle hatchery, an interesting Mangrove Interpretation Centre, and Sajnekhali Museum.

There is a Banabibi temple near the jetty. Banabibi is the local goddess of the region worshipped by villagers living in these forest areas. The fishermen and honey gatherers who have to enter the forest for livelihood mostly through "khanris" (narrow water channels through mangroves) need the blessings of Banabibi.

There are watch towers, but with so much commotion there was nothing to watch.

Many people think that tigers would parade before them like in fashion show, and I heard many a frustrated sighs when the tigers did not turn up for the fashion parade.

And then there are people who think they are conscious of the environment and take it as their duty to alert each other in high decibels of the necessity of maintaining silence!

Those who want to enjoy the beauty of Sajnekhali exclusively must stay there overnight for better chance of wild animal sighting early morning. The arrival of launches one by one is a sure spoil-sport.

Accommodation is available at Sajnekhali. The forest rest houses and forest lodges have to be booked in advance. The best time to visit is from September to May.

Sajnekhali sanctuary is essentially a bird watcher's paradise.
Dobanki
After Sajnekhali, our destination was Dobanki.

Destination Dobanki
Now began the most beautiful and rewarding part of the tour through the rivers and narrow creeks of the Sundarbans National Park, offering close view of the Mangrove forests on both sides, and deep inside the creeks of Sarak Khali.

We reached a water territory called Panchamukhi at 11.30 am – a confluence of five rivers – Icchamati, Durgaduyani, Gumor, Shukna, and Banabibidharani.

We saw a giant crocodile lying on the shore, a deer busy grazing, and a giant honeycomb in the forest from the launch.

Dobanki is rightly famous for its grand Canopy Walk Watch Tower. This Canopy Walk is more than a half kilometre long walkway, at a height of 20 feet from the ground, covered in grill and strong net in the form of a canopy for mutual protection of wildlife and men. The Canopy Walk takes one half kilometre deep into the forest - a very thrilling experience. The Watch Tower overlooks a sweet water pond frequented by spotted Deers, Tigers and Brahmini Kites.

Needless to say that except deer at distance, no wild animal thought it safe to visit the surroundings amidst mostly chaotic tourists.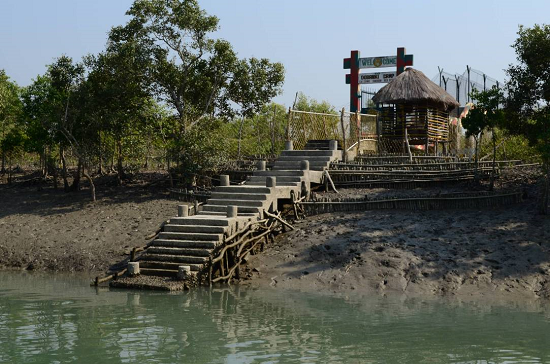 Dobanki entry gate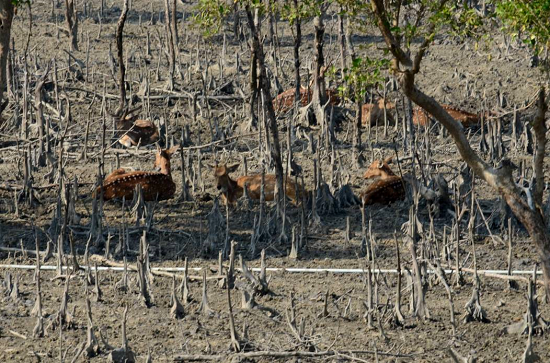 Deer at Dobanki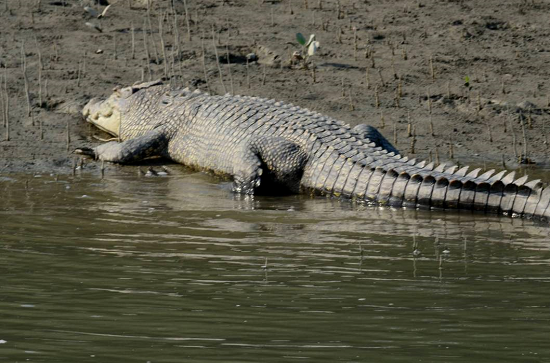 Crocodile on the bank – from launch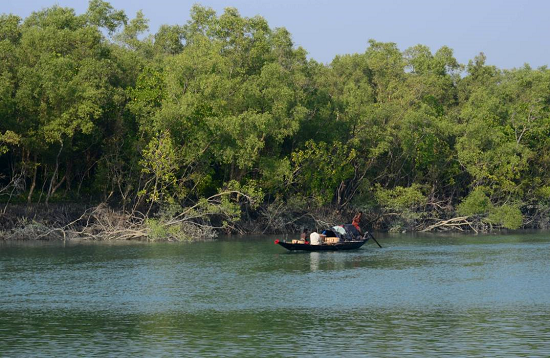 Fisherman's boat near the forest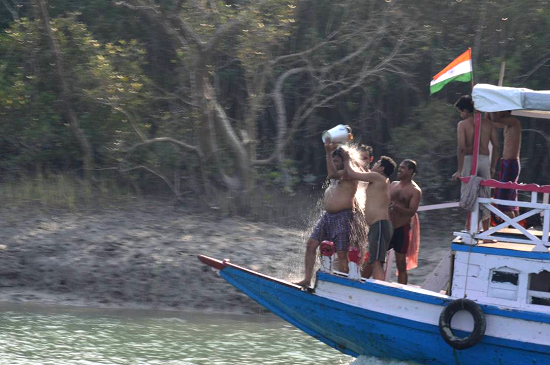 Joy-bath on a passing boat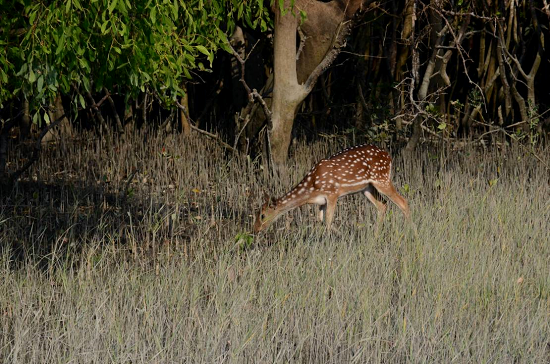 Deer grazing on forest shore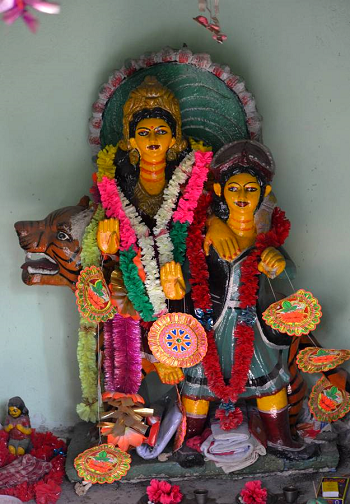 Banabibi at Dobanki
Sudhanyakhali
Our next destination in the afternoon was Sudhanyakhali.

Debarking from launch we saw a Banabibi temple after crossing the gate.

Banabibi at Sudhanyakhali
Here too is a nice watch tower and netted walk, other than a sweet water pond that attracts a lot of wild animals and offers one the chance to view them from close quarters. The watch tower has a capacity to host 25 persons at a time. Behind the pond are stretches of land bereft of any vegetation where chance of sighting animals is high.

We saw deer grazing peacefully, a giant salamander, and wild cocks.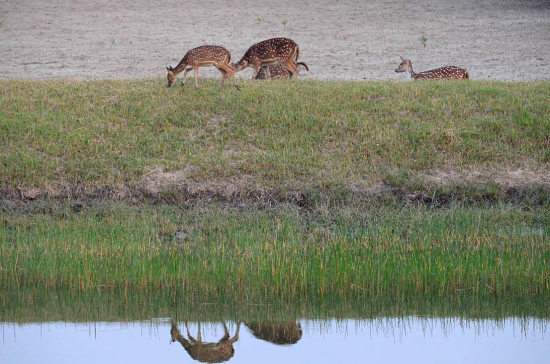 Deer grazing at Sudhanyakhali
We returned Pakhirala at about 5.30 pm after viewing a spectacular sunset on the water.
Returning Pakhirala
At evening we saw "Banabibi Pala" (a form of 'yatra'-drama of Bengal) organized by a local hotel.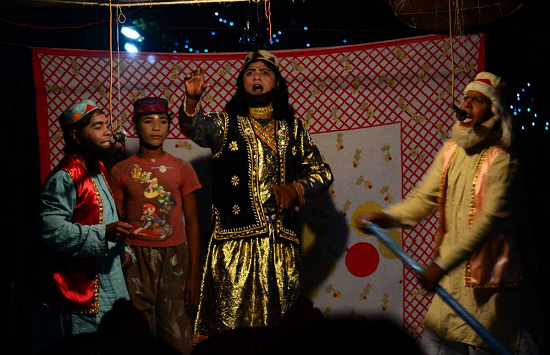 Banabibi Pala at a local hotel premise
Last Day
Today's morning was foggy. I, Arnab, Arnab's wife, and Nilu went out at 5.30 am and had the most rewarding experience of the beautiful village. Play of sunshine and fog – like human mood – that my companions will certainly remember - what else does one want?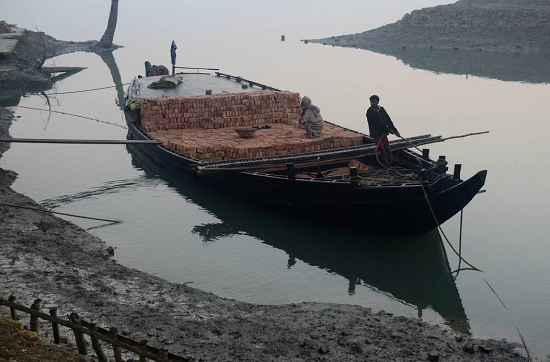 Struggle for livelihood begins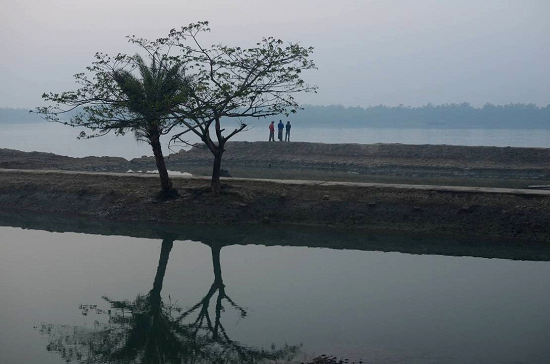 Morning mist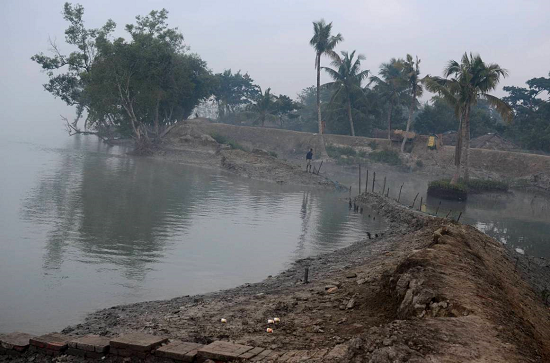 Pakhirala village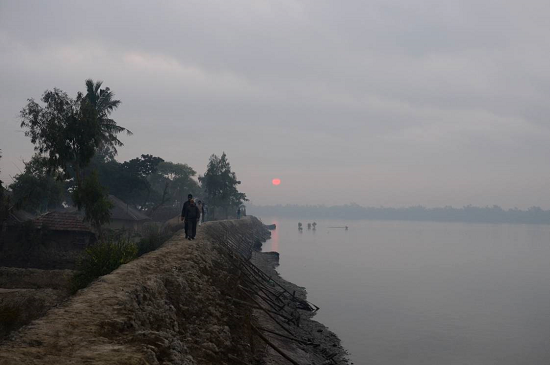 Sunrise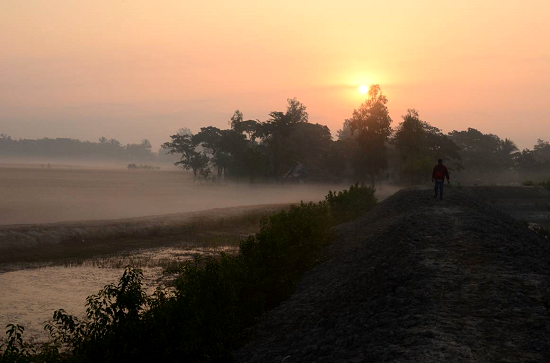 Sunrise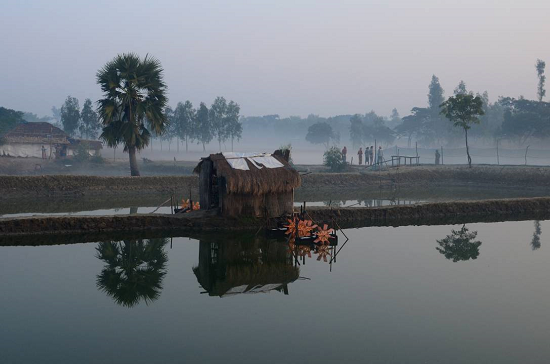 Pakhirala "bheri"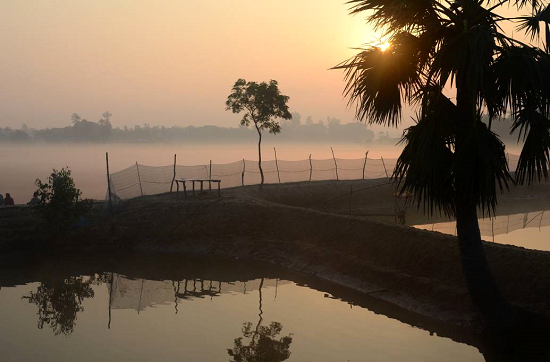 Stroll through the village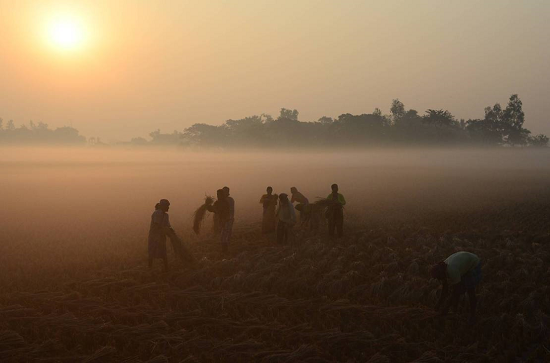 Farmers at work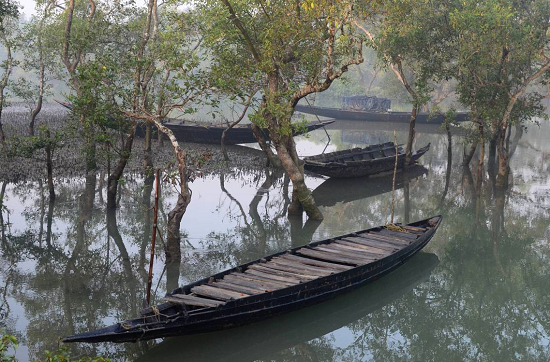 Boats in a "Khanri" (creek)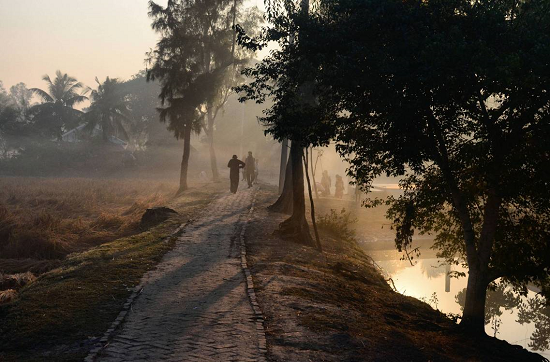 Stroll through Pakhirala village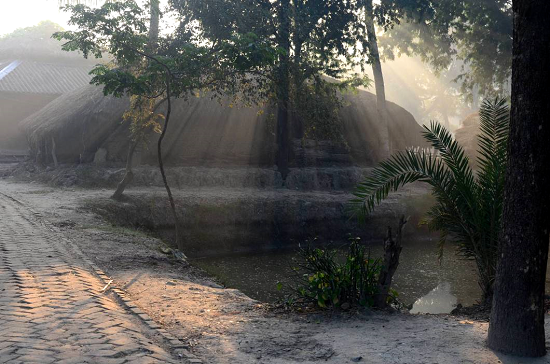 Ray-shower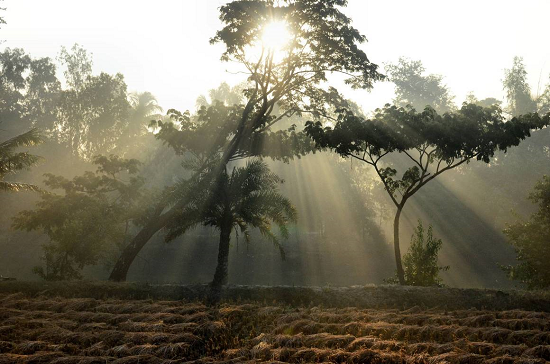 Ray-shower
Our launch started at 11 am and we reached Gadkhali at 1.30 pm.

As I said earlier, the tour was very enjoyable except the nuisance created by Mr. Alok and some Wipro staffs. This type of nuisance must be stopped at any cost, and cannot be tolerated by any right thinking person. Sundarban is not a place for burning crackers, and irresponsible drunken revelry. I seek the attention of Mr. Azim H. Premji, chairman of Wipro to this misconduct of some of his staffs that enraged even local people. I have heard of Mr. Azim H. Premji's contribution to environment awareness, and I think, if this message reaches him, he would certainly take action. My objections against Mr. Alok and some Wipro staffs are verifiable from Subir-da (ph no. 8274887500), Himangshu Mondal (surreng of the launch named Rajalakshmi), launch-staffs, hotel staffs and local people, and of course – me.

This time we could not visit another beautiful forest-island named Neti-dhopani because it is closed for tourists by court order.

As usual, after the tour, I have one thing in mind – "I Will Be Back."
How to Go: Some Information
Much information on Sundarban is already available on the net. One can plan the tour by oneself, by booking the West Bengal govt. conducted tour programmes, or by booking with private agents – like Subir-da (ph no. 8274887500).

The construction of Canning Bridge & Basanti Bridge has now made it easier to reach Gadkhali Ghaat via Canning.

The nearest airport is at Calcutta. Sunderbans from Calcutta by road is about 112 kms. The town of Canning is the nearest railhead, and one can reach there in one and half hour from Sealdah railway station.