Saffron Santa for 2014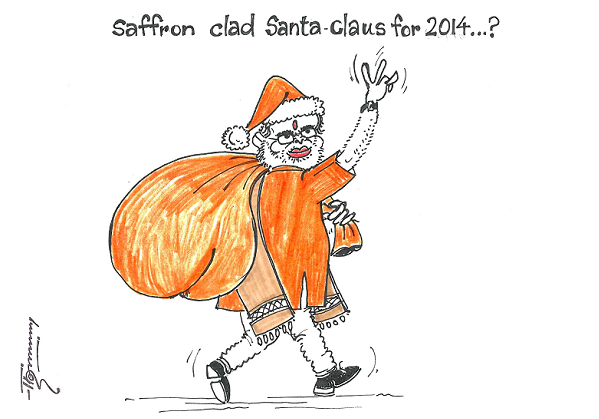 20-Dec-2012
More by : Dr. Thommy Kodenkandath
---
---
1) BJP needs few more Modi's to be party of majority
2) Modi is ambitious and has urge to be some body in future, that nature will see him to execute something that none of previous PM have done, so that his name remains in Indian history
3) India never gave any importance to a Gujarati statesman or politician or thinker - Mahatma Gandhi & Sardar Vallahbhai Patel were thrown into sidelines recalled only to suit the greed by Congress party
4) So Gujarat did produce some good leaders or thinkers
5) Modi is preferred PM than Nitish Kumar, though who is also a good administrator or thinker but lacks the punch power of Modi
6) It does not matter how the world would look at Iindian PM-Modi
7) It makes a sense to make similar anti-laws to ban USA or European leaders coming or making business with India for their COLONIST OR IMPERIALIST wars waged on iraq or Afghanistan or Iran or.....etc.
---
Narendra Modi is Narendra Modi, he needs no Santa Claus.
Narendra Modi is shown as doing double march towards year 2014.
What for? 2014 loksabha election which will decide PM for India.
For that BJP will decide possibly Narendra Modi as candidate for Prime
Minister.
Question is what after he becomes Prime Minister.
How world will look at him?
How world will look at him after remaining PM for 7 years, even now?

Congress is sure to make 2013 instead of 2014 to prevent Modi effect.
Congress Rahul Gandhi is no match for Narendra Modi.
---