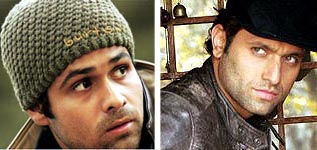 Two of Hindi cinema's brightest talents come together to confront each other in Mukesh Bhatt's new don drama, Gangster. Shiney Ahuja and Emraan Hashmi talk about what made the film memorable for them

Emraan Hashmi

Your meteoric rise has surprised many but given your cool confidence you were obviously in doubt that you would make it to the 'hit' bracket. A Rs 81 lakh star today, how long do you think it'll be before you start commanding Rs 5 crore?
(Laughing) I've never judged my viability in terms of the money I take home but yes, there's no denying that my popularity has doubled two-fold in the past year. The credit for that largely goes to films I've taken on and the people who've helped me on the way. Some of the roles I've accepted were risky but I consciously chose to take the path other actors fear to tread. And people have appreciated that. I'm not taking my success for granted though. Today I may be flying high but tomorrow I could be gone...
Perhaps you've never taken your success for granted but aren't the Bhatts taking you for granted by cajoling you to make a special appearance in Kalyug and now accepting a parallel lead in Gangster after being penciled in for the title role?
If you look at my graph you'll realize that at no point have I turned down a film because I wasn't offered the lead. In my first film, Footpath I had the option of doing the role played by Aftab (Shivdasani) but I felt Raghu's character was more challenging and the gamble paid off for me. Murder was Mallika Sherawat's film but it got me a fair share of popularity too. And Kalyug proved that I could shine even in a two-bit role. Even in Gangster though Shiney (Ahuja) has the title role, both Kangana and I pack powerful punches too. For me more than landing the lead role, it was always more important that my co-stars were as well appreciated because for your performance is to stand out, others have to be equally good, right?
So you don't feel cheated by the Bhatts?
Why should I? They were the ones who molded me into a star and gave me a string of successful films. And it isn't as if they've ever forced any role on me. When a script is brought to me I always have the prerogative to reject it. I had the choice to say "no" to Gangster. It was my decision, and mine alone, to do the film after Shiney was signed on. I'm not insecure about the fact that my co-star has the title role as long as there's enough scope for me to perform too.
How was Seoul?
Beautiful...Cold...Hard to shoot...But worth the experience. The script demanded a new location and we took the pains to venture into a country with a very limited Indian community and only a handful of tourists. A relatively unexplored country that's magical on screen.

We know you play a lover in Gangster but surely you must be the killer in Killer?
I wouldn't want to talk about Killer at this point. All I can say is that it's a character based role of a taxi driver and the change of image everyone's talking about for me should happen with this film. Killer is a rocking thriller and will boast of some great performances.

After working with the Bhatts for so long how difficult was it moving into the Mukta Arts camp?
Everyday of shooting was a joy because everyone's so professional. Subhash (Ghai) himself is very involved with the production even though he's not directing Good Boy, Bad Boy himself. And you have the satisfaction of knowing that with the kind of production values he guarantees, the film will do complete justice to the script.

And you're playing the...
(Chuckling) Bad boy. It's a unique story of campus life the likes of which we've never seen on the Hindi screen before. There are two kinds of guys in college'the studious nerds and the cool dudes who rule in the canteen. The distinction between the two is very definite but occasionally, as it happens in this film, the two guys who're diametrically opposite to each other, become friends and together wipe out the deficiencies in each other.

Whenever Emraan's been bad on screen he's been really good.
(Laughing) May be I have scored with these grey characters but I'd think that's because the bad boys are a welcome change and always more watchable than the righteous, politically correct hero. I'm not taking my success for granted. Today I may be flying high but tomorrow I could be gone...
So is Emraan a good boy or a bad boy?
(Grinning) A bit of both. Even as a kid thanks to my innocent face and infectious grin, I got away with a lot of naughty pranks.

If the buzz is to be believed you're tying the knot on December 14?
The wedding will be sometime in December though we haven't decided on the date yet. But I'm happy I've taken the decision. It'll be the beginning of another new chapter in my life.

Aren't you feeling more responsible already?
(Chuckling) It takes a bit of time to get used to the fact that very soon I'll no longer be single but Parveen and I have known each other for the last five years. So the only difference now will be that we will be sharing the same roof.

Rumor has it that your fianc'e was really upset with your intimate scenes with Mallika in Murder. Does this mean that after marriage Emraan will never kiss on screen again?
My fianc'e has never pressurized me when it comes to work. She's never told me what I can do and what I can't. It's my decision to refrain from kissing for a while but this doesn't mean I'll never do it again. If the script demands it and if it fits into the story, then sure, I'll kiss even after marriage.

The Gangster score has caught on in a big way. What's your favorite song?
'Yaadein...' We shot it here in Mumbai and then blended in the visuals we had shot in South Korea.

You have to your credit some very popular chart-toppers. If you had to dedicate a song to your fianc'e which one would it be?
'Tu hi meri shab hai...' from Gangster. We both love the song.

Gangster is your third film with Anuraag Bose. How did it feel to have him back almost from the jaws of death?
Anuraag is a star director. He should have been flying high after Murder but his illness brought his personal and professional life crashing down. But he's strong and has come back with a bang. He'll be a major player in the years to come, just wait and watch.

The trade's very confident of Gangster.
The credit for that goes to Anuraag. A film is a director's medium and the way Anuraag works, he gives it not just his 100 per cent but 500 per cent.

Could you see yourself playing Mahesh Bhatt in Woh Lamhe?
Yeah, more so since I've been working closely with him these last few years. Woh Lamhe was offered to me first but we couldn't work out the dates.
Shiney Ahuja

How did it feel to live the life of a gun-toting gangster?
Actually though the film is titled Gangster it dwells more on the personal life of this guy, portraying him as a passionate lover than a gun-toting don.

And how close is your don to Abu Salem?
The script is drawn from the lives of 5-6 gangsters whose names for obvious reasons I can't reveal. I read about them in the course of my research and none of them resembled Abu Salem though I don't know too much about him. Every story is close to someone's life and Gangster in parts could be my life. But as far as I can tell, it is not Salem's story.

What was Seoul like?
Very cold and exciting. Technologically it's a very progressive country but in the race for modernization the Koreans haven't let go of their roots. They're very much in touch with their values and culture which in a strange way is remarkably like ours. Parts of Seoul are like Dubai's concrete jungle, the sea reminiscent of Mauritius and the red leaves gives it a nice Swiss touch.

So the shoot was memorable?
Very memorable in particular a night shoot at Seoul station. After 11 p.m. the station turns into a drunkard's paradise and I've never seen so many different kinds of drunks together at one place. There were cops around brandishing batons but I never saw them actually use it on one of these bewdas. I guess it's because many of them are IT professionals who've lost their brilliant jobs to the recession and today are drowning their failure in alcohol. The cops were really patient with them which was good given how sweet-natured some of them were. The scene had me injured and bruised with red make-up streaking my face. As I sat quietly trying to prepare for the moment one of the alcoholics sat down besides me and sympathetically extended a cream towards me indicating that I should apply it on my wounds. The situation only got more heart-warmingly amusing when numb from the cold, I requested Anuraag to punch me around a bit so I would be able to emote. As he charged towards me, the drunk who had befriended me, suddenly came between us, clinging to me protectively, little realizing that it was all play-acting and we were shooting for a movie.

There've been some recent stories in the press about how you "hurt Kangana's lips".
(Agitatedly) It wasn't intentional. The shot required me to stand in front of Kangana and then at one point protectively spin towards her. She had been instructed to stand 4-5 feet behind me. We were okay through three takes, and then she suddenly drew closer and was barely six inches away when I whirled. My elbow hit her face and opened up a fresh injury that she had sustained when undergoing a recent plastic surgery to get a scar she'd had since childhood removed. There was a lot of bleeding. I got ice and took her to her van. She was fine in two days. I wish this story, even if it was just a publicity exercise, had not come out. I had my share of accidents too and I've never spoken of them.

The only thing that has changed is that people now listen to me when I talk
What accidents?
Well, there was this scene that required me to jump through a window. Kangana had to wait about 30 seconds before opening the window and looking out. By the time I should have landed safely but she didn't quite catch on and flung open the window and crashed into me when I was still in mid-air, 6-8 feet from the ground. I was injured very badly and could have broken my neck. But for me it was just an inadvertent accident.

Your next release will be Yashraj's Fanaa with Aamir Khan and Kajol.
It's only a special appearance but I'm quite excited about Fanaa. It was a very good experience working with Yashraj. We shot in Poland which was really cold but a beautiful country. Aamir and I got along very well.

Perhaps because both of you are such perfectionists and passionate about your work?
Perhaps. Ninety per cent of the people here are only interested in finishing a film so they can start on another. Acting for them is all about making money and delivering hits. For me though it's all about living someone else's life and though I have often been accused of being too intense I believe that I'm no more serious than any committed professional. You've never heard of a neuro surgeon belly dancing during an operation, have you? So why should I be pulled up because I want to push myself. I believe that if your work is good it shouldn't matter to anyone how you got there.

How's Rockin shaping up?
Rockin is complete and shooting with Sushmita who plays a singer in the film was a wonderful experience. She's warm, friendly and lights up the set. It was a totally new role for me with lots of different shades.

How does it feel to be playing Mahesh Bhatt in Woh Lamhe whose life has always been an open book.
(Smiling) That's what makes the film more interesting. Even though it's about the Parveen Babi chapter in his life, it's a very contemporary film. The guy I'm playing is young and ambitious and in a lot of ways is as much like me as he is like Bhattsahab.

Any other projects in hand?
There's Sudhir Mishra's film for which I start shooting in September. Between Sudhir's film and Woh Lamhe I'll do one film but still have to decide on it.

After a long struggle you swept all the debut awards this year and finally appear to be on the road to success. Hasn't life changed dramatically?
Not really though I will always be grateful to Screen that was my debut with the debut awards (Chuckles). I still frequent the same gym, drive the same car and go to the same juicewallah. And I still don't attend Page 3 parties to make sure that my face is seen. The only thing that has changed is that now people listen to me when I talk. There was a time when only Mr Nandy (Pritish) would talk to me and encourage me saying things would change for me, soon. Today, suddenly I've become someone very profound and intelligent. (Smiling) Now it's not so easy to negate what I say.