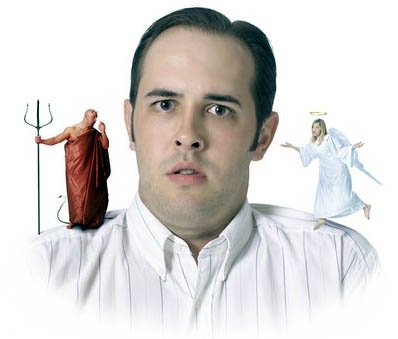 Religious Christians, Jews and Muslims live by the word of God in their holy books. They fear hell and damnation and the wrath of God. Their reasoning and logic states that acts such as murder, jealousy, anger and revenge are deadly sins that human beings commit and if they do not repent they will burn in hell.

There are many passages in the bible and other holy books that clearly state that God is revengeful, jealous, angry, and delivers plagues that kill babies. Theses are all deadly sins and God cannot commit sins or he will burn in hell. Also, it would be considered blaspheme by religious peoples logic to call God a sinner.

Religious people believe in the devil who they say entices weak human beings into sins such as jealousy, revenge and anger. Consequently, it must have been the devil that put the ideas of Gods evil deeds into the mind of the sages that wrote the bible and other holy books, not God.

Religious people recognize Satan commits sins and God delivers love and joy. Beyond any doubt there is the proof positive, that by religious peoples belief systems, only Satan could have pinned sin onto God in the form of words that projects God being revengeful and jealous. When the false mask of Satan's fear is taken away from Gods image, religious humanity is presented with a God that is good. When the sin of fear is removed from Gods word all wars will cease in Gods name.
By arrangement with PointOfLife
Image (c) Gettyimages.com