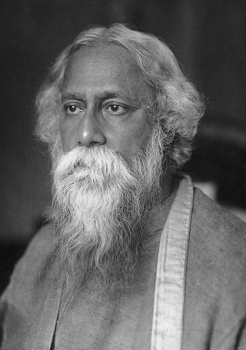 Savithri Krishnan (nee Govinda) was a fourteen year old girl who lived and went to school at Adyar when she was introduced to Rabindranath Tagore. She was a student of the Fourth Form and had no idea at all who this man was, when her drawing teacher came to fetch her to be presented before the poet. She was playing outside her home with her friends in the gruelling heat of June.

She was quite annoyed by this demand. She refused straightaway. Then this drawing teacher went into her house and caught hold of her mother in the kitchen and requested her to prevail upon the daughter. After much coaxing and cajoling, the little girl finally agreed to accompany the teacher.

Tagore was sitting surrounded by some of the top intellectuals from the South (as well as Bengal, including Professor P.C. Mahalanobis, the founder of the Indian Statistical Institute) when the girl arrived along with her two sisters. He was busy writing something and for a while didn't pay any attention to the girls. Savithri's temper rose further. Quite apart from the fact that it was a boring business, her game had been interrupted. But, as custom demanded, the poor thing waited till Tagore was finished with whatever he was writing.

He looked at the sisters and requested them to sing for him. They sat on the floor and sang a few Meera Bhajans. After a while, Tagore looked at Savitri and said, "Why don't you sing alone? Sing a pure South Indian song for me." She tried as best as she could. The song she sang begins with "Meenakshi ...". You can hear it in the audio attachment below.
Tagore stayed over for a few days and he told her to come to him daily and sing for him. She did this, willingly or unwillingly, I can't say. And then Tagore came out with a preposterous idea. "Savithri, come with me to Santiniketan for your studies!" She said, "How can I? I don't have the finance and I need my guardian's permission. The guardian was an uncle, who had recently met with an accident. Tagore said, "I think your guardian will not object - I have a premonition." ("divyadrishti" was the expression Savithri Devi used to describe Tagore's statement.)
"divyadrishti" it was indeed and Savitri went over to Santiniketan. She knew no Bengali at the time. She felt lonely and missed her family in the beginning. But gradually she got used to the place and gathered enough courage one day to come up to Tagore with an exercise book (costing her 4 annas) and ask for his autograph. Tagore wrote for her a couplet. Here is a (terrible) translation:
If my song can ever find a shelter in your voice,
That could be my gift, or to me a gift of your choice.
The Calcutta Doordarshan interviewed Ms. Savithri Krishnan many years later. She was seventy years at the time. I collected the information above from this interview. Straight from the horse's mouth.
Photograph of Savithri Krishnan -- extreme right
Unfortunately for my friends at Boloji, she spoke almost entirely in Bengali. But there were little bits of English too that she used as she recalled her first meeting with Tagore. A large part of the interview deals with the Carnatic tunes Tagore picked up from Savithri Devi to compose some of his most well-known songs. Even at the age of seventy, I think she did a great job in rendering the Tamizh and the Bengali versions.
There were two songs that she sang and I have included them in the audio clip. The Bengali counterparts are "basanti hey bhuvanomohini" and "bedona ki bhashaey re". I have cropped out the Bengali conversation from the interview and retained only the English words she used and the songs she sang (both in Tamizh and Bengali).
I have also added another famous Tagore song "baaje karuno shurey". This was sung by Smt. Kanika Bandyopadhyay during Tagore's Birth Centenary Celebrations in 1961. She is no more. The original Tamizh version "needu charanamule" in the recording below was sung by Swagatalakshmi Dasagupta (1999). According to the Sangeeta Sudha, the song was composed by Thyagaraja and its tune is set to Raga Simhendra Madhyam.
This post would be incomplete if I didn't add my latest translation of the song "baaje karuno shurey". But first, so as to help you follow the song in Bengali, I am writing down the Bengali words.
"baaje koruno shurey (haay doore)
tabo charantala-chumbito ponthobina.
mamo paanthochito choncholo
jaani na ki uddeshe.

junthigondho oshanto shomire
dhaay utola uchhashey,
temoni chitto udashi rey
nidaruno bichchhedero nisithe."
And here is the translation, or at least the first draft.
"Far away, a plaintive tune
Plays the veena of the path kissed by your feet.
This mind mine feels restlessly wayward
What it seeks I do not know alas.

Pursuing in this untamed breeze
Jasmine flavours lost in turbulence
Likewise the heart's melancholy
So agonizing on this night of separation."
Immediately below is the link to the songs, which I hope you will be able to download. (If you cannot but are interested in listening, please send me your email addresses and I shall mail the link to you from my dropbox account.) The first song is Swagatalakshmi's version of "needu charanamule". This is followed by Kanika's unforgettable rendition of the song I translated above. Finally, you can hear Savithri Krishnan, at the age of seventy, singing the original songs "basanti hey bhuvanomohini" and "bedona ki bhashaey re" were based on as well as their Bengali versions!
Image of Tagore (c) Gettyimages.com