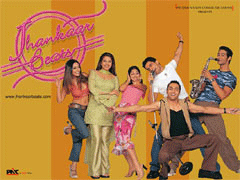 Director: Sujoy Ghosh

Starring: Juhi Chawla (Shanti), Sanjay Suri (Deep), Rahul Bose (Rishi), Rinkie Khanna (Nicki), introducing Shayan Munshi (Neel), and Riya Sen (Preeti)
Music: Vishal Shekhar

Ratings ***

The New director Sujoy Ghosh has created magic. There is nothing new in the story of this movie but the presentation of the movie makes it different from others. With his unique ways and some 'chance pe dance' dialogues we get three ours of unique fun.

The story of the movie is the mixture of two movies. It has the relationship of three friends and then there is the music competition ' Jhankaar Beats'. Wise people must have guessed it's the mixture of 'Dil Vil Pyar Vyar' and ' Dil Chahata Hain' . But this time Dil Chahane Ke Sath Hasata Bhi Hain aur Music Pe Nachta Bhi Hain.

So Deep and Rishi are two friends working in the same advertising company. And the music is their second love. In the evening they practice for the music competition ' Jhankaar Beats'. Rishi's excellent Drum beating and Deep's voice with keyboard couldn't help them to win the competition. Though they had lost it twice in last two years they are still confident in their ability.

Shanti, Deep's wife is pregnant and has full confidence in Deep but her arrogant mother never trusts Deep's musical talent. On other hand Rishi and Nicki are on edge of getting divorced. And suddenly they get a third partner for their band. Neel, the son of their Boss, he is an excellent guitarist and very shy. He always makes mistake while expressing his love to Preeti.
There is one other competition in the film, the advertising campaign for 'condoms'. The film tells us how they win both of these competitions with fighting with their personal problems.

The acting, for the most part, is excellent. Juhi Chawla shows her charm. She is fantastic. Her expressions and timing as Shanti are just perfect. Sanjay Suri, as Shanti's husband, Deep, is brilliant. He is calm and matches perfectly with the role as married man and father. His acting is excellent also. Rahul Bose has great timing as the comic, Rishi. He has stolen the show from others. His eyes, facial expressions are magnificent. Rinkie Khanna is average in her role as Nicki.

Shayan Munshi does a good job as Neel. His performance is adequately refined and has a good future in the industry. Riya Sen's acting underlines that she cannot act. Luckily she has very short role. But in that short role also she proves that she has no talent as actress.

Suresh Pai, the editor, really deserves some applause for his work in this movie. The dialogues written by writer/director Sujoy Ghosh are also done very well, with the flashbacks integrated. Some of the sequences and characters are very well developed like Archana Puran Sigh's entry in office and the next-door neighbor who spills her tea almost everyday on hearing Rishi start his car, a neighbor with his ideas of mind-control and the lawyers of Both Rishi and Nicki.

The music in the movie is excellent and its tribute to the Boss ' R. D. Burman'. The music is not only hummable with good lyrics but also situational and has variety.

The only problem in the movie is the usage of English language in dialogues. In this movie, important sequences of the film are in English - in fact, it's aHinglish movie. So this movie is for only part of the people in India and not for everyone.
In short Jhankaar Beats is an excellent film with a lot of plusses. It will make you laugh for three hours. Its 'Thodi Masti Thodi Yaari and Thoda Pyar ' with paisa wasool Time Pass.