Recently responding to the ceasefire violations by Pakistan this writer had advocated measures that would either make or break the peace dialogue with Islamabad. Events have overtaken that suggestion. Internal developments are forcing a make-or-break choice for Pakistan. The outcome of the crisis will depend upon one man who stands in the middle. He is of course Pakistan Army Chief General Parvez Kayani. How will he swing? To assess that recent events in Pakistan deserve appraisal.

The first significant event was of course the ceasefire violation by the Pakistan Army that resulted in barbaric beheading of Indian soldiers. That happened on January 8th. It naturally led to uproar in India and escalation of tension that threatened continuance of the peace dialogue. Seven days later on January 15 two events on a single day drew instant attention.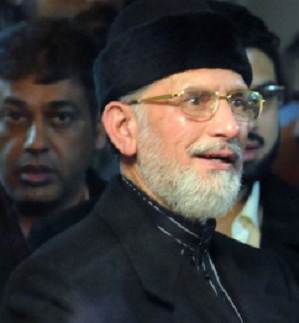 The Pakistan cleric based in Canada Maulana Tahrir-Ul-Qadri led his much publicized march to parliament in Islamabad demanding radical democratic reform. He sought the instant dismissal of the present Zardari government and the creation of a credible interim government that might conduct the forthcoming elections after suitable delay. He demanded that the interim caretaker government be formed after consultation with the army and the judiciary. Because of this he was dubbed by critics as a stooge of the army and the judiciary which are opposed to the present government in Islamabad.
This view was reinforced by the second event that occurred on the very same day. The Pakistan Supreme Court ordered the arrest of Pakistan Prime Minister Mr. Raja Parvez Ashraf for corruption related to an earlier case. The timing of the judgment greatly boosted Maulana Qadri's movement and was perceived by critics as a collusive operation. However the conclusion that the Maulana might be aiding a plot to restore army rule in Pakistan could be hasty.
Governments deal with administration. National boundaries determine their jurisdiction to administer. But people are interested in how they conduct their daily lives.
The Maulana's credentials against terrorism and in favour of democracy are impeccable. His entire career has been devoted to moderating Islam and promoting democracy in Muslim nations. He heads the Sufi-based Minhaj-ul-Quran international organization that has consistently promoted over the years change of government, religious moderation, liberal education, inter-faith dialogue, a moderate interpretation of Islam employing methods of Sufism, and the establishment of good relations and understanding between communities and religions. After 30 years the organization has reportedly expanded to over 90 countries. In February 2012 Qadri visited India to release his 600 page book criticizing Fatwa's promoting terrorism. He urged India-Pakistan friendship and advised both nations to cut defence expenditure. Would the Maulana discard the work of a lifetime to act as the army's pawn and derail democracy? Might there not be elements within the army and the judiciary that seek genuine systemic reform and are therefore colluding with Maulana Qadri?

It is to determine this that the role of General Kayani becomes crucial. In a recent newspaper article security analyst Mr. Praveen Swami who had accessed the Pakistan army's Green Book quoted from it to suggest that the recent border violations were in conformity with the army drill to ignite war in order to divert attention from internal problems and perpetuate the military's grip on the Pakistan government. The mindsets revealed by various Pakistan army officers through their contributions in the Green Book reveal their paranoia and sense of insecurity. The following quotation from the essay by Brigadier Umar Farooq Durrani that opens the Green Book is symptomatic. He wrote that India's Research and Analysis Wing "funds many Indian newspapers… to wage psychological war… to undermine the Two National Theory as being a personal obsession of Jinnah."
This betrays the anxiety that haunts sections of the Pakistan army. The two-nation theory was of course pure garbage manufactured by Imperial Britain to serve its interests. Pakistanis and Indians, including this writer, have authored books to convincingly trash the rationale of the Partition. If the two-nation theory had validity there would have been no Bangladesh. But Pakistani generals should rest assured that the Partition is history. Even though Pakistan was an artificially contrived nation there is no cause to undo it. More importantly there is not a soul in India that would like this nation to govern any part of a disintegrated Pakistan. Indians are having a hard time coping with attempts to govern what they already have.

Governments deal with administration. National boundaries determine their jurisdiction to administer. But people are interested in how they conduct their daily lives. National boundaries do not demarcate their social empathies. It is possible in this day and age for peoples of separate nations to live together without merging into one nation. Regions with common culture are moving closer while the whole world moves towards globalization. That is why it is all the more advantageous for an artificially created nation like Pakistan to consolidate its identity not through military prowess but by allowing free and full expression to the cultural impulse of its people without in any way compromising the jurisdiction or sovereignty of their government. In other words, the surest course for Pakistan to survive, thrive and overcome all its internal problems would be by entering into a confederation with its immediate South Asian neighbours.
That is why the third event that occurred on January 15 could prove crucial. Prime Minister Dr. Manmohan Singh declared that in the light of the ceasefire atrocity by soldiers it was no longer possible to continue business as usual with Islamabad. He demanded that the guilty be brought to book, cancelled visa facilities for senior Pakistan citizens and sent back visiting Pakistan sportsmen. This therefore provides the litmus test for General Kayani. Will he identify and nail the guilty army men who beheaded the Indian soldiers?

The BJP is patting itself on the back for having compelled the PM to take a tough stand. The BJP could be deluding itself. The PM took this stand a full seven days after the soldiers had been beheaded. Why the delay? Was it mere coincidence that he spoke immediately after Maulana Qadri's march and the Pakistan Supreme Court ordered the arrest of the Pakistan Prime Minister?

It will not surprise if the PM was briefed by Intelligence that had gleaned information from the ground and from diplomatic sources suggesting that Pakistan stood at the threshold of a paradigms change. Much will depend upon how General Kayani asserts himself. If he acquits himself as a real professional and punishes the guilty Pakistan soldiers it could be the start of genuine reform in Pakistan. If not, Pakistan's internal crisis will only escalate to threaten its very existence. The threat will emanate solely from within its own borders.