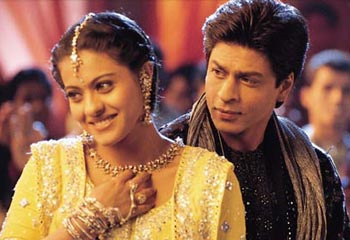 A drama loosely weaved to cover the Indian social ethos and issues that revolve around the institution of marriage and family makes some very strong points on father-son relationship on one hand and husband-wife relationship on the other.
If one was to find faults, yes most of the Indian film stories have faults. However, to make the film an entertainer, technically present it on a lavish scale, be bold and candid in making loud and clear statements that reflect our current social fabric, I think Karan Johar has done a commendable job. Continuing on his trail that started with Kutch Kutch Hota Hai, Karan seems to be going on a path that was initiated by none other than the showman Raj Kapoor and stalwart Yash Chopra - remember Sangam and Daag respectively.
Why do fathers become victims of their own egos and are unable to express their emotional feelings once their children become adults? How the conflicts in a family lead to discovery of Self and individual strengths? What is that myth of Pati Parmeshwar that exploits the Indian woman? What is her role as a mother and ultimately what is her feminine strength? These are the relevant questions that Kabhi Khushi Kabhi Gham tries to answer by remaining a clean and non-violent movie.
All the actors have performed their assigned roles to perfection with Kajol, Shahrukh Khan, Amitabh and Jaya Bachchan stealing the show.