. . . Soulful songs of love expressed in vivid pictures with great control of imagination, pass blissfulness and create extreme love in the reader's heart . . . songs of loves threads high quality love through the cycles of life. Each verse is beautifully woven by Dr. P.K.Padhy with inseparable combination of nature and inner feelings.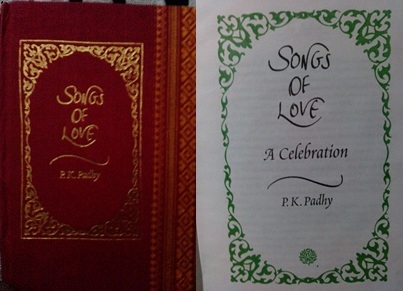 Songs of love is another poetry collection from Dr. P.K.Padhy, who is already popular for Japanese short forms. He is one of the most versatile poets with supreme quality in contemporary Indian English Poetry. It is very rare to find a journal in this universe without his poetry. This time, he has chosen love as his theme and succeeded in all the seventy four poems in this collection.

His poetry collection touches upon love feelings at various stages of life; child life, married life and love life. It depicts the experience of poetry of life interwoven with romantics and philosophical fabric.

The readers having experience with haiku could even more enjoy these verses as it takes them into multiple layers of imagination and feelings of being one with nature.

I sink myself
Below your neckline
And inner self silently.
You surrender
At sea-bed near the shore
Under the roaring tides.
Passionately we search
Each other closing our eyes.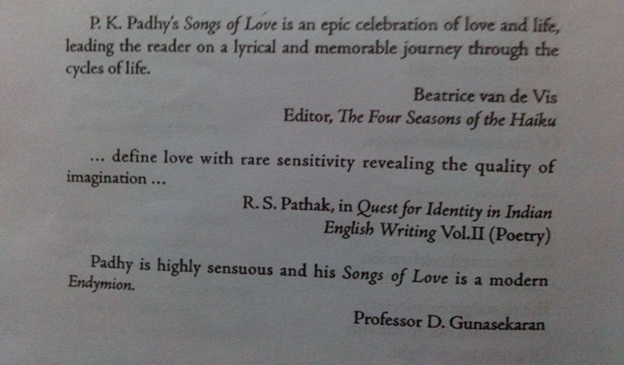 Throughout night
Your smile gathers
The petals
Of the blooming buds.
I discover
Every morning
Your freshness
Becomes the garden
Of my life.
The feelings of the father, who couldn't see his newborn is painted soulfully,
Please convey
Our best wishes
To the New soul;
The Designer's gift.
I wish, close to you,
She listens
The lyrics
Of the evolutionary waves
Another wonderful love poem that depicts the love beamed by children,
The kids express
The meaning of affection
And craftsman's bliss.
Love sublimates
The musical voice
In their innocent smiles.
A sublime verse on memories of love during the life cycle of loneliness,
In loneliness
You accompany me
As fragrance of memory.
Your image lives with me
As music
With the rhyme.
He chooses to write the epilogue of life with a touch of sublime philosophy blended with divine feeling.
We walk down
The garden of life
Reminiscing
The poetic sublime.
Wind whispers
All the songs
Of our poetic flight.
Our journey
Is an extension
Of the boundless voyage.
Songs of Love collection is a must read for all ages to regain the love in their heart.

Congratulations and all our best wishes to Dr. Pravat Kumar Padhy to publish and win more laurels in various forms of poetry. He has already secured several places in various forms of poetic literature.
Songs of Love ~ A celebration by P.K.Padhy has been published by A Writers Workshop Redbird Book, Kolkata, and available as Hard back limited edition for Rs. 100/-