This year Chandannagore Adventure Sports Club organized Paradip to Konark Coastal Trek. I participated in their Chandipur-on-Sea to New Digha Coastal Trek in 2011. So, when my friend Arjuna (member of the club) informed me of the forthcoming trek, he already knew what my opinion would be.

Paradip is one of the major ports of the State of Orissa and India, serving the Eastern and Central parts of the country. Its hinterland extends to the States of Orissa, Jharkhand, Chhattisgarh, West Bengal, Madhya Pradesh and Bihar.

Konark is famous for the Konark Sun Temple - a World Heritage Site. Legend has it that Krishna's son Shamba constructed the original Temple. Shamba was afflicted by leprosy by Krishna's curse owing to a misunderstanding between the two. After 12 years of penance, Surya, the Sun God, in whose honour he built the magnificent Konark Sun Temple, cured him. This is a Puranik narrative found in Shamba Purana, and not found in Mahabharata.

The Chandannagore Adventure Sports Club's organized trek had nothing to do with either Paradip or Konark, except to act as the terminals to our route. However, given my interest in Temple Sculptures, the chance to visit Konark Sun Temple was an additional impetus to be enthusiastic about the trek. Previously I had been to Konark as a part of sightseeing tour from Puri, and needless to say, such a conducted tour that limits the exploration of the Temple to just 40-60 minutes cannot be satisfactory.

Our trek this year lay between the port and the temple, between a symbol of modern development, and ancient wisdom and art - along mostly 'virgin' coastline of Jagatsinghpur – famous for the Sarala Temple and Puri district or Orissa. To the best of my knowledge very few people/group (except local people/fishermen, of course) have actually trekked along this coastline. Besides, I have not found any travelogue on this route in either print or net, and if these are certain motivations behind my decision to join the trek and write a travelogue on my experience, there have been many others, and I leave it to readers to detect them, because during the trek of 4 days I myself found many new interests.

Another motivation that I must mention is the response I got from enthusiastic readers to my previous travelogue – "Coastal Trek: Chandipur-on-Sea to New Digha." The response and queries have motivated me to add as much detail as possible to the present travelogue, and I hope many readers would be interested to undertake this trek that offers a rare opportunity to learn about nature, people, and their Culture.
Day-0: Pre-tour meeting at the club
At a pre-tour meeting at the club, sky-blue T-Shirts and Yellow-Red Caps with club logo along with lists of 'must takes' and maps of the trekking routes are distributed to members. I learn that this time our team is of 31 members including a cook, and 8 female members. However, many members cannot attend the meeting, and so our introduction to each other is not complete.
Day-1: 22/01/2013
We start from Howrah by Amaravati express at 11.30 pm. We gather under "Baro Ghari" (the famous giant clock at Howrah railway station) at Howrah station, and then move on to the new terminus (South-Eastern Section) to avail the train.

Most members are unknown to me, so, that day it is only customary introduction because we have to go to sleep almost as soon as the train starts. In the next few days we will have the opportunity to know each other better and some new friendship will develop based on common interest.
Day-2: 23/01/2013
We reach Cuttack at 5.40 am. The train to Paradip – "Puri Paradip Intercity Express" - would arrive at 8.27 am. The day starts with a happy decision of six of us. Today, 23rd January, is the auspicious day of Netaji Subhas Chandra Bose's birth , and by happy coincidence today we are in Cuttack – Netaji's birthplace.

We do not waste time. While the rest of us stay at the rail station, caring the luggage, and preparing for breakfast, we six have a hasty breakfast at a local tea stall just outside the station, and then we start for Netaji Subhas Chandra Bose's birthplace and birth-house by auto. The auto charges Rs. 150/- for up and down trip inclusive of halting charge for half an hour.

We consider it an honour, and are thrilled to stand before the room in which, Netaji Subhas Chandra Bose, one of the greatest sons of India was born. The house is at a calm and quiet place, and the atmosphere is serene and dignified. We are glad to find that the house is maintained so well without any pomp. An obvious contrast with Bengal flashes in my mind. Yes, I have no hesitation and qualm in saying that many public faces of Bengalis should learn from Orissa how to truly respect Netaji.

Soon many local people start arriving to garland Netaji Subhas Chandra Bose's statue. One by one, in well-disciplined way, they garland the statue amidst cry of "Netaji Subhas Chandra Bose Amare Rahe," bow their head in prayer and leave. We learnt that the chief minister of Orissa, Mr. Biju Pattnaik would arrive there shortly. However, we leave before that.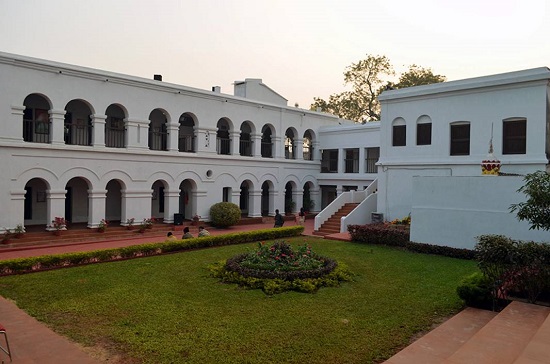 Netaji Subhas Chandra Bose's Birth House at Cuttack
As we return to the railway station to our team, many now regret that they did not accompany us. The train arrives at 10 am (a usual late running schedule), and we reach Paradip at 11.20 am. Since we have no previously booked accommodation, and we are 31 members in team, it takes considerable time to find suitable accommodation. We book four TATA Magic van for Rs. 200/- each, and finally find accommodation courtesy a local person, one Mr. Chakradhar Biswal (previously acquainted with one of our team members), at a locality called 'Rice Mill' – 6 km from railway station, at the 1st floor of a house. The entire 1st floor is ours with 6 rooms, two kitchen and two bathrooms – and the charge is Rs. 3000/- for one night.

Almost all pucca houses in this area let rooms, and mostly out-station servicemen stay here in mess system.

No sooner do we enter, than we have to get busy in marketing and preparing for lunch. As our cook – Raju - starts unfolding his art, the female members of our team cannot resist a display of theirs. The lunch is finally prepared at 3.30 pm. The menu is simple yet delicious - Smoking hot rice, "begun bhaja" (brinjal/egg fruit fry), and egg curry – and needless to say, the hunger adds to the flavor.

After lunch, some members go to see the marine aquarium near Paradip Lighthouse – though there is nothing exotic to see – and from there the sea beach. Hot tea in evening, and rice and chicken curry for dinner grant us a good night's sleep despite mosquitoes singing outside our "Masharis" (mosquito net).

A truck is arranged that would carry Raju and our luggage to next day's destination, and Raju is instructed to keep constant contact over phone, if necessary. The truck charges Rs. 800/- plus fuel charge per day.
Day-3: 24/01/2013
1st Day Trek: Paradip Lighthouse to Nuliasahi village – 18 km
After a heavy breakfast-cum-lunch with 'luchi,' 'ghugni,' and 'misti,' we reach the Paradip lighthouse by bus, and our trek starts from there at 10.15 am. The meal has to be heavy because for the whole day of trek we would not and cannot have any formal lunch. Every member is given a packet of biscuit and cake to compensate, other than dry food of individual choice each carries.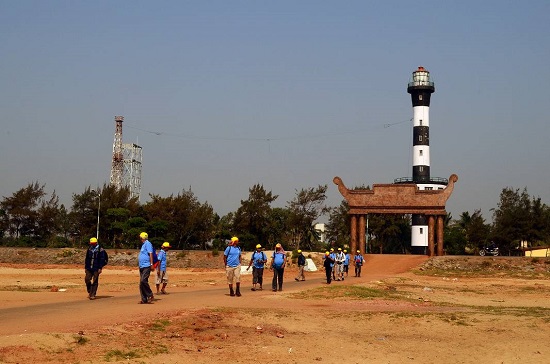 Trek Starts from Paradip Lighthouse
We pass a fisherman "basti" and find fishermen busy at their work.
We find the carcass of an Olive Ridley Sea Turtle, not entirely knowing at that time we would be firsthand witness to one of the most urgent environmental concerns of our time.

Carcass of Olive Ridley Sea Turtle, and a Dead Goat
Our trekking continues in leisurely pace. A gentle sea breeze makes us forget the hot sun. However, the most irritating thing of human production cannot make us forget the ground we are treading on. We have to be careful lest we step on "land-mines." Yes, the fishermen have a disgusting habit of sacrificing the morning load in open on the beach. They meticulously carry on their job though we pass by them – and they have no shame. I call it disgusting though I don't know whether they have any Belief behind such custom. May be it is a way to return the natural thing to nature.
Then we find a giant dead Jellyfish.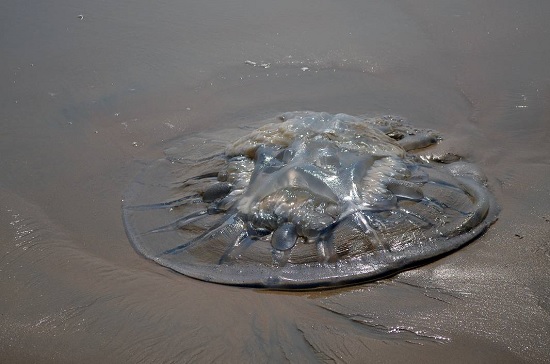 Dead Jelly Fish
The fate of Jellyfish is tied with that of Olive Ridley Sea Turtles to a great extent because Olive Ridleys consume jellyfish as their main food, besides fish, shrimps and crabs. However, rampant jellyfish trade, a new threat, apart from the turtles being killed by illegal trawling, has emerged which could lead to an irreversible impact on the turtles.

At 12 pm we pass a pipeline under construction. On our right is IOCL Paradip Refinery Tankfarm.

What a pathetic scene awaits us now. We reach a place – almost the death ground of Olive Ridley Sea Turtles – with numerous carcasses scattered here and there – and Ravens and Swift birds busy feasting on them.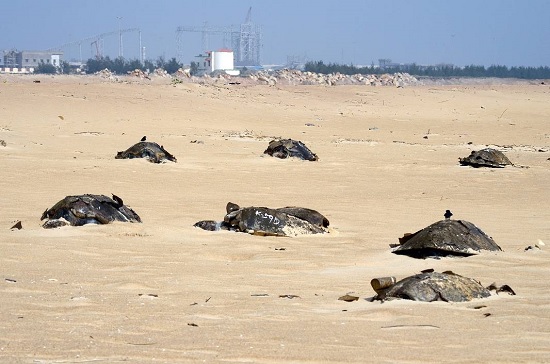 Death Ground of Olive Ridley Sea Turtles: IOCL Paradip Refinery Tankfarm at background
What could have caused the death of these beautiful creatures taking its toll on environment and eco system? I have some ideas on this, and I would learn more in course of the trek.
During the entire trek we see innumerable carcasses of sea turtle Olive Ridley Sea Turtles lying along the coast. They are mostly killed by fishing trawlers while they come to lay egg on the shore.

For now, I continue the trek – but I have to come back to this matter later. In fact, our trekking would be meaningless without that awareness.

As always, as is the rule of Life, where there is Death, there is life too. Someone dies for someone to live. Who will solve this Existential Paradox of Life?

After walking 3.2 km, we meet a water body on our right that starts suddenly. It is the branch of Jatadhari River (originating near Kandarpur ) shooting north-east of its Mohana (River-mouth) and forming an inland stream running parallel to the sea.

After leaving behind the Tank Farm, we decide to cross the Jatadhari River at a "shukila" ("shallow and dry" in Oria) place, because it is now impossible to continue the trek along coastline with too many water channels to cross. Any attempt to trek along coastline would leave us stranded on deltas with no boat to cross. We find some fishermen busy fishing, and they advise us where to cross the River on foot.
We take rest after crossing the River and have some food that each of us have been carrying to take care of the appetite God who, by now, has become quite angry.
And now our trek continues along the right bank of the river leaving the sea far off our left. We pass along and occasionally over beautiful sand dunes, with the roar of sea becoming fainter.
At 12.30 pm we reach the 'mohana' of Jatadhari River – that is now on our left. The sea cannot be seen from here.
We see many marine birds here – like Plover.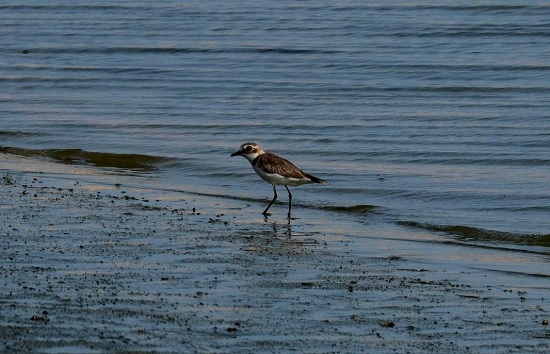 Plover
At 3 pm we reach a place from where a nice forest is in view. We see a concrete structure on our right – built up to the plinth, and approach it. The structure is beside a nice forest of 'akashmani' trees (Kavi Rabindranath Tagore named this tree – "Sonajhuri"). On the structure is written "Shri Ramchandi Forest Group, Govindapur." Now, we enter a zone that is sort of 'carbonate factory' – that is multiple shells of snails fusing together to form a solid structure.

I do not know what this phenomenon is called, and I shall be thankful to the reader who helps me to learn.

We notice a fisherman's hut very near to the shore. It is a makeshift shelter and not any permanent dwelling. Throughout the trek we find such occasional huts that serve the fishermen's purpose of venture into the sea. As we pass by, an old man peeps from the hut to see us.
At 3.30 pm passing by a nice forest of Casuarina equisetifolia, and Eucalyptus, we reach a nice grassland and a marshy zone, and immediately stretch to rest on grass. It is Nao-gaon, a fisherman village.

We reach a place with numerous dead Jelly-Fishes around. They shine on the dark wet sand.
At 5.15 pm we reach Nulia Sahi village (Coordinates: 20°11'36"N 86°31'22"E – our night halt for today.

The path from the sea to the village passes along a "Nala" (small channel of water) with lush green on either side. At one place, the bush over the bank is so dense that we have to step into the water to continue our trek.

As the sun is about to set, we reach a beautiful Lake – and our channel falls in it.

Our path now goes along the bank of the Lake to reach a pucca road. An old man informs us that a left turn leads to the village to our night halt for today, and a right turn leads to a "Mahabir Temple" or Hanuman Temple at Nuagaon.

Considering that, perhaps we would not have enough time next day morning to visit the Hanuman Temple, I decide to visit the temple before entering Nuliasahi. The premise is wide, and no doubt, it is the religious centre of this village. There is an Ashram at one corner of the premise, and a new construction of the Temple is underway.

I have heard of "Siruli Mahavir temple" (Situated at about 27 kms on the north east of Puri town, the shrine lies between Puri and Bhubaneswar; however, I have not expected to find a Hanuman temple here.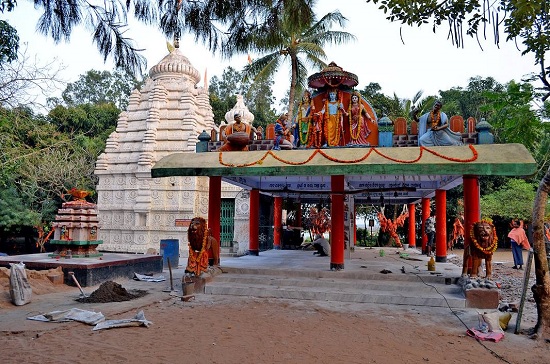 Hanuman Temple at Nuagaon
After visiting the Hanuman Temple, I walk through beautiful scenery of farmlands on either side of the road to reach a U-Turn, and find our team busy de-loading their luggage to enter a school. The name of the school is "Nuliasahi Protec UP School." On a board is written "Nuliasahi Cyclone Shelter School." We learn that during the last cyclone, this school and its premise was used as shelter for cyclone victims.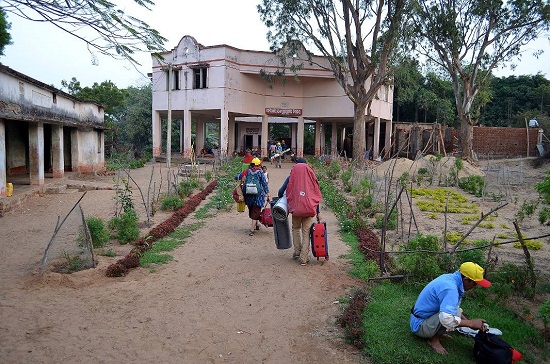 Our Team entering the Nuliasahi Protec UP School
It is pertinent to mention here that coastal regions of Orissa have faced two massive natural calamities in the last 15 years. The first is the super cyclone of Orissa on 29th October 1999 – that with approximately 260km per hour speed could be called the biggest of that century. About twenty-five to fifty thousand people as well as domestic animals had perished in that cyclone. The second was the tsunami that occurred on 26th December, 2002.

The school authority gives us 3 big rooms. One room is allotted to the female members, and the male members spread out in the other two. The verandah of the ground floor building (at extreme left in above photo) is soon transformed into our dear kitchen.

"Muri-Chanachur-onion" as snack at evening, Dinner with fish curry and rice, then removing the benches and stacking them carefully to one side of the room to make space for our mattress – that is all our work left for that day till we go to sleep – and sleep amidst colourful snoring sounds in varying decibels.
Starting from Paradip Lighthouse at 10.15 am, we trek along the coastline and reach Nuliasahi Village – a distance of 18 km.
Day-4: 25/01/2013
It is cloudy today, and a pleasant sea breeze bids us Good Morning.

We have "Luchi," "Aloordam," and "Laddu" for breakfast or rather early lunch. One packet each of cake and biscuit are given to each member for the route.

We start from Nuliasahi village at 9 am and pass under gaze of curious villagers. The curiosity of the villagers is itself a curious matter to observe. The village folk are too simple to conceal their interest in us by artful and sophisticated pretence. They stand outside the school wall and keep on gazing at us in our morning chores. It is irritating, but then on second thoughts, we have to be sympathetically considerate because we feel we really are an eccentric species to them for having undertaken a "chali chali Sagarapara" venture to Konark – A venture that most locals never think of as worthy, leaving their struggle for livelihood.

It is the same relativity of Life. What is adventure for some, is luxury to some other, and idiocy to some one else …

Coastal Trek is not yet a very popular adventure sports, at least in India, or in this part of India, and very few trekkers come along this route as evident from my meeting many a villagers who have not seen trekkers like us.

Reaching Nuliasahi Ghat we have to wait for some time for boats, as most boats have been busy for fishing. Curious village folks throng to see us.

The long wait is however, not a problem, but a welcome part of the trek because we get the opportunity to spend the time looking around and taking shots.

The Jatadhari River is shallow here, and for a wide extent into the breadth of the River, "charaa" (river bed) is visible. Finally when boats arrive, and one fisherman agrees after a ritual bargain to deliver us across, we have to board the boat by walking some distance into the river.
All 30 of us cannot be accommodated in a single boat, and another boatman agrees.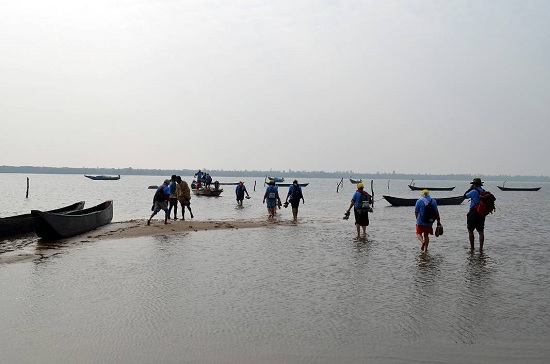 Walking into the Jatadhari River to board boat
The boatman charges Rs. 5/- per head to take us across. On the other side, a brief spell of jungle trek awaits us.

Locals call the jungle "Bada Tanda.". As we go through the jungle, we find plastic plates, glasses, wastes, and bottles strewn all over. The place is obviously used by locals or 'outsiders' for picnic purpose.

Crossing that green on yellow stretch, we are back to the sea again, and our coastal trek begins. The trek is most rewarding as we see many marine creatures and birds.

We see a flock of Seagulls, and as we approach them they take flight – a scene unique in beauty.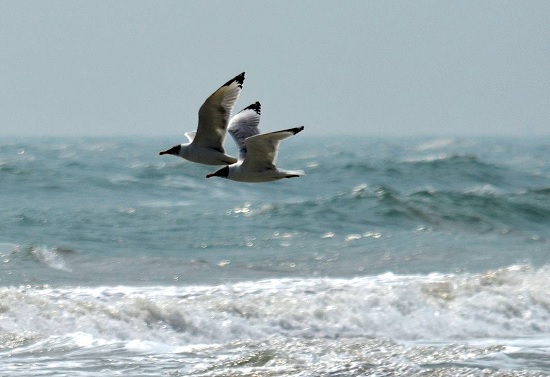 Seagulls in Flight
Aesthetics receive strong jolt as soon we reach yet another graveyard of Olive Ridley Sea Turtles.

Amidst the grim reality of death, there is Life and Beauty as always.

A dog digs the sand to eat the soft flesh of the dead Olive Ridley Sea Turtle. Every year thousands of turtles are killed at Orissa coast (3 of the 5 nesting places of turtles in the world are here) by illegal activity of fishing trawlers. It is a great concern for environment and Eco-system. When man acts like dog, can we blame the dog? It is fighting too for its survival. When someone dies, someone lives too ... pessimism and optimism go together ... such is life ... and we trekkers walk on leaving foot-prints behind...
The dog strives hard to dig the sand and eat the turtle's soft flesh. I appreciate the way it finally bares the sand beneath the sand-buried turtle.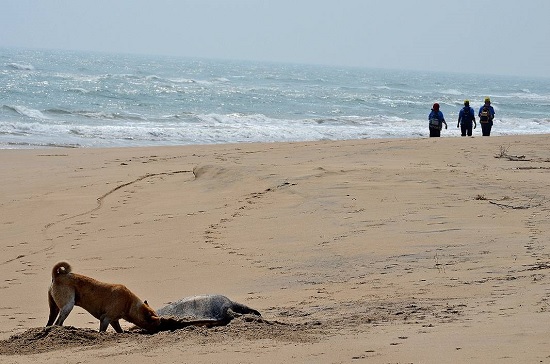 Dog eating carcass of turtle as we trek on
We trek on, and at 2.15 pm we reach a beautiful forest with a water body visible on the other side through the trees. It is a beautiful setting in all its pristine glamour. That inland water body is Ramtara River – a distributory of Jatadhari River. We take some dry food at the forest sitting on sand dunes beneath fanning trees with clamorous "Finge" birds.

Rest in Jhau Forest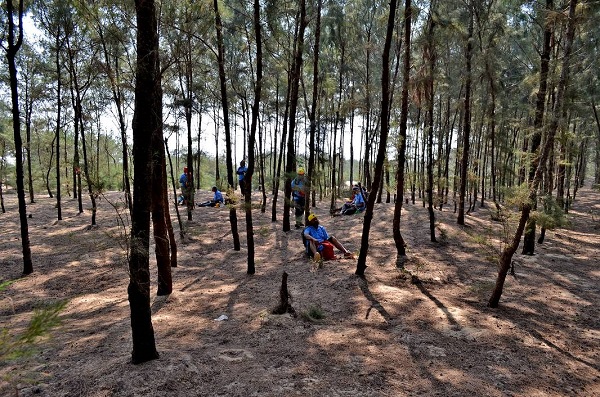 Rest
By this time, Dr. Sukhendu Mukherjee and I have found enough common interests to become friends. Arjuna, Sukhendu, and I decide to let the team go ahead so that we can further explore the inland water body. I cannot but name it "Lake Placid" as the surrounding fills my mind with serenity.

Numerous Cormorants, Sandpipers, and Large Egrets throng beside the River – it is a celebration of Life and Beauty that Nature offers.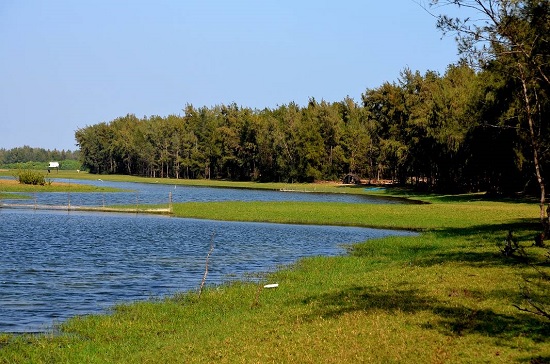 "Lake Placid": Ramtara River
We notice several species of water birds, and colourful Jelly Fishes in the water of Ramtara. It is really a pleasant experience to watch Jelly-Fishes swimming in crystal clear water.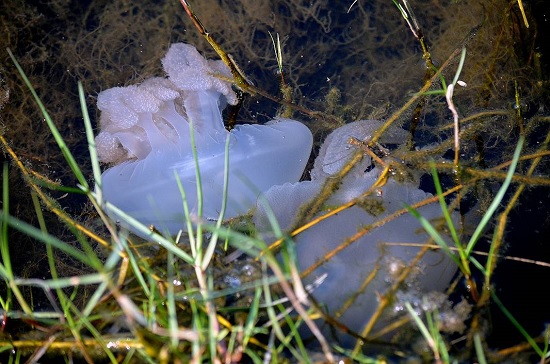 Jelly Fish in Ramtara River
When we return to the coast again, our team has gone so ahead that not a single member can be seen in front of us along the coast.

At 3.30 pm we meet death again. First we find a Fish washed by waves.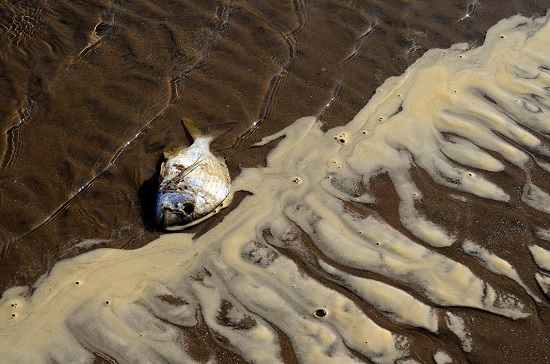 Dead Fish washed by waves
Then we reach a crematorium and notice a strange custom. On the place where the corpse has been burnt, a sandman has been shaped. It appears very symbolic to me. Soon the sea tide will rise and wash away the effigy; just as human life is ever washed away on the seashore of time. Perhaps that is the symbolic significance of this 'sandman custom.'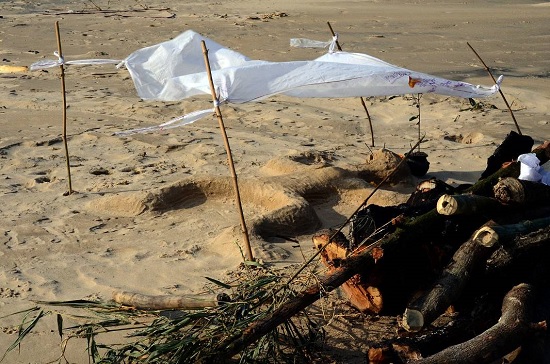 Sandman at crematorium
We could see an angular and a flat tower from quite a distance, and now we reach it. It is Siali picnic beach which is approx 20 km from Balikuda block and the most attracting beach of Jagatsinghpur district. However, the beach is littered all over with beer cans, and plastic. Let nature go to Hell because some idiot humans need to celebrate!

We decide to have a look at the place, and crossing the sand we sip tea at a local stall. We are glad to learn that all local people here are Bengali. The coastal villages along our trekking route are in fact mostly Bengali settlements. Most people's ancestors (at least three generations back) had come here from Medinipore district of West Bengal. They all know Bengali because they speak in their mother tongue at home, though none or few know to write Bengali because the first language in schools here is obviously Oria, while second language is English.

There is place to stay at the Siali watch tower under the authority of Jagatsinghpur Zila Parishad.

We walk on … and now we are accustomed to the game of Life and Death.

After walking some distance for about an hour, we find arrow marks left by our team leader indicating to take a right turn. A telephone tower is visible from here. So, we turn right and crossing the sand we enter the forest and follow the path through it. Our team leader has tied papers on tree branches to indicate the path we should follow.
Walking for about 1 km, we reach a bridge constructed with logs. It is very difficult to the cross the bridge standing erect, so we enjoy a good crawl on all four. Soon our members are in sight. This village is Sahadavedi (Coordinates: 20°4'46"N 86°26'20"E).

There is a nice temple of Lord Jagannath (Coordinates: 20°4'4"N 86°25'25"E). The temple is small, and the construction is new, but the architects have imitated the motive on the outer concrete depictions in tradition of Temple Sculptures as found in Khajuraho, Konark, Madurai, and Halebidu-Belur – that is, sexually explicit nude Woman is depicted along with Lions to indicate the Power of Lust (Kaama) that must be overcome/conquered to reach the Purusha (Lord Jagannath) in the sanctum sanctorum.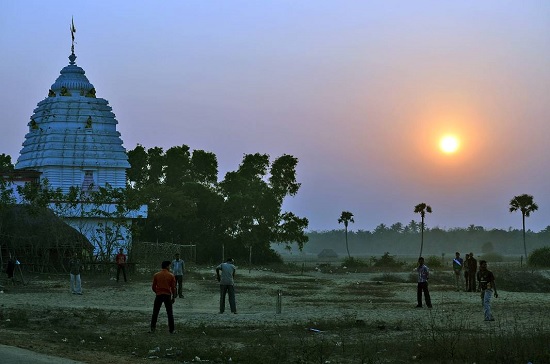 Jagannath Temple at Sahadavedi Village: The sun is about to set, and boys play cricket on adjacent ground
After we all meet, we walk about half kilometer to reach a primary school – "Kantaivunii Primary School." However, there is no electric connection, and the school authority can afford us only one room. So, it is decided to move on to the next village – "Mathsahi" village (Coordinates: 20°5'29"N 86°27'36"E). Now, it is dark, and so, our truck runs three shifts to reach us there with luggage.

Our new night halt is "Mathsahi Primary School."

We have boiled egg, rice, dal, and boiled potato mixed with green chilly and onion for dinner.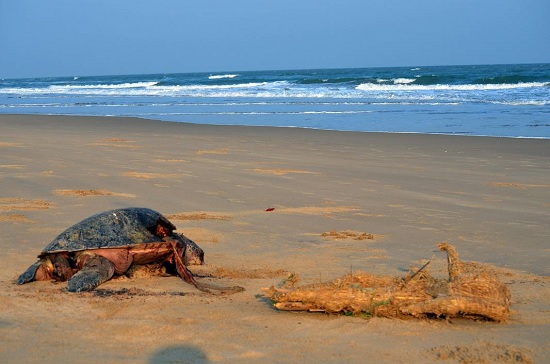 I go to sleep with the image of a dead turtle and a decaying straw effigy of God lying side by side, as the sea lashes endless waves on the shore.
Day-5: 26/01/2013
We start at 8 am after breakfast-cum-lunch with "Muri," "Kapir Tarkari," and "Sanpapri." Then we reach the Jagannath temple at Sahadavedi. Our truck runs 3 shifts to take us there, and then starts with our luggage for Gundalba Vilage, our destination for today. Our trek starts from the Jagannath Temple.

Between Mathsahi Village and Sahadavedi Village, there is a beautiful beach called "Saramanta Seabeach." We, however, bypass it. The entire area between these villages and Saramanta Seabeach is Prawn Farming Area.

There is another village also called "Nulia Sahi" adjacent to Sahadavedi Village – which is not to be confused if one plans to stay at Nulia Sahi on the first day of the trek where we stayed.

At 9 am we reach "Haowakhana Ghat" at Garh Harishpur village – a walk of more than 1 km from the Jagannath Temple of Sahadavedi Village. Garh Harishpur is also the name of the Panchayet of all these villages.

The river before us has a beautiful name - "Bahitkulia River" – actually a stream of Alaka River, and to the east is Alaka River Mouth. On the other side of Bahitkulia River is "Barua Jungle." There is a forest beat office near the Haowakhana Ghat. We notice an anchored boat of the forest department.

Soon the news spread, and many curious village folks throng to see us.

The fishermen community here is Bengali.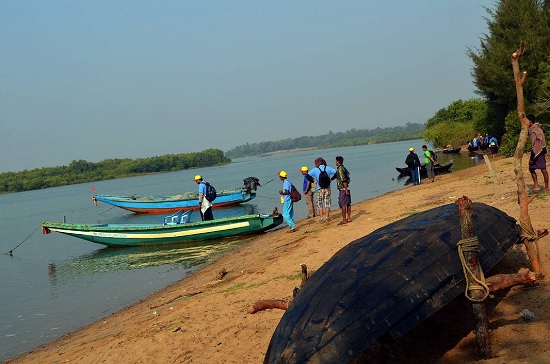 Waiting for boat at "Haowakhana Ghat"
Our plan today is to cross the Devi River by boat. There is no way to do coastal trek in this region because there are too many isolated deltas, distributory channels and estuaries of Devi River. A long boat journey has to be taken to avoid the River mouth of Alaka River and Devi River. The entire coastline from Alaka River Mouth to Devi River Mouth (a coastline distance of about 10 km) is impossible to trek because of deltas and marshy land.

We have to wait for sometime for a boat. When a boatman agrees to ferry us, we face the same problem. The boat cannot accommodate us all. 10 members stay behind for the next boat.

Our boat ride starts at 9.30 am – initially thrilling and then a long boring journey of two hours and fifteen minutes. We all sit on the boat floor. The boatman would not let us sit on the side-ridge of the motor boat.

After a short journey on the Bahitkulia River, we enter mangrove Kharis with mostly "Hetal" and "Badaa" trees on either side. The journey through Kharis reminds of the Kharis of Sundarvan.

At 11 am we reach "Bandar village" through mangrove Kharis. We see plenty of marine birds.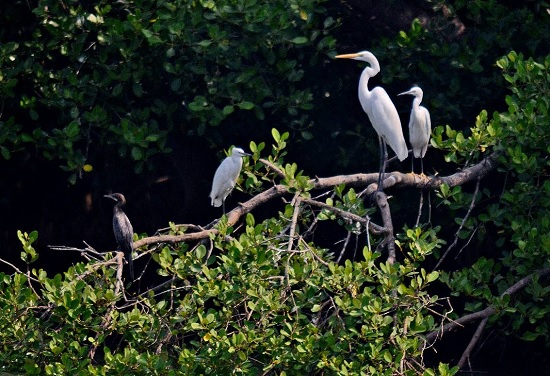 Large Egret, Egret, and Cormorant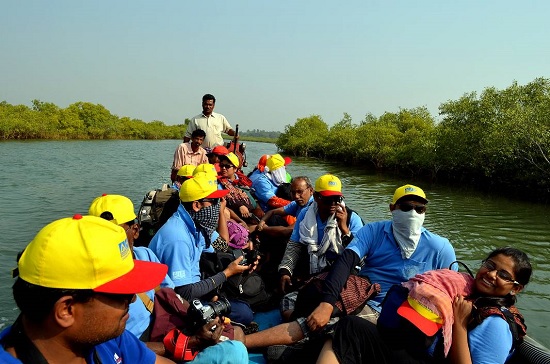 Boating through "Kharis"
At 12.15 pm we reach "Sohan village" or "Sahana Village" (Coordinates: 19°56'56"N 86°18'17"E) through a distributory of Devi River. So long we have been trekking in Jagatsinghpur district of Orissa. Having crossed Devi River, we now enter Puri district.

Sahana Village is a beautiful picturesque village. The bank gradually rises high to an undulated grass land, and then to a pretty elevation – and on the top a temple is visible through coconut trees. Since the arrival of the rest of the members within a short time is uncertain, we decide to spread over and explore the village and surroundings.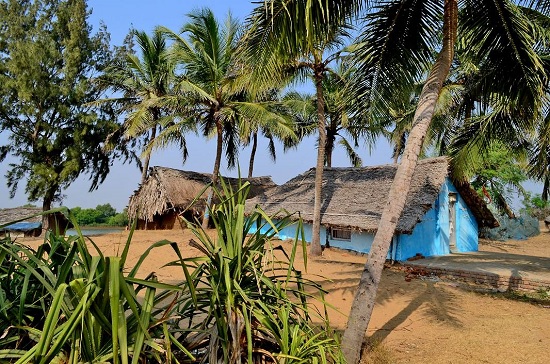 Picturesque Sahana Village
We meet a local and learn from him that the temple is Gangadevi Temple, and that the fisherman community in Orissa along the coastline worship goddess Ganga. I remember that the people of Sundarvan in West Bengal worship "Banabibi" (Goddess of Forest) and "Dakhin Roy" (King of South, that is, Tiger God) before entering the Forest.
Though Ganga River does not flow through Orissa, at least her "Vahana" is here – the "Makara" (Crocodile).

The Gangadevi Temple has a pleasant surrounding. The original temple was destroyed in Cyclone, and the new temple was constructed some years back. The dome and steeple of the original temple lies on the ground beside the new temple.

There is a small Shiva Temple beside the Gangadevi Temple. On one side of the door is a stone-sculpted Makara (crocodile).

On the walls of the Gangadevi Temple are erotic depictions in imitation of temple sculpture tradition of Orissa and elsewhere. However, the imitation in concrete is pathetic in its grossness and grotesqueness, more so because here the erotic depictions are placed on the higher panel, and depictions of Gods and goddesses on the lower panel. Though the sexual depictions are less philosophical and aesthetical, I am curious to know its significance, and the local readily obliges. He says that those who come to the temple with a spiritual mind never notice the erotic depictions at all.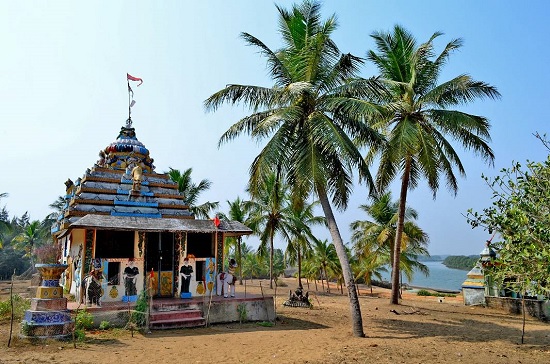 Ganga Devi Temple of Sahana Village
The Temple has Shakta influence as evident from depictions of Goddess Kaali in the inner walls. Another depiction of a "Mithun" (Couple engaging in Sex) beside the Kaali depiction suggests that the erotic depictions are in Tantrik Tradition. There is also depiction of Vishnu and Lakshmi on the outer wall.

What interests me further is the depiction of two Indian military soldiers standing on either side of the entrance. It is indeed a sort of modernization of the Temple, as also modernization of the concept of "Shakti" – the Indian Military Power being symbolized by the Soldiers.

This simple Gangadevi Temple in this remote simple village stands as a Symbol of Cultural Blending – fusing Shakta, Tantrik, and Vaishnava elements. The Temple is built in the shape of Chariot – in tradition of the Sun Temple of Konark.

After sitting there for sometime and having tiffin (biscuit and cake), we decide to have our own way in the village. Most members go to the sea-side (half kilometer from the temple) through the casuarinas jungle, while I and Sukhendu decide to explore the village and forest. Arjuna goes out to check if accommodation is available here, because if the rest of our team is too late to arrive, we might have to halt here for the night.

The rest of the team arrives at 2.15 pm, and then we decide to move on to the next village. We start our coastal trek again at 2.30 pm, and reach "Gundalba Village" at 3.15 pm after walking 3 km along the beach. (Sahana Village to Gundalba Village – 5 km) The entire region is within Astaranga Forest Area. Near Gundalba Village (and between Devi River Mouth and this village) is one of the few Turtle Nesting Beaches of the World.

Our today's night halt is at "Gundalba Prathamik Vidyalaya." The Adhar identity card project is going on, so we have to wait till 5 pm to get the room. In the meantime, our arrangements for cooking proceed in normal pace.

At 4 pm, Sukhendu and I go out to stroll to shoot village life and water birds. Lucky for us, we are rewarded with a lifetime experience. We spot a Hyena at a paddy field. It is, however, in no mood to pose for us for long. It emerges from one side of the jungle, covers the paddy field in slow pace, and then enters another side of the jungle. By then, yes … click!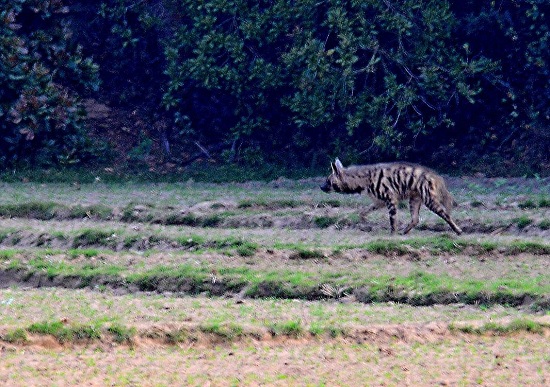 Hyena on paddy field
Near the primary school is an old house previously owned by one British. Now it is deserted. The house has a strange three-storied structure – though the ground floor is inside the ground and cannot be explored, and the second floor has been completely destroyed. The building has a circular structure with rooms - much like prison cells. It is now looked after by Mr. Subhakar Behera – who, I would later know, has been working in this are for Turtle conservation.

I cannot make out why the Britisher constructed this house; Mr. Behera too cannot inform much on this.

Since the school authority can provide us with only one room, the female members and senior members take that room, while the rest of us stay in tents or on the verandah.
Today is Full Moon – and many members cannot resist the temptation to see the Seabeach bathing in Moonlight.

Snacks in evening with "Muri" and "Beguni" (sliced egg-fruit fried in pulse-pulp), and dinner with hot rice and chicken curry – and we go to sleep at midnight after good "Adda."
Day-6: 27/01/2013
Today morning, our trek starts at 8.10 am. We walk along the village path to the Jahanira Beach. Near it is the "Jahanira Pira" – a Darga of a Pira - where both Hindus and Muslims offer worship. It is indeed a great symbol of Hindu-Muslim unity.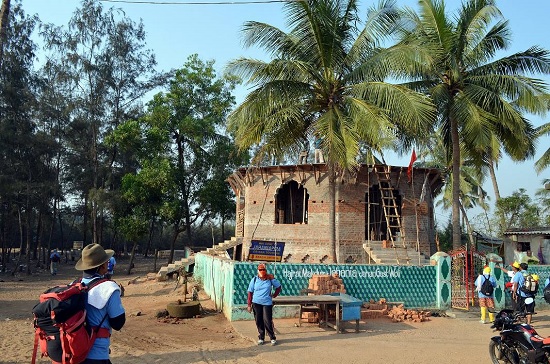 Jahanira Pira
We pass a fisherman 'basti' – and some our members decide to help some fishermen in their effort to float the boat in sea. They have to wait for the arrival of a large wave, and once that arrives, they all push the boat together with a unique sound – "heinho" …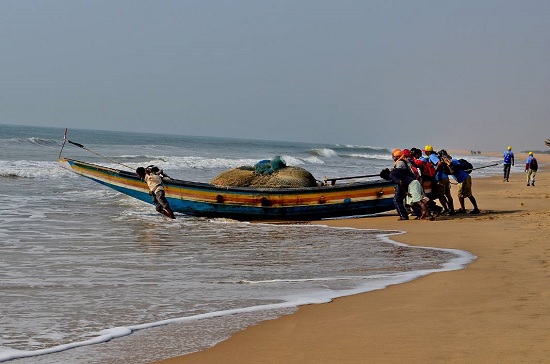 The first part of our trek is from Jahanira-Pira to Keluni River Mouth – 7 km.
After walking about 6 km along the coast, we now have an inland water body running parallel to the sea It is an estuary of "Keluni River." After trekking another 2 km we reach the River Mouth of Keluni River. This part of the trek is very rewarding because we see here flocks of Kentish Plover, Curlew Sand-Piper, and Sanderling perching and flying together – the names I learn from Sukhendu. The most beautiful part of their flight is when they take sudden turns together – tuned to each other in harmony and discipline.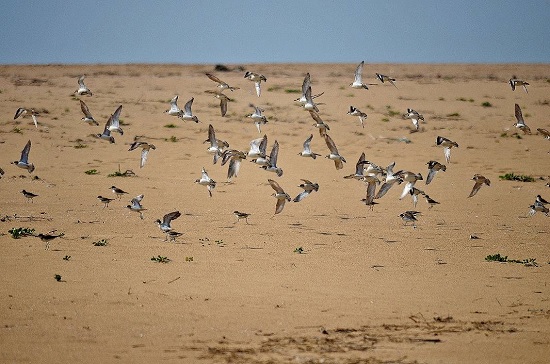 Kentish Plover, Curlew Sand-Piper, and Sanderling
The landscape is also very beautiful. However, from Jahanira Seabeach to Keluni River Mouth is a really arduous trek. The sand is soft, and the shore is in sharp slope – that makes walking strenuous and difficult.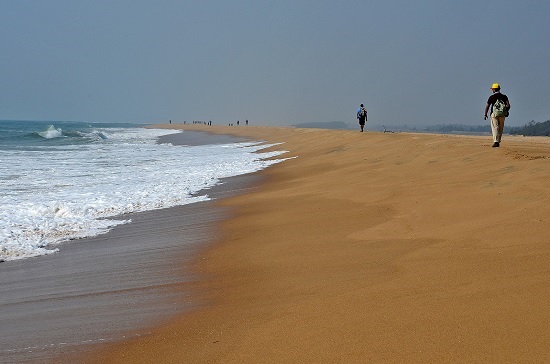 Jahanira-Pira to Keluni River Mouth
The Keluni River Mouth is a very beautiful spot, and while we have to wait for boat, we spend the time observing fishermen and the landscape.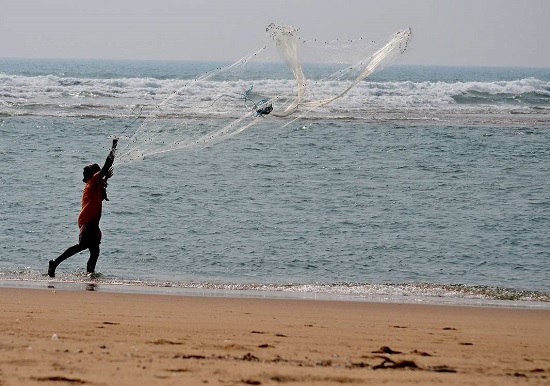 Fisherman throwing Net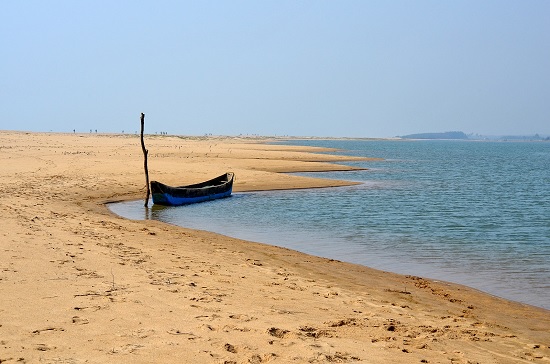 Lone Boat near Keluni River Mouth
Crossing the Keluni River Mouth, we are back to comfortable trek, as the beach is now wide and flat – almost like football field. Interestingly, beyond the flat beach is very unusually high sand bank – almost like fort wall.

After walking for sometime, Coconut trees can be seen raising heads above the high sand bank, and we know we are passing Tandahar Village.

Now the sand banks are even steeper, and on the other side of the sand wall is forest area.

This part of the trekking is boring and monotonous, unless one is interested in spotting marine animals and collecting colourful stones.

After a trek of about 13 km from the Keluni River Mouth, we finally reach Chandrabhaga Sea Beach, and our trekking ends here. 3 km inland from Chandrabhaga is Konarak Sun Temple.

Near Chandrabhaga Seabeach, we notice two large "Shankar" Fish lying on the shore. The Fisherman 'basti' here is as dirty as usual, and we have to take care of "landmines."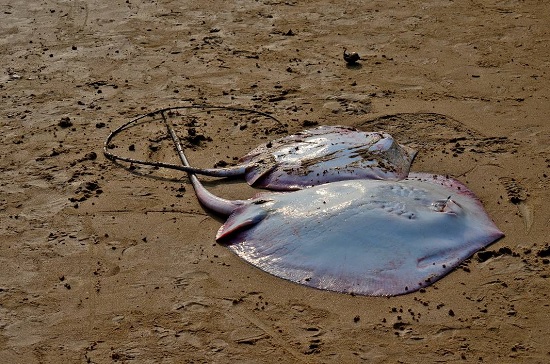 From Chandrabhaga Seabeach, our truck transports us to Puri.
Next day, Sukhendu, Sanchayan, and I visit Konark – but that is another story.

While the Trek has given us much opportunity to learn about Man and Nature, and their mutual relation, it has also given the opportunity to witness firsthand some of the urgent environmental concerns of today. The threat to Olive Ridley Sea Turtles, beach erosion, effluent discharge into the waters – are some.

It is true that Culture unifies India. Though our trekking has been confined mostly to the coastline, I have always felt that I am in India – and as such I have been at home even with people of different language, manners, and culture.

While I laud and thank Chandannagore Adventure Sports Club for organizing such a nice Trek, I cannot but suggest that they must organize more such treks in future with the objective to create awareness on the conservation of animals and beach, and on their relation with Human – that is, Environment and Culture.

Well, one resolution emerges from every trek I undertake. I will sail on like the Blue Boat on the Blue Sea.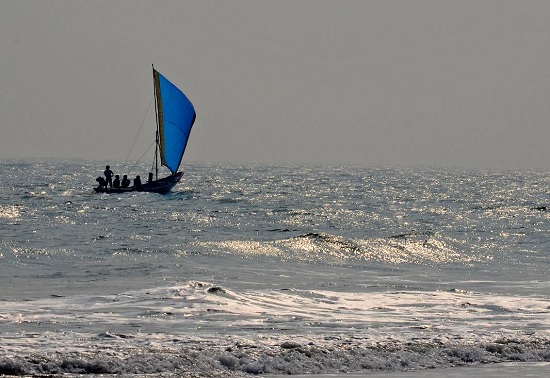 Information

Coastal Trek Plan at a Glance:

Day-1: Paradip lighthouse to Nuliasahi Village – 18 km
Day-2: Nuliasahi village to Mathsahi Village – 16 km (Instead of staying at Sahadavedi or Mathsahi, or Garh Harishpur, one might opt to stay at Karavedi Village. In that case, one has to continue to coastal trek instead of leaving the beach and turning right for Sahadavedi Village)
Day-3: Mathsahi Village to Gundalba Village – 7 km trek, and about 20 km by boat (Contact Mr. Subhakar Behera at Gundalba. He runs an NGO for Olive Ridley Turtle Conservation, and is a very helpful person.)
Day-4: Gundalba Village to Chandrabhaga Seabeach – 21 km

How to go:

Kolkata to Cuttack by train - 411 km. Cuttack to Paradip by train, or by road (83 km).
Paradip railway station to hotel/accommodation by hired taxi/auto.

Where to stay:

If the team is small, then it is better to arrange prior accommodation. Many hotels are available at Paradip. Or, you may book OTDC Panthanivas. Budget accommodation is available at "Rice Mill" area – 6 km from railway station. Similarly, one might arrange prior accommodation at Konark and Puri.
In case of a large team, accommodation may be arranged – our club style. It is advisable to carry tent – as we do.

Must Takes:

I give here a complete list of what should be carried – a sort of checklist.

1) Money, in cash, and in lower denominations (ATM available only in Paradip and Konark, and nowhere in-between)
2) Rucksack/backpack
3) Nap Sack (for carrying during trek - for carrying food, necessities etc)
4) Mattress
5) 2 metre plastic sheet
6) Mosquito Net, mosquito repellant
7) Bed sheet to sleep on, Sheet/Shawl to cover while sleeping
8) Sun glass
9) Shocks (4 pairs)
10) Trousers (2 pcs)/ 1 trouser, 1 tracksuit lower/ two 3/4th
11) Full sleeve t-shirt/vest (2 pcs)
12) Half sleeve t-shirt (2 pcs)/ shirts
13) 1 windcheater, 1 sweatshirt, underwear
14) Spoon, plate, and glass
15) Towel
16) Trekking shoe/slipper/ (It is better to wear a long-used and seasoned shoe to avoid blisters)
17) Water bottles (better to carry two – one for drinking water, and one for serving the other purpose)
18) Torch, battery (Head torch is better)
19) Vaseline/cream/sun cream
20) Small knife
21) Toilet requisites
22) Tooth paste and brush
23) Repair kit, e.g. needle, thread, buttons etc., Rope etc.
24) Adhesive e.g. feviquick
25) Personal medicine (for fever, diarrhea, dehydration, vomiting, in particular; first aid box; geoline)
26) Voter identity card with 3 xerox copies (may not be actually needed, but better to keep ready because one has to pass through sanctuary zones)
27) Cap (One has to face the sun for major part of the trek for most part of the day)
28) Tickets, Booking documents etc.
29) Tent
30) Adequate dry foods like biscuit, cakes etc., glucose
31) Camera, mobile phone, charger etc.
32) Some electrical instruments, like – tester, wires, multi-plugs etc.
33) Stove, Kerosene, Cooking utensils (if the team is large)

Things to Remember:

The trekkers would cover mostly unmanned and isolated areas, with no place to stay, and no hotel/restaurant available anywhere in between Paradip and Chandrabhaga Sea-beach, except at Siali (and that too not without previous booking). A small team that wants to undertake the Trek must plan everything to the meticulous detail, like –

a) What to Eat: It is advisable to carry lunch packet while trekking, or start trek after breakfast-cum-lunch as we do.
b) Where to Stay: It is better to opt for staying in the Primary school buildings of a village. For that, contact the headmaster immediately on reaching a village, or look for the pradhan etc.
c) Interaction with local people is very important. The presence of a village may not be detectable from the coast. So, every fisherman or people one comes across while trekking is an important source of information.
d) No porter is available, unless one hires a truck like us for porting luggage. A small team intending to carry their own luggage, should take luggage accordingly well considering one's capacity to carry and walk.