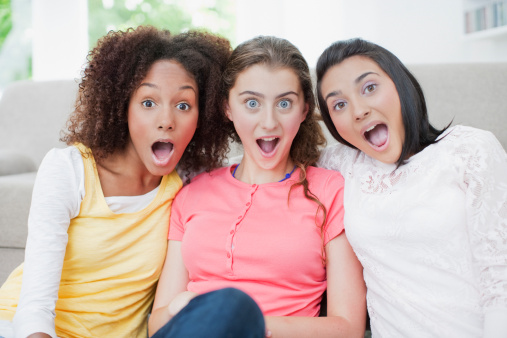 A trip to my sister's place actually enlightened me so much that I feel I have come back a more learned and happy person. The day my niece asked me why is it that women are always portrayed as objects of misery and drudgery, I realized it was time to tell her about a few basic and mean truths of our society. And otherwise also I had decided I would talk to her about the bees and butterflies stories. But I was waiting for the right opportunity.
A get-together of the gang was organized, occasion being my niece's birthday. That was her fifteenth birthday. The kind of image I was presented about them was, they were not "the happening gang" neither were they part of the "in group" of their class and many a times they were the targets of the in-group's fun and jokes. I blindly presumed, keeping the background in mind, they would be lacking some self-confidence or would be suffering from some insecurity complex.

I got the chance to sneak into the lives of today's teenagers. We feel we have seen the world more than our youngsters and conveniently consider ourselves to be wiser and matured. I had to change such ideas of mine after I interacted with this handful of today's teenage girls. I am glad to realize that they were much wiser than any of us.
A girl whom I might consider quite healthy, but youngsters would brand her to be fat, was the cheerful of the lot. I have always found it so disheartening to see the way the world treats heavier people and painful it is to see how the victims feel low about it and end up as emotional eaters. Having that in mind and self being a self-professed psychologist thought of counseling her, if got a chance. So I grabbed an opportunity where I sat beside her and we started talking. I was impressed, floored and shocked to know that I was highly mistaken, she needed no help; she was a content satisfied and happy girl. She felt everybody is beautiful and what others feel about her is their business…
We all started talking; I mean, a heart to heart girly talk….all of them, I presume got emotional and excited. It was an impressive affair or I can say impressive chapter in my whole life.
They related incidents of their school life where each of them 'once' wanted to be a part of the "in-group" in the school…but would get snubbed by the queen bee for reasons like they are not smart enough or not pretty enough or not slim enough and sometimes one needs to be tall enough also to mingle with members of the in-group.
These girls were not the conventional beautiful girls in social standards. The girls were not the standardized fair and lovely kinds. A girl was short by their peer group standard and one was not very fair … But I felt I met real power puff girls.
My niece said,' all of us secretly wish to not look the way we actually are. All of us some time or the other nourish ideas about having a better nose, teeth or things that we generally don't have…….It is very normal to have such feelings, …... There is no such 100% package and never, but never to feel unworthy about yourself…so whenever there is an attack of such stray thoughts, we know how to deal with it'. They said, they try writing about themselves that they like and that helps and makes them feel good and worthy and nothing less to others. There is no harm in trying to change for good but again, within quotes, not for social acceptance but for self. And under such circumstances family and friends can't help …one has to help herself. Such situation demands self to get creative ----shame never creates change, which, I thought, is very true. And to this it can be added that one should try to be with positive people who are great motivators. Negative people should be left behind, they are generally dream killers.
Raw emotions of young girls came pouring…and the deep courage within them was mind blowing. I was spell bound and speechless, still I found the girls to be vulnerable on intimacy and love matters but here too the girls turned out to be more composed and wiser. I did my blunder of trying to give them a small lesson on when to actually go for friends of the other sex and how, intimate relationships are not to be tried so early in life. So I again tried to sit and talk to the girl who I found to be the most quiet and introvert of all, about the bees and butterflies issue, and a volley of things ran through my grey cells, she could be easily fooled by good and nice words, I thought. And that she can easily trust people, concluding that she was the most vulnerable of the lot, and could do some real blunders in her life I started off with my mission. But alas I was again mighty impressed with their thoughts and ideas…she said she believes in her best friend "Miss Doubt" the most…The doubt one has inside oneself is always the best guide and details do's and don'ts. It is always advisable to believe the hunches of our own Miss doubt. And somebody having full faith in herself doubts and always going by them can hardly be in trouble. Never fight the lady doubt in our " selves", am not sure if am ready yet and whenever there's the slightest fear, doubt about doing anything that should be aborted. … was what she said and that she blindly goes by her lady doubt's intuitions. Such strong and balanced teenagers I had never seen. That was great girlz and you need to go real far and nothing should stop you.
Being born as a woman in this wild world is a lottery but survival is the price that women need to pay. And I can end with the good thought that I need not worry for the next gen women they got the secrets to survival techniques and they I am sure now will not let themselves be trashcans allowing men to pump into them their muscles and insecurities. I was damn happy of my being a woman myself and I won't be wrong if I say that Girls hold up this world.