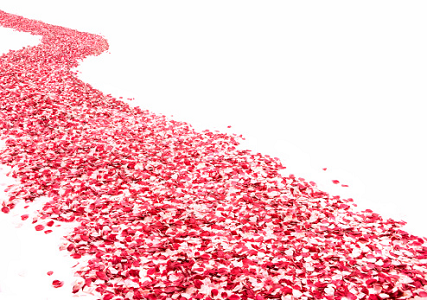 Valentines Day…why only on Feb 14. St. Valentine's Day falls on February 14, and is the traditional day on which lovers in certain cultures let each other know about their love, commonly by sending Valentine cards, which are often anonymous. The history of Valentine's day can be traced back to an obscure Catholic church feast day, said to be in honor of Saint Valentine. The day's associations with romantic love arrived after the High Middle Ages,during which the concept of romantic love was formulated.Also known as single awareness day,observed by people all over the world where lovers let each other know about their love by sending/giving cards and gifts. That was the theoretical and historical aspects of it, the practical sessions though will be different for each of us…
It was if she exactly remembered, during her eighth standard that she had received her first valentine card. She had found an anonymous card in her bag, from some secret admirer of her of course, and to which she conveniently presumed to be sent by the boy whom she used to admire …the first great heart throb she experienced…the following day was equally memorable….she straight away went to him and thanked him for the card, he was dumbfound and later she felt foolish, it wasn't him and she felt heartbroken. She was not interested to know who actually the secret admirer was.

The following years Valentines Day was very similar to the last one but this time there were chocolates to add up to the card and again anonymous. And this time no fire to guess who the unsung Romeo was. A surprise awaited her which obviously she wasn't aware of. In the recess part of the day the chicken of the class comes up to her to ask how she liked the cards. She was bemused but the reaction was pretty harsh she gave a proper dressing down to him and poor guy he was heartbroken. No wonder people prefer anonymity to such bitter experiences .It is a day to rejoice ones love so what if it is one sided. And she wished, it was somebody else.
The first year in college ….life suddenly became more open, lively and colorful. Eagerly waiting for the Valentine day to arrive and expecting a card from the one she loved (she thought so) was but natural to do. There was somebody at the door …she rushed to open the door and to find nobody but a bouquet of roses at the door step, and again an anonymous one. The flowers true looked great in the living room though had no names on it. That day she recd in a row so many cards and gifts and flowers, but all of them were anonymous …were they all from one or different people, she wondered. But she felt good to have received so many of them. It is a nice feeling to be popular or so to say liked by so many, she thought to herself.
The most memorable Valentines Day she would count on, would be the first one in her life because the kinds she always dreamt of did happen in her life, but with a bitter memory attached to it. The perfect kind of a valentine day any girl would ever dream of. Red hearts hanging, balloons filled the room. Roses delivered, a box of chocolates to sway, you're the one, the card read, and a heart filled with love, the feeling was bliss.
She, but couldn't bask in this bliss for long. They parted for convenience sake. Life seemed pretty dull and void. It was then that she wished she shouldn't have been harsh on the guys who liked her and showered on her cards and chocolates, denial could have been done in a better way.
The coming of the next valentine day did leave her a bit nostalgic. The heartaches were too much for her. Myra broke down and wept the tears she had been fighting off all day. She began to mentally chide herself for being such a crybaby. Time did heal her wounds.

Myra suddenly found herself surrounded by dozens of wedding guests, expressing their feelings of what a beautiful wedding it had been and what a lovely bride she was. She accepted each congratulation with a mechanical smile and a false tone of thanks while she felt she was inside of some vacuum of insulated misery that no one could see or feel but herself. Finally, she was getting married, a typical arranged one. She looked like a slave to destiny.
The man she didn't know much, suddenly becomes the centre point of her life…she didn't know how to deal with it. The first morning of her life after marriage was an ill one. She woke up with high fever; they were supposed to go for their planned honeymoon trip. Myra felt bad cause for her their trip got cancelled.
It was during that phase and the way Tarun took care of her, she realized marriage is totally a different institution all together. That was when they got to know each other so well….she was an ardent animal lover and he was shit scared of them. She liked coffee and he professed tea, she loved the setting sun and he would never dare to miss to see the sunrise…so different to each other but still there was something strong that developed between them.

It would be Valentine's Day again in a few days, what would she get from him. Would it be emerald earrings to match her eyes or some diamonds to dazzle her mood. The next morning, Myra found herself waking up to a lousy mood. She fussed at herself silently but it did little to alleviate the mood. Myra tidied up the already neat house and drank two cups of decaffeinated coffee. When she was done, she realized she had nothing left to do. Just then there was the doorbell, she opened the door…..and it was magic she wouldn't believe her eyes…an adorable Dalmatian pup all curled up in a cane basket and red ribbons to add more to its beauty, she pinched herself and realized it was real. She had to double check the address cause what she could guess it couldn't be for her from Tarun…he doesn't like animals.
Myra was blown away by this recent amazing discovery: the capacity to LOVE. There is something to this love thing. And it was completely, utterly, outrageously, and totally beyond her ability to digest. She was floored, she was swept off her feet, and she was ecstatic and couldn't stop the cheek muscles from stretching.
She tried to do something for the evening; there was so much compassion in the air. A romantic dinner was set with aromatic candles burning in all corners.Tarun was back from office and it was magic for him too. It was in that dim light that she first saw him with so much love in her heart, Happy Valentine's Day," he whispered as he took her tenderly in his arms and kissed her.
Marriage is the process of continual efforts of putting up with the spouse for the whole of the life and learning not to be bothered by the little things that bothers one. Nowhere can a perfect spouse be found (who is but Christ?).
Tarun did fit in her life beautifully and she feels they are soulmates.She found in him a forever friend, forever lover and her forever valentine. Love is recommended to everyone – it can change ones life in so many ways and everyone should experience this completely unexplainable joy. It is been a decade to her marriage, Tiger (the Dalmatian) is grown huge and old and two kids have made the family picture perfect. Myra couldn't have asked for anything more in life.