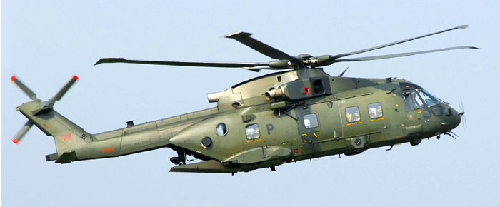 The Augusta Westland helicopter corruption case offers opportunity not only to unearth the guilty in this deal but to clean up the nexus that runs corruption in the major official deals in the nation. When the system becomes corrupt as has happened in India there grow permanent service providers for laundering money, transmitting money, providing legal safeguards and actual bribing of officials that might be used in all deals and not just any one particular deal. The evidence surfacing from the August Westland scam provides opportunity to crack the system and destroy the mafia running it.
What must be guarded against is to chase singular players and lose sight of the whole picture.
There is vested interest and expertise by the corruption mafia to divert public attention to precisely such aspects which act as a red herring to draw media attention away from how the mafia operates.
In the current case there is considerable attention focused on when, how and in how many stages the technical requirements for purchasing the copters was altered to facilitate the deal in favour of Augusta Westland. In the light of the revelations that have already surfaced these might be downgraded for priority. One might focus straight away on going for the jugular.

We already know that bribes were paid. We already know when they were paid. We already know the identity of some of the recipients. The essential requirement to get the truth would be of course to grill them remorselessly and also offer inducement of lighter sentence to encourage them to spill the beans. Recall how Watergate was cracked to reach the very top.

For starters there is enough information to commence. We know now that contrary to earlier reports the final changes in the technical requirements were introduced after clearance not by Mr. Pranab Mukherjee and Mr. AK Antony but solely by Mr. Mukherjee. Defence Minister Mr. Mukherjee demitted portfolio in favour of Mr. Antony just after approving the crucial changes. Immediately thereafter, as Finance Minister, Mr. Mukherjee again approved the changes on behalf of his new office. The final changes in the technical requirements for the copters therefore were approved only by the Prime Minister and Mr. Mukherjee in 2006.

The change introduced by the late Mr. Brajesh Mishra during the NDA government was rational in order to ensure that the technical requirements were not such as to allow only one bidder. Mr. Mukherjee of course cannot be troubled now because as the President he is above questioning. However officials who served under him at that time can be questioned to throw more light on the matter.

From the information about the deal that is tumbling out in bits and driblets the exposures by Times Now TV channel Ms. Navika Kumar are crucial. Reporting from Milan, Italy, Ms. Kumar has accessed several documents from the official Italian investigation that throw valuable light on the scam.

Two such bits of information might prove crucial.

It is now revealed that Mr. Abishekh Verma, presently in jail for violating the Official Secrets Act connected to the Naval War Room leak, is also the owner of the Mauritius based company Atlas Interactive Limited (AIL). Evidence has been unearthed to indicate that Mr. Verma's firm operates as the deal broker for Augusta Westland on an overall basis. It is also established that AIL and its allies clinched defence deals worth 5.5 billion dollars during a period of four years. Also, there is now evidence that Mr. Verma's lawyer, Mr. Gautam Khaitan, helped transmit almost 300 million US dollars held in two accounts by AIL from Mauritius to Delhi for disposal as AIL thought fit.

From all this it is amply clear that Mr. Verma is one of the key players in the arms trade racket. If grilled properly with a mixture of stick and carrot cannot he be made to reveal all he knows? It is entirely possible that Mr. Verma may cooperate given a proper deal. After all he belongs to a distinguished family. His late father Srikant Verma was a celebrity in the world of Hindi literature. He was made member of the Rajya Sabha by the Congress government. Apart from his sterling contribution to Hindi literature he rendered invaluable service to national politics. He enabled Mrs. Sonia Gandhi to effectively contribute to national politics by teaching her Hindi over a period of several years.

Apparently the rapport between the parents extended to their children. The CBI while probing the defence deals of Mr. Abhishek Verma had in its possession a document related to a meeting between a senior official of Sig Sauer, a giant arms firm, and defence top officials that was officially recorded. It was pointed out in these columns in July last year:
"It (the document) reveals that the Sig Sauer official was accompanied by "a young member" of the Gandhi dynasty while meeting Defence officials. That means either Mr. Rahul Gandhi, Mr. Robert Vadra or Mrs. Priyanka Vadra accompanied the Sig Sauer official during the meeting with Defence Ministry top officials."
Nothing further was heard related to this document. Perhaps the time has come to probe whether Mr. Verma manipulated his contacts with high ups to deceive them and at the same time influence officials.

Previous:
Who is Godfather of India's Corruption?