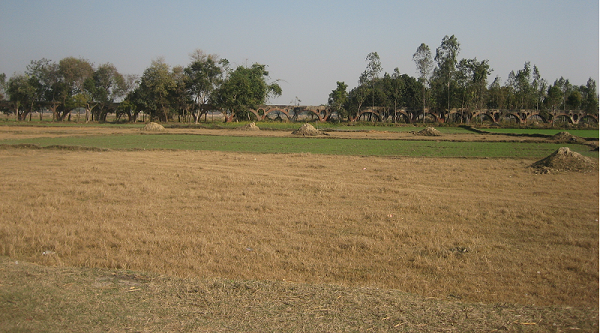 World over, especially in the developing countries loss of arable land is becoming a gargantuan problem. Population increase is noticeable everywhere. More population means requirement of more food. To produce more crops we need land. On the other hand we need land for providing dwellings to people, for the industries and also for all other infrastructure.
Go to any metro or large city in India and you will find the outskirts dotted with high rise housing colonies/projects. This is because, the main city centres are now crowded beyond expansion. Hence, there pressure on the outskirts. Since most of the cities, particularly in the Indo-Gangetic plains are situated on the banks of major rivers, they are surrounded by productive farms. The first thing you notice a ring of brick kilns surrounds the expanding urban areas - kind of no man's land between the farms and the urban habitats. We are still following the age old method of making walls of brick and mortar, unmindful of the fact that the bricks are made of top soil and once this soil is removed it takes another 1000 years to regrow at that site. Thus for next 1000 years that patch of land is bereft of soil-a hideously bald patch. Fly over any upcoming metro and you will find such rings of bald patches.
With the ever growing need for housing colonies, more and more farmland is being acquired; leading to a decline of the net sown area (NSA). As per an estimate of Food and Agriculture Organisation (FAO), about 45 million hectare (M ha) land had degraded b 1991 and by 2003 the figure had risen to a whopping 59.2 M ha. This land degradation is not merely due to non-availability of irrigation resources but due to soil health degradation as a consequence of misuse of land and also due to housing and infrastructure construction activities.
The problem is of concern amongst the planners all over the world. It is a fact that the cities came up on what used to be the agricultural fields. With the increasing population these fields are shrinking everywhere. Bo R. Doos of Global Environmental Management, Sweden, in one of his papers published in Global Environmental Change (Elsevier) quoting US Aid, says, 'According to a study presented by the US Aid (1988), the expected loss of arable land due to urbanisation between 1990 and 2020 was expected to be 14 M ha.' This loss was negligible compared to the total global arable area. But the later studies have indicated that the area of land required for purposes other than agriculture is much more than estimated.
The rural agricultural land is fast getting transformed into housing colonies, Shopping Malls and other infrastructure due to demands of rising population and socio-economic developments demanding a higher living standard. While urbanisation does reduce the arable land, but even in rapidly developing villages a trend is catching up fast to use the land for other purposes. Quoting example of Republic of Korea, Doos says Households in villages of Korea consume six times more land per capita for residential purposes than households in Seoul.
A comparable scene is common around Indian urban centres too. Most of the villages close to urban centres have sold their fields to colonisers, technical and management institutes and even large hospitals. Well, we do need all these two, but at what cost?
It is impossible to hold the onslaught of development. All countries have their reserves. But the studies show that the land reserves are smallest where demand is highest. For example, in Near East/North Africa region there is virtually no spare land available for agricultural expansion. Apart from availability of land for agriculture, in any country, plots of farmland under intense cultivation often face the risk of degradation due to excessive use of fertilizers or irrigation. Such degraded lands lead to reduced production. The graph of the demand for food on the other hand goes northwards. Irony remains that such degraded lands are seldom used for purposes other than agriculture.
It is the prime agricultural land that is sacrificed maximum for our needs, other than growing crops. It is this land which is often targeted by the land mafias. Yet other bad trend is emerging in India is 'mining' soil as a landfill to develop low lying land for projects taken by the state governments. In Lucknow hundreds of acres of farmland from the eastern outskirts were removed to create suitable high lands for installing statues. It is good to beautify and area and install statues etc. But it is criminal to remove the productive soil form the farms. Those farms will now be without a soil for 1000 years to come and the depressions caused there will remain a breeding house for mosquitoes for years to come.
Worldwide it is expected that 30 to 60 M ha cropland will be taken away during the coming three decades to meet the demands of space and demands other than food production. During these 30 years population growth will continue, hence the demand for food will keep rising. In order to meet that demand and to ensure a constant food supply 100-200 M ha reserve land will be used for agriculture. This reserve land, as already said in most countries is the forest land. One can imagine the huge impact it will have on the eco-system. Regions where land is scarce need to protect their land; else they will be gradually depriving their population of food. Similarly, in countries like India where land is available, priorities have to set regarding development-at any given place depending upon the bearing capacity of the land, we have to use the concept of 'thus far and no further'.
A deeper study is certainly required in each district, where urban expansion is inevitable, to find out areas where land can be safely acquired without influencing the crop production. The present day semi-literate youth of the villages close to urban centres get lured by the glitter and glitterati of the urban areas and it is easy to buy them. That is what most of the so called developers are doing under the patronage of the state. The gullible villagers get lured by the money. Very few of them are intelligent enough to invest their quick 'earning' for a constant return. Majority squander their 'income' and become paupers or even turn to crime.
It is a serious problem which needs a detailed study by the agricultural scientists, sociologists and advise the government regarding the fallout of use of cropland for other purposes.


Image by author of a rich farmland acquired for building housing colony.