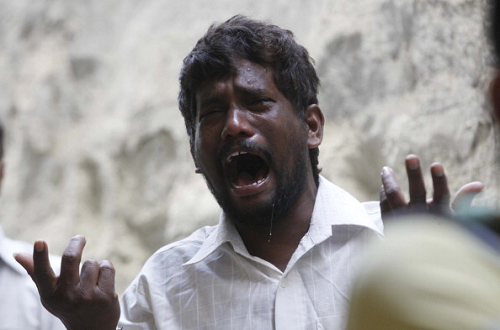 Terror has struck Hyderabad. There was terror in the past. There will be terror in the future. There has been terror in Hyderabad. There will be terror in other cities. India seems to be helpless. Critics say that India is a soft state. India is a soft state because those who rule us have soft heads. After the recent blasts the Home Minister stated that the Union government had given prior warning to all the states. Critics ask why adequate steps were not taken in advance. The state governments are blaming the centre. The centre is blaming the states. This blame game will go on forever. That is why I say our politicians have soft heads. The solution stares them in the face. They refuse to see it.
Without reappraisal and systemic reform within the parameters of the Constitution I can confidently state that neither governance nor the war against terror will ever be effectively addressed in our nation.
In parliament yesterday leader of the opposition Mrs. Sushma Swaraj said that unless the nation is united and all the political parties in the nation unite there will be no effective war against terror. Well said. But I ask Mrs. Swaraj: what has the BJP done to further these fine sentiments? Consider the objections raised to the creation of the proposed National Counter Terrorism Centre (NCTC) which never took off and which would have adequately addressed the recent incident without a blame game. To address the legitimate objections to the NCTC proposal there would be required of course systemic reform within the parameters of the Constitution which sadly no political party even cares to consider.

The main grouse by state governments against the proposed NCTC arise from fears that the central government could exploit the agency to play partisan politics to favour the ruling dispensation. This fear is valid. The central government asserts that there cannot be an effective war against terror unless there is coordinated control exercised by one overall body. The central government's argument is valid. What, then, is the solution that can address the legitimate concerns of both the centre and the states?

In order to eliminate partisan politics by the centre there must be obviously an authority that equally has a mandate in parliament as well as in all the states. The proposed NCTC would be under the direct supervision of that authority. To review the functioning of the proposed NCTC there would have to be a forum that allows discussion equally to representatives of the centre as well as to all states. The irony is that both requirements are met in our written Constitution if only it were implemented as laid down in its text.
It is the President elected by legislators of both Houses of Parliament and all the state assemblies who has the requisite mandate to eliminate a partisan approach by the centre towards all states. The Prime Minister may or may not have the desired mandate because the office requires only a simple majority in the Lower House of Parliament. There is nothing in the Constitution to suggest that the President as the only and final constitutional authority to preserve and protect the Constitution and law would be exceeding the powers assigned to the office by overseeing the functioning of the proposed NCTC.

Insofar as the adequate forum which might review the functioning of the proposed NCTC is concerned there already exists the proposal of the Inter-State Council outlined in Article 263 of the Constitution which remains virtually a dead letter due to non-implementation. The Inter-State Council is designed to address all disputes and problems between different states as well as between the centre and any or all states by giving in it due representation to the centre and all states. Article 263 states that
"it shall be lawful for the President by order to establish such a Council, and to define the nature of the duties to be performed by it and its organization and procedure."
Even by the current distorted interpretation of the Constitution by which the President is a mere dummy and the proposed Council would be created solely under advice of the Union Cabinet, it cannot be denied that only the President has the requisite mandate to preside over the functioning of such a Council. Even the blinkered jurists and politicians who have distorted and destroyed the spirit of our written Constitution cannot deny this.

Therefore if Mrs. Swaraj and other members of parliament are at all serious about countering terrorism they must summon the courage and honesty to review their understanding of the Constitution and the role of the President outlined in it. Without such reappraisal and systemic reform within the parameters of the Constitution I can confidently state that neither governance nor the war against terror will ever be effectively addressed in our nation.

Image (c) Gettyimages.com