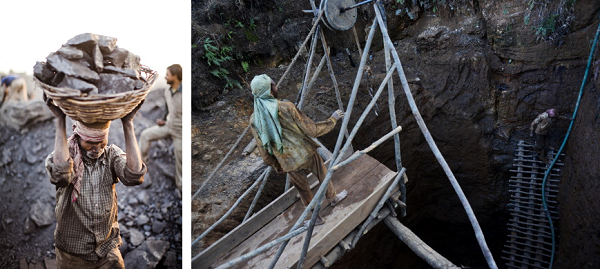 Mining is an ancient activity. It is so old that the Egyptian, Roman and Greek civilizations have practised it in their time. India is one of the leading countries in iron ore and coal mining. There are companies like Vedanta, Bharat Aluminium Company and Hindalco which are involved in mining activities. The industry contributes around 2.2% to 2.5% of the national GDP and provides jobs for around 700,000 individuals.
However, with the good, has also come the bad. Mining in India has seen a lot of scams and scandals such as illegal mining and improper coal allocation and is commonly referred to in India as 'Coal-gate'. These issues are not just damaging the reputation of India as a business destination. It is also over exploiting the natural resources and hurting the fragile eco-system.
Mining Scams and Scandals Galore
The 'Coal-gate' scam is the latest in a long line of controversies in the mining industry. One of the other scams in the mining industry has been the illegal iron ore mining in Karnataka. In Bellary, Karnataka, iron ore is said to have been illegally mined after allegedly paying a small amount of royalty to the government. Justice Santosh Hegde, former Lokayukta of Karnataka, who was an anti-corruption ombudsman, brought this scam into the public eye. According to him, there has been illegal mining of about 35 lakh metric tonne in Karnataka alone, which amounts to around Rs. 1600 crore.
In Orissa, the problem is even greater. There is illegal mining in bauxite, iron ore, chromite and coal. It is one of the nation's richest states in natural resources. This has caused excessive mining and thrown up problems with land rights for the locals. The opposition parties in Orissa claim that the scam is of the scale of about Rs. 250,000 crores. The state government has however asked companies such as Tata Steel and Essel Mining among others, to pay Rs. 50,000 crore only for alleged illegal and excessive mining.
Apart from this there is illegal mining in Aravalli (Rajasthan), Goa and Madhya Pradesh. Revenue losses in Goa have been estimated to be around Rs. 3000 crores. Around 100,000 people have lost their source of livelihood in four talukas — Bicholim in north Goa, and Sattari, Sanguem and Quepem talukas in south Goa. Their farms have been destroyed by mining silt and water sources have been contaminated.
Former Union Minister of Communication and Information Technology, A Raja who was in jail due to the 2G spectrum scam and is currently out on bail, issued 169 environmental clearances for mines in Goa during his term as the Union Minister of State for Environment. Out of these, 15 clearances were for mines inside the Netravalli wildlife sanctuary in south Goa.
Environmental Damage by Mining
Mining results in erosion, creation of sinkholes, contamination of surface water, groundwater, soil, loss of biodiversity and this is just legal mining. Greenpeace says that bad mining practices can ignite coal fires, which can burn for decades, release fly ash and smoke laden with greenhouse gasses and toxic chemicals. It goes on to state that mining releases coal mine methane, a greenhouse gas 20 times more powerful than carbon dioxide. Coal dust inhalation causes black lung disease among miners and those who live nearby, and mine accidents kill thousands every year. Coal mining displaces whole communities, forced off their land by expanding mines, coal fires, subsidence and contaminated water supplies.
In Goa, illegal mining has caused irreparable damage to forests, agriculture, fisheries and water aquifers. People in the affected areas are also suffering from the adverse effects of air, noise and water pollution. In Caurem village in Quepem taluka in south Goa, for example, there are 2,000 families whose farms have been destroyed by illegal mines. The silt from mining has entered the fields. Local residents complain that they have no means of earning their living.
According to the Lok-Ayukta Report, there have been severe ecological changes due to illegal mining in Karnataka. Certain species of animals like the sloth bear have disappeared in the Bellary region. Medicinal plants from the area do not grow anymore. The rainfall pattern has changed in the Bellary district. It is reported that the entire area surrounding the mining area has little greenery and has no agricultural activity.
A Greenpeace report dated 1st August 2012 called "How Coal Mining is Trashing Tigerland", states that coal mining is endangering the survival of the Royal Bengal Tiger in Central India. It says that approximately 30% of India's tigers are found in the Central Indian landscape forests. Coal mining and related infrastructure here will result in the destruction and fragmentation of forests, threatening both wildlife and forest dependent communities.
The way ahead
A scam which implicates the big-wigs is often pushed under the table, but whistleblowers such as Justice Hegde and Rajendra Dixit, who complained to the Madhya Pradesh Lok-Ayukta office, have made sure that it does not go unnoticed. As the demand for iron ore increased with the need for it in construction for Beijing Olympics in 2008, illegal mining started, to take advantage of the prices which were about $130 in the international market as compared to $17, the original price. Various commissions such as the Shah Commission in Goa, Union Government's commission in Jharkhand and others have been announced to investigate the issue. But when the organizations meant to protect the ecosystem and the citizens, are working against them, can there be any solution?

Images (c) Gettyimages.com