Director: Vishal Bharadwaj

Starring: Pankaj Kapoor, Irrfan Khan, Tabu, Naseeruddin Shah, Om Puri, Masumi Makhija and Piyush Mishra
Music: Vishal Bharadwaj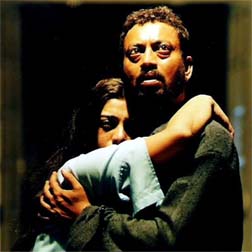 'Maqbool' is an Indian version of Shakespeare's Macbeth in a different time and space. Suffering lives, ominous sin, tormented faces and Tragedy -- "Maqbool" sends us to a verge of agony and deliverance. "Maqbool" takes its emotional content of Shakespeare's "Macbeth" moving the characters to Mumbai's underworld. Hence witches become two corrupt cops who make prophecies, which come out true. Enter the king(pin) Abbaji (Pankaj Kapur). He is a don of Indian underworld. He rules the atmosphere around him in his unique style. Lady Macbeth becomes Nimmi (Tabu), Abbaji's mistress, whose passion for Abbaji's most trusted deputy Maqbool (Irfan Khan).
Maqbool is obedient servant of Abbaji. He will do anything on his command and Nimmi thinks she and Maqbool will be sidelined by Abbaji after some Marriage of his daughter. So it starts dangerous game for power, lust and revenge.
Tabu's level of performance makes the general acting standards of Hindi cinema redundant. Even in her most horrific moment, her body language and the way with which she emotes her desires are beyond evaluation and it takes the film to poetic height. When, in the stunning end, the dying Nimmi asks Maqbool, "Was our love pure?" crime and passion switches simultaneously to subjective and objective. It's simply brilliant.
Irfan Khan again dons the tormented leading role's mantle. Khan's "Maqbool" goes from stern self-denial to tortured crime, agony and retribution. He speaks well with eyes.
The another surprise is Pankaj Kapur . He displays expressions of utter compassion and power. He body language style of walking shows that is complete actor. Its his revenge on the bollywood who sidelined the talent in him.
Naseeruddin Shah and Om Puri as corrupt cops and narrators, bring the black humor in the movie. Their style of kundali making is hilarious. also parody on the Police as witches is excellent if we take reference from the current events.
In 'Maqbool', Vishal Bhardwaj has dared do something different once again after Makadee and also with success. His demonstration of a narrative control is impressive in every scene he projects emotions buried under the macho milieu, and also he has done well with his self-composed songs and music.
"Maqbool" takes terrible risks with narrative devices so it will be liked by all patrons of good cinema However, the movie might not have much to exult when it comes to small territories and towns and audience who love traditional Indian masala.