It is very dangerous and damaging to India as a nation that of late Indian foreign policy has become hostage to regional politics and blackmailing central government by threats to withdraw support is really irresponsible and unpatriotic. In addition foreign countries are taking for granted Indian government. They are behaving as if they are assured of weak response from Indian government.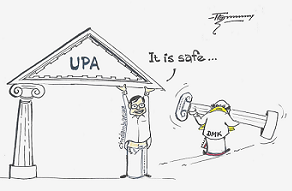 The ongoing blackmailing of Indian foreign policy in relation to Sri Lanka is really disturbing. Already one cheif minister made us highly vulnerable and feel inconvenient in relation to pacts with Bangladesh. Now with respect to Sri Lanka the dictation began. The federal structure of India giving much leveage to chief ministers and state opposistion leaders supporting central government has been and being misused.
For a regional party, incidents in a foreign country becoming more interesting and important than killing of CRPF jawans by terrorists at the same time is really pathetic. Indians not worried for fellow Indians' situation but shedding crocodile tears for incidents else where is unpardonable and is strongly condemnable. A nation can not thrive or survive like this.
India as a nation state with these diversities strugglling so much with every one pulling in their own direction without caring for national interest or credibility or India's standing in the comity of nations is highly anti-national makes our enemy and hostile foreign countries bold in our neighbourhood. Extranational affiliations and sympathies being sported without patriotism and responsibility is really disgusting. It is highly unfortunate that even after sixty and odd years of existence Indians do not feel emotionally for their nation.
Indian foreign policy has to be decided by central government only. Reginal leaders must think of well-being and welfare and prestige of the country before sporting their tantrums. But being elected by citizens these vote-bank bankers are feeling they are invincible and are misusing the mandate given by citizens without commonsense or wisdom.
Italy now any way challenged us, and made us appear "weak" and when the executive is almost and always abdicating its power and responsibility and dithering, the apex court has come to the rescue of the naiton. How long judiciary can act for executive? Already so called critics are finding fault with "judicial activism". But how these critics are failing to sense and see the inefficiency of executive is another matter for concern.
In these days of highly competitive management of all affairs a government being weak and unable to restrain its over-active fellow politicians does not reflect well. Only some patriotic citizens are disturbed for these disturbing incidents and situaitons. The concerned are happily ignoring their duty and responsibility. Wish Indian citizens vote transcending caste, region, religion, ideology like divisions and discourage current herd of vote-bank bankers from being active and representative.
Let Indian foreign policy be decided by statesmen and intellectuals with patriotic fervor.