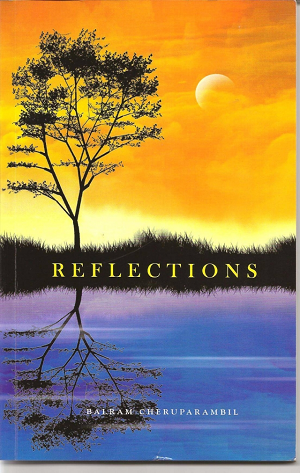 "Reflections" a collection of Balram Cheruparambil's poems is an articulation from the heart...of the poet's feelings, opinions, musings and reflections on various issues and topics...
Balram's writing style is free flowing and easy on one's senses. All the poems have amazing rhyming, timing, rhythm and a lyrical quality that no where seems contrived or forced...He has a way with words that come to him easily and he plays with them with élan, style and substance.
Here's a sampling from the very first poem 'Paradise':
To feel the touch of the gentle breeze,
Ruffling my hair with nonchalant ease,
What a perfect place to be,
Where horizon meets the deep blue sea.
These lines are just a forerunner of the sheer joy and sublime poetry that's in store for you in this slim volume of Balram's "Reflections".
Each of the poems brings out the poet's uncluttered thought process and holds a mirror to his deep concerns and considered viewpoints. My personal favourites are his take on the Panchabhootas – the five elements – Wind, Fire, Water, Earth and Sky. The poet is at his best in these poems, and his artistry and imagery come across brilliantly.
An engineering graduate and a management professional, Balram is a recruitment head at one of the leading Middle East companies. "Reflections" is his maiden foray into publishing 65 of his poems that he wrote in the short span of a year...
Balram's "Reflections" range from simple sentiments, "My Daughters, My Life":
Let's fly to a land where life is fun,
Where we can have parties by the tonne,
Where everyone is kind and good
And loves little children as they should.
To frustration at the unbridled corruption and growing intolerance in our country "Sodom":
Behold! The great democracy of Sodom,
Every vice and sin calls it home,
Each day it sinks to a new low,
This holy nation of long ago.
To humour at its best in "Temptation, My Sweet Friend":
In office when you made me call in sick,
To see the cricket match without a hitch,
And when they flashed my picture on TV
I had to again brush up my CV.
To cutting satire "The Indian Politico":
They fast and lead yatras long
With an eye on the vote bank strong,
But their very best party trick,
Is that when arrested they fall promptly sick.
To yearning "Escape":
To be as free as the roving breeze,
Going wherever I please,
Far richer would I then be,
Than any king that you would see.
Throughout his "Reflections", Balram demonstrates his great understanding of the human nature and the felicity to articulate his thoughts and emotions with lucidity, clarity and ease...
Considering the variety of topics that he has handled with an absolute command over his craft in his very first collection of poems, Balram surely is on track - an accomplished poet in the making - poised to touch pinnacles of glory and fame...
My advice – order a copy of "Reflections" today on http://www.cyberwit.com, so that you can boast that you are the proud owner of his very first book of poems, when in the not-so-distant future, Balram attains great heights as a poet...!