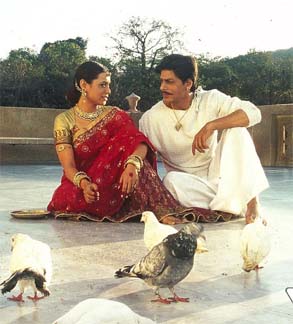 The film `Paheli' is no ghost story. Rather, it is a story about rock bottom reality. It is a story about how sordid life often is - and how beautiful it could instead be. The film works at several levels - cosmic, worldly and other-worldly.

`Paheli', which means riddle in Hindi, can be seen as a simple love story - between a ghost and a real woman. But it can be seen also as an allegory - a sophisticated journey into the sub-conscious. Like the folk tale it is based upon, `Paheli' works through symbols and images that illuminate deeper truths through the lens of fantasy.

`Paheli' is based on `Duvidha' - a novel by Vijaydan Detha, one of India's most brilliant and progressive writers. In the early '70s, Detha interpreted a local Rajasthani legend, transmitted over many generations. It portrays the highest ideals of human love treasured by traditional culture.

The film has powerful visuals - the vivid colours of Rajasthan, the fabulous haveli of Nawalgarh, sand dunes stretching far into the horizon, baolis (step wells) burrowing deep into the earth, a fabulous camel race... Charming wood and cloth puppets are the wise `sutradhars' (narrators). The last song, enacted by real actors with the jerky movements characteristic of puppets, reminds us - we are all playing out our destinies, an unseen hand pulling at the strings. Each one's life is part of a larger design, a larger drama. And the elements that constitute a person's life combine and recombine in other formations, creating other human beings with their distinctive lives.

Yet, the eternal paradox between destiny and free will continues to mark all our lives. In fact, the `paheli' is about a woman's right to choose. It champions this right - that is routinely denied in practice. It questions prevalent social mores that betray women's dreams and desires.

Conjugal love is a central motif of Indian society; it is the stuff our dreams are woven of, encouraged by every agency that socialises the young - families, songs, media.... Women's lives, in particular, have been largely shaped by this central concern. We know the patriarchal system renders women extremely vulnerable on this front. Often, they get trapped in marriage with somebody pathetically unsuitable.

This is what happened to `Paheli's' heroine, Lachhi (actress Rani Mukherjee). It's what happens to rural and urban girls in large numbers even today. There is still no basic accountability in the system of marriage 90 per cent of our people follow.

`Paheli' showcases a typical case - a warm, vibrant young woman married off to the scion of a wealthy family. On the way to his village - after the marriage - it turns out he is a twit, obsessed with accounts, scolding his newly-wed wife for being uncouth enough to eat fresh `ber' (wild berries). Her spontaneity and laughter dissolve into thin air... and she allows all the berries in her hand to fall to the ground.

They stop for the night at a place haunted by spirits. A spirit falls in love with her. Or is it her subconscious mind conjuring up an apparition - far closer to what her heart desires?

Bridegroom Kishan (actor Shah Rukh Khan) sits up all night doing accounts. In the morning, he abandons her, departing - because it is an auspicious date, and his father has so ordained -- to build up the family business. He plans to return after a period of five years. This might seem like a caricature - and in its own way it is. But the brutality the present system of marital arrangements gives rise to is often of comparable intensity.

Dreams and hopes collide with hard, brutal, cold reality. To Kishen and his niggardly father, Seth Bhanwarlal, making money is of the highest importance. Emotion, lyricism, the human heart and soul - are secondary concerns that can be dispensed with - or, at least, deferred indefinitely.

In steps the spirit - an apparition who is the quintessential lover most women might want. He is totally in love with her, compulsively honest, caring to the point of distraction, playful, erotic, intelligent and sensitive. He respects her as an equal partner, and is willing to do anything for her.

He impersonates her absent husband - just so that he can be with Lacchi. Turning into a flesh and blood double, he masquerades as Kishan - fooling everybody except her. He reveals the truth, leaving it to her to accept or reject him.

This is the `duvidha' - conflict /dilemma- for a woman who lives and breathes in a culture that deifies one's lawfully married husband as lord and god, and defines it as sacrilege to love any other man. Lachhi makes a momentous, earth-shattering decision: she will accept this spirit as her lover. Whatever he is, his love is for real. Whatever the other man is or is not, his love for her is non-existent.

Thus the film delves into deeper layers of human psyche and social formations. It pokes fun at the tendency to value money more than human feelings, and suggests we reflect on our relationships. It draws attention to the virtues of tender love, a pure heart, and clean honest fun between people. It revels in the human desire for something perfect - `the desire of the moth for the star, the night for the morrow, the devotion to something afar from the sphere of our sorrow'....

In its own way, the film ridicules the primary values of consumerist society. When our emotions are clouded by greed, do things begin to matter more than people? Perhaps we need visitations from the spirit world to remind us that fundamentally we are all human beings, with simple needs - love being one of the simplest, and most essential.

To me, this is what `Paheli' is about. It works. It works because it is timeless. Apathy, greed and callousness exist. Yet the magic of love might still awaken a heart that has grown callous - illuminate a culture that hangs limp and lifeless. Thus, towards the end the film Kishen is transformed - a softer, gentler, more caring person - converging and merging, finally, with the spirit. The spirit that embodies love, that brings alive the possibilities inherent - though oft buried - in human nature.

Not for nothing has Vijaydan Detha won the Sahitya Akademi Award for his contributions to literature. Screenplay writer Sandhya Gokhale has done an excellent job of adapting a literary masterpiece to the silver screen. Amol Palekar's direction is, as usual, charged, with little touches of genius.