One of the friends called up inquiring which was the most powerful of all Mantras? He said he knew for sure that many Tantric texts have established Kali Mantra to be the ultimate. I have known him for a long time and I know he is a Kali worshipper. I also know he is going through a lean period. Problems are usual.
So is Kali Mantra the ultimate remedy? I really don't know but since he mentioned about Kali, let us see how the icon of Kali is associated with the Mantra Science. Kali icon is suggestive of so many profound things, but I would confine myself to something that pertains to Mantra.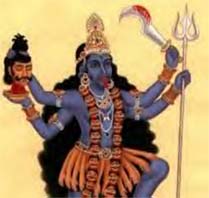 We are familiar with this Kali picture. Common and quite popular picture. The Goddess in Her awesome, ferocious and frightening form! What many of us are hardly aware is that, Goddess Kali appearing in this from is also called as



(Panchash Munda Malini).

So what does this word mean?




50 Skull Garland
It means 'One wearing garland of 50 skulls'. But why 50? And skulls?

Because those are NOT skulls, those are 50 alphabets (Varna) of the grammar.
The Goddess is wearing the Varnamala – table of alphabets!
GARLAND OF LETTERS – this is what the Goddess is wearing.

(We have already discussed why the letters and words carry a significant meaning in Yogic context).

Those skulls look frightening and demonic in the icon – so why is Goddess not disowning those, why is She wearing those as a garland? ( At this point I requested my friend not to get carried away with silly interpretation such as 'Victory of Good over Evil').

So why?

Goddess wont disown those because when She is CREATING the Leela of the world , She uses the letters, Varna and Dhvani as the 'substance' to create theLeela. She weaves Dhvani and Shabda, Sound and letters to create a spell called the world. She uses and integrates this 'substance' to create the spell.

And when it is time to call it a day, the disintegration starts, the dissolving of Dhvaniand Shabda, sound and the words. 'Beheading' the 50 Varna (as in the icon) is symbolic of the disintegration of the interplay of Dhvani and Shabda which creates the spell.

The Creation of the Leela and the Dissolution of Leela
– both involves Shabda and Dhvani.

This is what the Goddess in Her Panchash Munda Malini form is indicating. She wants Her worshipper to be face to face with both – The HOW of the Creation and the HOW of the Dissolution. Both involves the interplay of Shabda and Dhavani.

I told my friend :

Yes, Kali Mantra is the Ultimate Remedy provided we know
what according to Tantra is the 'Ultimate Problem'.