Utkal Divas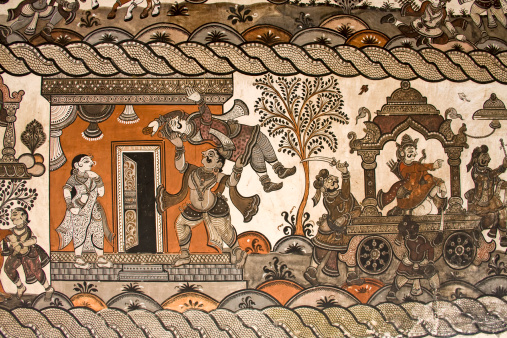 Murals on walls of village houses in Raghurajpur Artists Village, near Puri, Orissa.
The state of present Orissa (now renamed Odisha) was formed on April 01, 1936. Prior to this under British the northern portion was administered under Bengal Presidency, the southern part under Madras Presidency and the western part was with Central Province. With untiring efforts by great statesmen and writers like Fakir Mohan Senapati, Barrister Madhu Sudan Das, intellectuals like Pandit Gopabandhu Dash, Pandit Nilakantha Dash and many others a separate state was formed. However, a large part of Oriya speaking regions could not be attached to it, even in 1956 States reorganization the demands of the people of Orissa did not stir the Centre. As a result, on the north Saraikala Kharsuan remained part of the then Bihar and now Jharkhand (interestingly Late R. N. Singh, the former Orissa CM was the prince of Saraikala Kharsuan), on the west Bastar remained in Central Province, now Chattishgarh and large part of Oriya speaking people remained in AP and Bengal.

Orissa has a golden history behind it. Famous temples at Puri, Konark and Bhubaneswar add to its glory. Traders in the past sailed to Bali, Java, Sumatra, Cambodia, Sri Lanka and other eastern islands for business. The famous AngkorWat (wat mean temple in khmer language) dedicated to Lord Vishnu and Lord Buddha in Cambodia stand as testimony to our ancient art and sculpture. It may be noted here that traders from east coast states did travel to Fareast, too, for trade.

Great poets like Jayadev, Kabisamrat Upendra Bhanj, Kabisurya Baldev Rath, King Sudhal Deb, Kabibar Radhanath Ray, Pandit Gopabandhu Dash and many others have enriched the cultural life of the state. The state boasts to have four Jnanpith Awardees: Sachidanand Routray, Gopinath Mohanty, Dr. Sitakant Mohapatra and Pratibha Ray. Odissi style of dance has captured the attention of many.

Under Guru late Kelu Charan Mohapatra, we have dancers like Sonal Mansinha, late Sanjukta Panigrahi, Kumkum Mohanty and many others to enrich our dance traditions. Dola Ganguly, wife of former Cricket Captain Saurabh Ganguly, is an Odissi dancer. Singers like Nimai Charan Harichandan, Balakrishna Dash, late Akshay Mohanty, late Sikander Alam, Gaghunath Panigrahi, Sunanda Pattnaik, Prafull Kar and many others have regaled the people of Orissa for generations.

It is unfortunate that after independence except for a brief period during Biju Pattanaik's chief ministership Orissa has remained a neglected state. In spite of its vast resources the progress is slow leaving it to be a poor state. In the last decade there have been some improvements, negligible though. The western Orissa is very beautiful. There are many a tourist spots in the state. Chilika, the biggest in-land lake, is a poet's dream. Not only the migratory birds from Europe and Malaysia, it attracts many tourists, specially in winter.

On its formation day, we wish all the very best to the state and its people.
Image (c) Gettyimages.com
01-Apr-2013
More by : Dr. Kumarendra Mallick
---
---
| | | |
| --- | --- | --- |
| | The state of Odisha was formed on 1st.April,1936 and that day was celebrated as Utkal Divas.Why the name of that state was named as Odisha instead of Utkal ? | |
---