In the Hindu mythology, Lord Shiva is believed to be the creator and the destroyer both. His Rudra Tandav is supposed to be a dance of destruction. So powerful was the Lord, it is said, that he could annihilate not only the Earth, but the universe and even the death itself.
The stories of Lord Shiva rocking the earth could not be a mere figment of imagination. They were probably the expression of our ancestors to describe the might of the powerful destructive earthquakes! Scientific expression was not developed those days, instead, every action of the nature was considered to be the work of the God. Hence, no wonder the past earthquakes too were taken as His doing and described as Rudra (angry) Tandav (dance).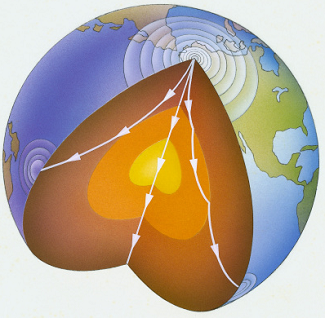 Now known as the subduction earthquakes, by the seismologists are no less powerful than Shiva's Tandav and are equally potent to destroy anything within their reach.

Remember the earthquake that occurred on March 11, 2011 in Japan! So powerful was the undersea earthquake that it caused a tsunami that upset even the safety programmes of meticulous Japanese nuclear scientists and the nuclear power house at Fukushima Daichi was rendered vulnerable. Likewise, there have been a number of such large, greater than 9Mw Earthquakes in the past too.

In the last century, two earthquakes, viz. Chile (1960), and Alaska (1964) had magnitudes 9.5 and 9.2 respectively. Both the earthquakes had created transoceanic Tsunamis which travelled across the Pacific Ocean, causing destruction wherever it hit the shore.
What makes these earthquakes so powerful?
It is the location of such earthquakes. They occur at the subduction zones of the convergent plate boundaries. Huge amounts of energy are suddenly released at such zones. Since these occur at very shallow depths they rupture large areas and ultimately lead to a tsunami thus multiplying the extent of damage. The total length of the global subduction plate boundaries is more than 40,000 kilometers. Out of this any one contiguous several hundred kilometer length is sufficient enough to create an earthquake event of Mw ± 9.

History is full of even more powerful earthquakes. For example, the one that created the Lisbon tsunami of 1755; is said to be an earthquake of 8.5 to 9Mw and it killed around 100,000 people.

History of large subduction zone earthquakes during the past century suggests that some subduction zones are more active than the others, says Kusala Rajendran of Centre for earth Sciences, Indian Institute of Science, Bangalore. She says that while Cascadia, southern Chile and the Marianas appear to be relatively less active compared to Java, Sumatra, Japan, South America' the Aleutians and the Kurile trenches. But factors controlling this difference of activity are not yet clear.

Our knowledge of the past great earthquakes that is the earthquake events above Mw9 is scanty and is based on historical records, which are often not factual. The period between two great earthquakes is usually of the order of 500 years or more. And our scientific instrumental record is only a century old. Another problem that hinders scientific prediction of subduction earthquakes is unexpected event like 2004 Sumatra earthquake. There was no historical precedent of earthquake along Sumatra-Andaman Plate boundary. Therefore it is pertinent to understand the behavior of the subduction zones of plates better.

The greatest problem with earthquakes is that they come unannounced. Even while these lines were being written a massive earthquake of 7.8 magnitude struck Iran-Baluchistan border and it shook large parts of North India, particularly Delhi and the National Capital region. Is that earthquake a precursor of a larger one, or was it the last shake, before the plates hand in balance for a few hundred years more is difficult to predict.

Unfortunate part is that our earthquake resistant designs of large structures are based on the knowledge which still requires lots of improvement. This applies more to densely populated areas like the Capital of India, which is prone to earthquakes and has a history of damaging earthquakes. Now with high rise buildings vying with each other, competing to touch the sky are very much vulnerable, as we never know when and where the Lord may decide to hold his next Rudra Tandav!

Image (c) Gettyimages.com