Juicy Watermelons for Good Health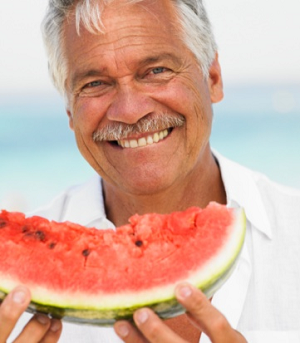 It's summer and the heat is on. The rising mercury levels indicate arrival of summer. The seasonal fruit of summer is watermelon. Juicy pulp of this fruit cools body, quenches thirst and satiates taste buds. The main constituent (92%) of this fruit is water. But the remaining small portion of nutrients plays a big role in nourishing our body. Here are few health benefits of watermelon.
Watermelons are store houses of vitamins. These vitamins are very essential to maintain the health of body tissues. Organs like skin, Eyes, bones and brain are benefited when this fruit is consumed.

Researchers and scientists say that the water melon is a rich source of an amino acid called citrulline . Citrulline gets converted to arginine. Arginine is a precursor for nitric oxide which dilates blood vessels. Thus dilated blood vessels increase blood flow to injured tissues and hasten the healing process. This property also helps men who suffer from erectile dysfunction. Men who suffer from erectile dysfunction are benefited by regular consumption of this fruit.

The juicy melons are rich in potassium. Potassium helps to control blood pressure. As there is a link between erectile dysfunction and blood pressure, men are doubly benefited by use of this fruit. Thus watermelon can be best natural remedy for erectile dysfunction.

The rich dietary fiber content in this fruit help in relieving the constipation. The soluble fibers aid in reduction of blood cholesterol. A plateful of Watermelon chunks can be used as desert and as well as herbal remedy for constipation.

Antioxidants are another treasure which we can harness from this fruit. These antioxidants lend a hand in preventing cancer.


Watermelon reduces acidity and provides alkaline environment to body tissues.
Home remedies with watermelon
In summer drink a glass of watermelon juice daily with a dash of salt. This quenches thirsts, replenishes water and salts which we have lost through sweat. Thus maintains water electrolyte balance.

Eat a bowl full of watermelon pulp before break-fast and lunch. The fiber content of this fruit fills the stomach and satiates hunger signals. Thus the consumption of regular diet reduces and helps towards achieving weight loss.


Wash the face thoroughly with soap or face wash. Pat dry skin and apply watermelon juice evenly on skin. Wash it off after 20 minutes. The beneficial constituents of watermelon help to close skin pores, heal acne- pimples and repair skin which is damaged due to sunrays. The juice tightens the skin and makes it wrinkle free. Why can't you try this beneficial herbal face pack often ?
So In summer a bowl of watermelon a day keeps the summer diseases away.

Image (c) Gettyimages.com

22-Apr-2013
More by : Dr. Savitha Suri
---