Fragrant Anchors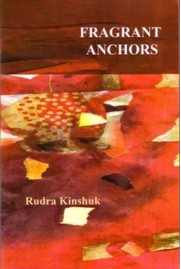 Fragrant Anchors is an engaging record of Rudra Kinshuk's astute mastery of poetic commitment with a rich feast of variegated themes and linguistic intensity. It is a collection of thirty seven poems which invites the reader to sit and read thoroughly with out a break.

The poems in this volume take us to a virtual image gallery and a whirlpool of human experiences from abstract to sensuous and historical to artistic loops with a set of personal, allusive and sensuous images. His simple but thought provoking images dig out meaning out of dry and flat terrains of life's daily course:

"I use words
To murder them
In the engulfing darkness." ('Words', p.48)

There is an interesting representation of myriad and insightful shades of the self:

"I look for me,
Myself in own shadow." ('The Fool', p.11)

The haunting presence of the metaphor of death, decay, loss of values, etc invest their poems with a sense of uncertainty , a sense that is non-negotiable by everyday wit. Sensibility riddled with emotions achieves poetic sublimity in Rudra Kinshuk's poems..

Inward looking Rudra Kinshuk uses poetic images which are fresh and clear.

"We have only forward journey
No meaningful homecoming." ('Chand Sadagar', p.32)

His view is profoundly human, and, thus, deeply universal. Like a proto Romantic, his poems record and celebrate "a strange whistle of an ancient ship."

Rudra Kinshuk is a splendid member of life and its literary tradition in the Eastern part of India. Two leading Indian English poets from the Eastern part of India Jayanta Mahapatra and Bibhu Padhi have influenced him in shaping the ever-evolving idiom:

"Light and darkness sing in chorus
With your letters" ('Birds and Rocks', p.38)

By virtue of his rural Indian ethos and linguistic mileage that reflect various facets make Rudra Kinshuk essentially postcolonial. Beyond the fuzzy veil of doubt, Fragrant Anchors is a welcome addition to poetry in English by Indian writers.

09-May-2013
More by : Prof. Jaydeep Sarangi
---
---
| | | |
| --- | --- | --- |
| | Thanks for this review. Your analysis is good. | |
---