"Where others see caterpillars, we see budding butterflies", proclaims the aesthetic, artfully designed brochure of this unit named Aranya.

Set in the serene and picturesque hills of the Nullatani estate of Munnar, where flora and fauna co-exist, is a complex named "Srishti"- Creation. As we entered through its gate exclamatory WOWs escaped our lips at the sight of the meticulously planned, exuberant garden. The riot of enchanting, multi-coloured plants and flowers literally astounds. An initiative of Mrs. Ratna Krishna Kumar, Srishti owes its conception, growth and stabilisation to her. It carries forward the Tata Group's noble philosophy of making generous returns to society – an invaluable legacy passed down by their founder, Sir Jamsetji Tata.

True to its name, this welfare center, comprising of four separate units, has created and continues to create value and dignity in the lives of the differently-abled family members of the employees of the tea estates. They are the caterpillars that sprout the wings of self-sufficiency and are transformed in these vocational training centers, from being 'dole-receivers' to confident contributors to society and families. Education, as someone said, is the making of a human being.

These units are:

DARE – Developmental Activities for Rehabilitative Education. This has a school for mentally challenged children and a unit that manufactures the High Range Strawberry Preserve which is 100% natural, as also Passion fruit sauce, Plum jam, Orange marmalade made with Savielle oranges grown specially for this project, Gauva jam and Orange squash.

ATHULYA – which uses only natural waste material to manufacture an interesting variety of paper and paper products.


THE DELI – The youngest entrant in this impressive array, is a confectionary dishing up delicious cakes, pastries, cookies, samosas, puffs and other snacks of unquestionable quality. Details about these unique units will follow in a later write-up.

ARANYA (Of the forest) - which was born in 1994

As we entered this mini-factory, a table laid out with different raw materials used in extracting dyes, was what came into view immediately. A smiling and enthusiastic Mrs. Victoria Vijayakumar, project co-ordinator, came forward to greet us and explained the different processes of dye extraction, dyeing and printing of premium quality silks, georgettes, cottons, chiffons and other fabrics.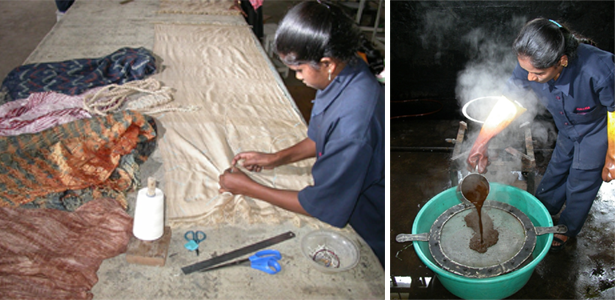 This unit uses natural, self-produced and treated dyes to colour and print natural fabrics sourced from around India. There is no dearth of organic and natural resources – Eucalyptus and Mulberry leaves, Nilgiri Kozha, Lemon grass, pine cones - in the forests of Munnar. Other than these, they also use pomegranate, catechu, jackfruit, myrabolan, henna, self-cultivated indigo and tea waste to get rich, vibrant and natural tones of colour for their products. Living in close proximity to nature, ensuring that her delicate balance remains intact, they derive their dyes from things that nature discards.

From start to finish, quality is a habit here and it keeps pace with every step of the process. The yarns and yardage of natural fabrics, sourced from around India and dyed with carefully extracted dyes, are de-gummed and treated with harmless mordants to ensure total fastness of colours. Then they are washed in pure water from surrounding streams to remove any excess colour.

These materials are then given the final touch - an embellishment of creative designs and intricate patterns, using different methods like block printing, batik, mordant printing and Shibori, a Japanese version of the elaborate tie-and-dye technique.

With a view to keeping the spirit of innovation alive, the employees are introduced to new techniques through workshops conducted by professionals from the industry. Shibori was one such, conducted by Ms. Yoshiko Wada, a senior designer and president of the World Shibori Network. Where every individual is encouraged to experiment with designs and patterns, innovation is not far behind. Mrs. V. Vijayakumar tells us proudly that one such original technique in Shibori, by employee Arumugam, brought him not only national and international recognition, he was also honoured by his variation being named 'aru shibori' after him. Another employee, Shri Kala Devi, working with nui shibori created a new pattern, of which she is rightly proud and calls "The Tree of Life".

Ms. Ana Lisa Hedstrom, another Shibori artist and designer, Mr. Guruppa Chetty, a master craftsman and Kalamkari artist, Mr. Badshah Miya, a Lehriya artist and Ms. Linda Labelle, a weaver and fibre-expert, are amongst those reputed professionals who shared theirknowledge and skills with the gritty, diligent, persevering and eager employees of Aranya, many of whom have gone abroad to demonstrate their skills and to further enhance them.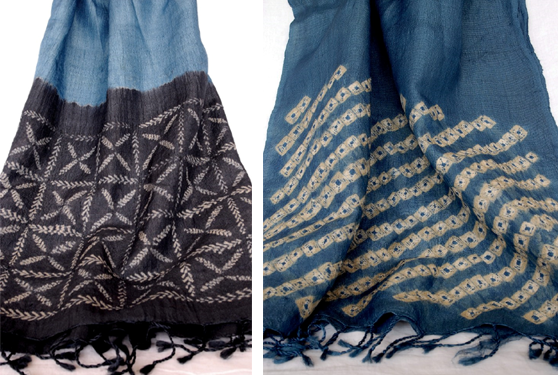 A shop next door sells the finished products – stoles, dupattas, cushion covers, sarees – some really exquisite in design, texture and colour. They seem slightly highly priced, but when you know the hard work, diligence, time, love and effort that these unique, creative individuals have put in to bring out such superb pieces, you know they are worth every rupee. Each employee's determination and perseverance to excel has ensured that today they have some of the most prominent design houses from across the world as their clientele.

These enterprising young adults remind us that the human spirit is indomitable and will rise to its full potential to surmount obstacles, if the will is strong.

More information about these meaningful projects can be had from:
http://www.srishtinatural.com/
http://www.athulya-handmadepaper.com/
http://www.aranyanatural.com/
Continued to "At DARE They Care"

Comments on this Article
---
| | | |
| --- | --- | --- |
| | Happy you liked it, Victoria | |
---
| | | |
| --- | --- | --- |
| | Thank you Shernaz, it is a wonderful article. Looking forward to see more. | |
---
| | | |
| --- | --- | --- |
| | My pleasure, Krupa. | |
---
| | | |
| --- | --- | --- |
| | Thanks Shernaz, for you lovely article looking forward to more on Srishti by you. | |
---
Dear Nilouffer and Broca, Thank you for your comments.

I am also grateful to all the others who have read this piece and to those who have even thought it worthwhile to share with their friends.
---
Dear Shernaz,
Enjoyed your vivid description of your visit to SHRISHTI.It is a real example of TATA Group's CSR (Corporate Social Responsibility) initiatives of giving back something to the society.Wish you all the best in MUNNAR ! GBU !!
---
WOW Shernaz,

Your will to share your experiences and get others interested in Nature and its many manifestations, is beautiful.

Yes true when the will is strong, one can overcome all types of weaknesses.
And it needs more humans like Mrs Krishna Kumar to help the weak become strong.

Thanks for sharing. Even though I had the privilege of working for Mrs Krishna Kumar, I had not known this side of her. Just shows how humble and humane she is. Truly said,
carries forward the Tata Group's noble philosophy of making generous returns to society – an invaluable legacy passed down by their founder, Sir Jamsetji Tata.

---