Nagzira Wildlife Sanctuary (Longitude 790 58' E to 800 11' E; Latitude 210 12' N to 210 21' N) in the state of Maharashtra in India has great importance from the point of view of bio-diversity conservation, and has been becoming a popular destination for wildlife lovers, bird watchers and even "picnic tourists" for the last five years, though it is still lesser known comparative to other renowned sanctuaries. The Sanctuary extends over an area of 152.81 sq. km, and its height from mean sea level varies from nearly 30 meters to about 560 meters. According to a government estimate, about 25000 tourists visit every year.

Nagzira is the natural habitat of 34 species of mammals belonging to about 8 natural orders and 16 families that includes - the main attraction, the Tiger and the Leopard – other than several other species like Dhole (Wild-Dog), Bisons, Sloth Bears, Sambars, Blue Bulls, Deer, Cats, Jackals, Hares etc. Of these, 14 species are of endangered status, namely Tiger (10, census 2007; decline from 15, census 2003), Panther (10, census 2007; decline from 12, census 2003), Jungle Cat, Small Indian Civet, Palm Civet, wolf, Jackal, Sloth Bear (60-70, census 2007; decline from 70-80, census 2006), Ratel, Common Giant Flying Squirrel, Gaur, Four Horned Antelope, Mouse Deer, and Pangolin.

The Sanctuary is the habitat of about 166 species of birds belonging to about 16 different orders and 47 families including15 species of migratory birds and about 42 species of local migrants. "Bar-headed Goose" is a remarkable winter migrant from Ladakh and Tibet, and inhabits Chorkhamara Talao. Of these birds, 13 species are of endangered status including peafowl and the birds belonging to "Accipitridae" family.

There are 36 species of reptiles belonging to 2 natural orders and 11 families out of which about 6 species are of endangered status namely Indian Rock Python, Dhaman, Indian Cobra, Russel's Viper, Checkered Keelback and Common Monitor. Besides, there are innumerable insects and ants species, about 49 Butterfly species belonging to 9 families; the important species among them are Common Rose, Common Mormon, Lime Butterfly, Common Sailor, Common Indian Crow, Black Rajah etc.
The forest technically belongs to the category of "Southern Tropical Dry Deciduous Forests" – 5A/C3 as per Champion and Seth's proposed classification. Trees of nearly 200 species of diverse vegetation type range from dry mixed forests to moist forests, having economical, medicinal, aromatic, and ornamental values.

Geographically the area of this sanctuary comes under the Nagpur Circle of the State Forest Department under the control of the Chief Conservator of Forest (Wildlife), Nagpur, and the divisional management comes under Conservator of Forests (Wildlife), Gondia.

From the point of view of management, Nagzira Wildlife Sanctuary is at present divided into 2 Ranges, 4 Rounds and 18 Beats further sub-divided into 37 compartments (Unit of management). There are three Zones: I, II, and III (New Nagzira). Each Zone is sub-divided into several sub-Zones each with a numerical and called Kaksha (meaning, 'room').

It has five entry gates: Mangezari Gate to the North at the junction of Zone I and II, Chorkhamara Gate to the North-West (midpoint to the boundary from Northern to Western tip of the Sanctuary; junction of Zone II and III). Umarzari Gate to the South-West (midpoint to the boundary from Western to Southern tip of the Forest), and Pitezari Gate (Southern tip) both fall in Zone III. Besides, the Nagzira Gate at the centre of the Sanctuary is entry point of Zone I in particular, and also of the other Zones, and because of its location and central importance it is also called Chaukashi (literally meaning, 'juncture of four roads').

Previously, tourists were allowed to stay at Government Rest Houses etc. at the adjoining area of Nagzira Gate dotting the Nagzira Lake, however, presently, owing to recent Supreme Court order (July 24, 2012) regarding closure of Core Area Tourism in Protected Forests, as also renovation work, accommodation for general tourists is no more available there.
Tourism in the Sanctuary is now restricted to one Zone only per Safari-trip. The Forest Department permits two Safaris per day – one in morning and the other in afternoon – the timing, usually from 6.30 am to 11.30 am, and 3 pm to 6.30 pm.

No Eco-tourism Zone has yet been earmarked in the Sanctuary, and Nagzira Lake, Chital road, Circular road, Tiger road and Bison road are the few areas where Eco-tourism activity is mainly confined. The demarcation of Buffer Area and Core Area as directed by the Supreme Court is also pending.

Only 1700 adult Tigers exist today in India (1411 as per 2007 census excluding uncensused Tigers in the Sundarbans), and of these 10 are in Nagzira.

Previously I heard that Tiger-sighting in Nagzira is almost a sure-shot like in Kanha and Bandhabgarh – and pending Maharashtra Government's notification of Buffer Areas and Core Areas that might further restrict movement in the Reserve, I had no second thought to plan 3 months ahead to open my innings with Nagzira smelling free holidays during the Holi Festival.

We were eight in our group this time: Prof. Subhadeep Sarkar and family, Prof. Suman, Prof. Debashis Ghosh and his wife Sumali, Arjuna, and I.

We planned to take entry through the Chorkhamara Gate.

Starting on 28th march 2013 by Gitanjali express from Howrah, we reached Gondia railway station at 5.15 am the next morning. From there we availed sumo to reach Chorkhamara Village (21°16'26"N 79°57'13"E) – a distance of 47 km in 1 hour 10 minutes. The sumo fare for this stretch of the journey is Rs. 800.
Chorkhamara Village (Tirora Taluk , Gondia District), the adjacent village to Nagzira Tiger Reserve is 15 km from its Taluk Main Town Tirora. All licensed Guides at Chorkhamara Gate are natives of this village – a laudable project of the government and forest department to engage the local populace of Bhuumiputras ('children of the soil') in Environment and Culture preservation of their own land, other than providing socio-economic subsistence through scopes of employment generation.

Chorkhamara is a nice tribal hamlet with a population of 500 – all belonging to the Scheduled Tribe category. At the entrance are statues of two great saints in one frame – Sant Gaadme Maharaj, and Rashtrasant Tukdoji Maharaj; to the right, opposite the road passing through the village are a statue of Krishna, and a statue of a Gopi likely to be Radha. Nearby is a statue of Ambedkar and a Buddha temple. There is also a Temple of Hanuman or Vajrangbali, with paintings and cement-sculptures of Ramayana on the outer wall. As evident, this small village is the very miniature of pluralist Indian Culture.

The houses are of concrete and nicely walled. Most of them are two-storied or three-storied. The tiled slope-roofed structure looks like sloped-steps. Most houses have cowsheds at the front.

Agriculture, cattle rearing, forestry, fishing, the new emerging tourism related business, and employment under forest department and related works are the main base of the economy.

We had prearranged accommodation at a private lodge 200m from Chorkhamara Gate. This private accommodation managed by a local family has two rooms and a restaurant. On a neighbouring ground is another accommodation under Chorkhamara Panchayet, and is maintained by contract. Opposite to this Panchayet Guest House is another private lodge.

Puresh Kodape is an ever-smiling smart youth who welcomed us as we reached the lodge at 7 am. Other than being a Guide, Driver, and also contact person for Safari-Zeep and accommodation booking, Puresh has excellent knowledge about the various species in the Sanctuary.

Our first Safari being scheduled from 3 pm, we decided to spend the time after birds chirping and hopping on nearby trees – and sipping honey from Palash flowers (Butea monosperma) in full bloom of colourful spring-splendour.
"I am amazed at this spring, this conflagration
Of green fires lit on the soil of the earth, this blaze
Of growing, and sparks that puff in wild gyration,
Faces of people streaming across my gaze."
(D. H. Lawrence. The Enkindled Spring)
Red Vented Bulbul (Pycnonotus cafer), Vernal Hanging Parrot (Loriculus vernalis), White-bellied Drongo (Dicrurus caerulescens), Black Drongo (Dicrurus macrocercus), Jungle Babbler (Turdoides striata; commonly known as Chhatare or Satbhai in Bengal), Brahminy Myna or Brahminy Starling (Sturnia pagodarum), Slaty-headed Parakeet (Psittacula himalayana), Nilkantha birds (Indian Roller or Coracias benghalensis) are aplenty in this area just outside the demarcated Tiger Reserve.

As we sat on the lawn sipping tea and snacks, we spotted these birds; even a Spotted Owlet (Athene brama) was there perching at a shade even at 9 am.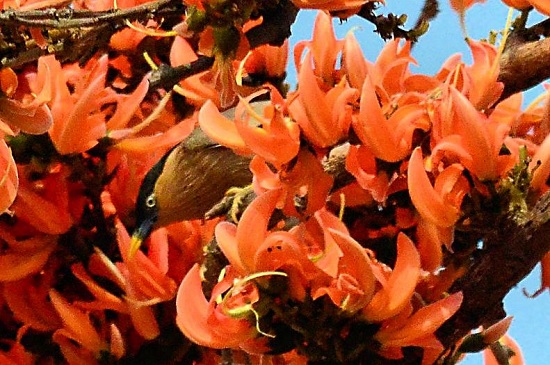 Brahminy Mayna in Palash Flower
After another round of Luchi-Sabji at 9.30 am, we decided to take a stroll along the southwestern side of the Chorkhamara Talao (Lake). It is a vast lake and falls within the Nagzira Wildlife Sanctuary.

As we approached the Lake trekking along Aals (farmland dividers), we found local people of all ages collecting Mahua (Madhuca longifolia). These are favourite haunting places of Sloth Bear.

We learnt that production of country liquor from Mahua is banned here – well, as expected, the fate of the ban is like all other bans. I spoke to some of the Mahua-collectors and learnt that Mahua fetches rupees 20-25 per kilogram and "outsiders" come to buy from them at regular intervals.

Crossing farmlands – the harvest now over – we reached the muddy bank of the Lake.

The experience was most rewarding – as the Lake was full of birds, other than the beautiful landscape surrounded by hills in the distant and knolls in vicinity, and lush green on all sides strewn with the fiery hue of Palash, and sweet odour of Mahua adding to the intoxication of the scenic beauty.

Plenty of Nilkantha birds (Indian Roller or Coracias benghalensis), Pied Kingfisher (Ceryle rudis), Khanjan (Large Pied Wagtail or Motacilla maderaspatensis), variety of cranes, cormorants, herons, Egrets, Kentish Plover and River Lapwing (Vanellus duvaucelii) commonly known as Hattiti thronged the lake.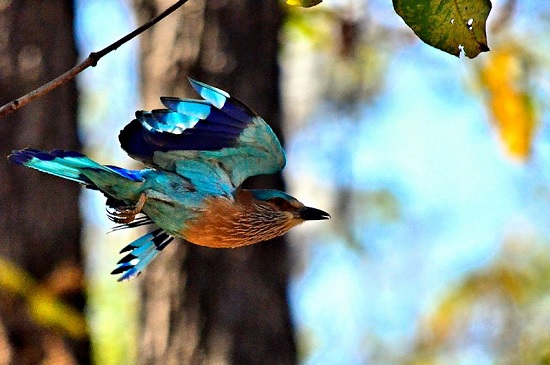 Nilkantha in Flight
It was a return to childhood to run after the birds, while they, disturbed by our encroachment often flew off to maintain a respectable 'social' distance.

Prof. Subhadeep's son Abhirup is in his tender 10th year, yet he is a good photographer and very enthusiastic about birds; indeed I have never come across a boy like him having such interests at such a tender age. The Prof. who is himself an excellent photographer, and a passionate one, bird-watcher, and wildlife lover, deserves kudos for encouraging his son's interests actively through practical demonstration– and I must add with all admiration that Abhirup is lucky to have parents worthy of emulation in this respect.

Returning from the Lake, we had our lunch with rice, bread (roti) and vegetable curry of potato and cauliflower. We had only 1 hour for rest before the afternoon Safari at 3 pm.

Entry formalities being taken care of half an hour back, one by one, the Zeeps and vehicles (that included Sumo, Maruti etc.) crossed the Gate to enter the park, as the Forest Officer had allotted a compulsory Guide for each vehicle to take seat beside the Drivers'.

Sonu, a lad of 19 years, was our Driver, and Puresh, our Guide. Sonu said he was yet to open his account of Big-Cat sighting. Our fortune and Sonu's got tagged thus.

The compulsory speed limit of a vehicle is 20 km p.h. Our Safari-Zeep moved on in the South-East direction through Kaksha-123 and 130 along the reddish mud track raising smoky dust before turning South. Soon we reached a bifurcation – the right track leading to New Nagzira (Zone-III), and the straight one crossing a Gate of a Forest Post and turning East. From this point onwards after a drive of about 1 km, the vehicles could take their own track.

Puresh told us that the territories on either side of the road are of two Tigers – Jack and Jill (also known as Joy and Veeru after the filmy characters of the famous Hindi movie Sholay).

Our day started spotting a brownish 'Dhole' (wild dog) sitting by a Water-Hole – a sign of Luck. Some white hairs on its throat and chest appeared like garland. It sat with eyes closed – as if meditating - indifferent to the gazers.

Dholes stay in packs. What was this lonely one doing?

Later I learnt from another party that there was indeed a pack of Dholes – and they were lucky to have a glimpse of them. Perhaps this lone one stayed behind for us.

As per the latest census 2007, there are 30-50 Dholes – a sharp decline from 167 in 2003.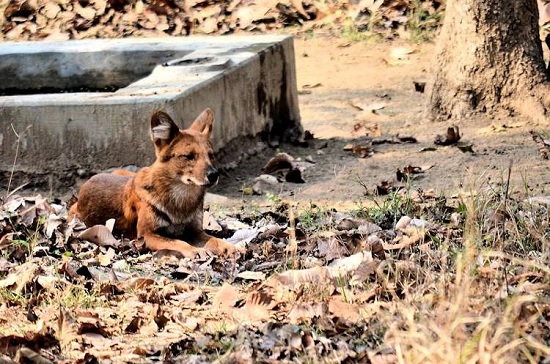 Dhole
Chittal Deer are aplenty (1400-1500, census 2007), stags are rare, and getting them for a well-composed frame is rarer still. A stag ran past so fast I could hardly frame it.

Then we saw a Crested Serpent Eagle (Spilornis cheela) with dark-brown feathers strewn with rare white perched on a branch above our head, looking far off with its glaring deep yellow eyes on yellow face. It did not take notice of us, sat like a stone statue very rarely revolving or tilting its head and opening its hooked beak. The pride in its demeanor reminds one of Ted Hughes' "Hawk Roosting":
"The convenience of the high trees!
The air's buoyancy and the sun's ray
Are of advantage to me;
And the earth's face upward for my inspection.
My feet are locked upon the rough bark.
It took the whole of Creation
To produce my foot, my each feather:
Now I hold Creation in my foot"

Eagle Eyes
After waiting for sometime hoping to frame a shot of the Air-King's flight we yielded to his majestic mood and drove on.

We noticed a broken watchtower on our right and then a track with a board with "Tiger Trail" written on it. Puresh told us that track is closed for tourists. On our left nearby is another blind track. We drove along that track and reached a Water-Hole to spot a Sambar standing by (325-350, census 2007; decine from 380-390, census 2006; but rise from 193, census 2003). Hearing the engine-sound, it jerked its head and stood still. Initially it was shy and hesitating, and then it quenched its thirst and vanished.

Returning back to the main road, we drove sometime to the East to find another track on the left; it is the most famous and popular one with the maximum possibility of sighting – "Gaur Gali" or "Bison Road." This road bypasses the Nagzira Lake around the high hilly embankment on its West and North, and connects two main roads – Chorkhamara Gate to Nagzira Lake Chaukashi Kaksha, and from there to Mangezari Gate.

We reached Nagzira Gate at the centre of the Sanctuary on the South-Eastern side of Nagzira Lake – a distance of 12 km from Chorkhamara Gate – and a compulsory re-check for all vehicles entering the Forest through other Gates. Nagzira Holiday Homes, Youth Hostel and Canteen, and Latakunj and Madhukunj – all are here in this vast area with broad lanes, and orchards.

As our Guide and Driver went to the Forest Check Post or Chaukashi to complete formalities, we decided to take a stroll and went to the Nagzira Lake-side through an orchard with overhanging branches. The serene Lake surrounded by hills on three sides offers a spectacular landscape.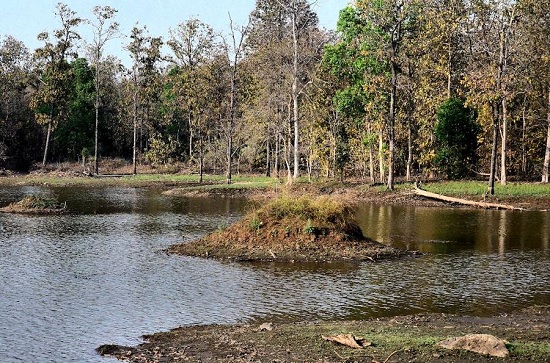 Nagzira Lake
From where we stood, we could see the Log Hut, Government Rest House on the South-Western side of Nagzira Lake; and Niloy Guest House on the North-West.

The most interesting thing about this place is that Chittals and Langurs roam about freely in the orchard and nearby places. It is safe haven for them because Tigers and Leopards usually do not frequent this place. Well, undoubtedly, wild beasts have a tremendous dislike for the Homo Sapiens species.

All our eagerness to spot the King of the jungle was in vain for the next hour. We drove to Water-Holes, waited patiently, but the King would not grant us a visage.

When we almost gave up hope of having a 'Darshana' of the Tiger, or at least the Leopard, our "Dhole" - Luck suddenly unfolded.

While driving again towards Chaukashi having completed a second circle along Gaur Gali, our last lap for today, we heard a faint Call of Langur. We reached a junction – known as "Budha-Budhi Gate" - the left road leading to Log Hut, Government Rest House on the South-Western side of Nagzira Lake; the right one to Pitizari Gate; and the front one to Nagzira Chaukashi Kaksha by the side of Pach Kamare.
It was the moment of a crucial decision. Which way to go? The Guide's, the Driver's, and ours instinct – all sang in unison – let us take the road we have not covered before, that is, towards Pitizari Gate.

Our Safari-Zeep took a right turn instead of going towards Chaukashi, and after a drive of 200 mt. soon I thought I saw in the distant left-side of the road the wagging of a long tail behind a pile of Surki (Brick dust). The long tail was unmistakable.

Puresh stood up on the seat, Sonu halted. And we all rose up in excitement. Yet we had doubt. Was it really the Leopard, or just our desperate imagination?

Our Safari-Zeep moved forward about 20 feet … and halted again. Then I used my Teli-lense … yes, it was a Leopard sitting on dry leaves, perfectly camouflaged, and facing us.

This place is between Kaksha-125 (Zone-II) and Kaksha-96 (Zone-I).

I told Sonu to move forward slowly, and started taking tele-shots lest the Prince felt disturbed and decided to walk away on his right-side open land and then to the Forest.

At first he did not care us, and then … yes, the moment … he locked eyes with my Teli-lense… his wild eyes penetrating through the lens to reach mine!

As Sonu inched forward on Puresh's signal, suddenly we noticed two Safari-Zeeps coming from the Pitezari Gate side. They could not have spotted the Leopard … so, standing up on the seats we waved our hands frantically signaling them to halt.

Luckily for us, the Drivers noticed our signal and stopped immediately. By then, the Leopard was already disturbed enough to rise …

As he rose up, he looked around to see what was going on.

Now we saw his entire body … a full grown male. He moved a few steps towards us, still at a distance of more than 100 feet.

Realizing that he was in no mood to enter the forest on his right, we waved the Drivers of the halted Safari-Zeeps to proceed towards us. By then they had also spotted the Leopard.

The Leopard was now between the Safari-Zeeps on either side of the road. His Body Language was not aggressive; occasionally he turned to look at the Zeeps on, and then he started walking towards us. Sonu was a bit panicked and asked our Guide whether to start engine and back off in reverse gear.

Paresh firmly told Sonu to stand still. I thanked him for that was exactly my thought.

Coming towards our Safari-Zeep in a leisurely pace, the Leopard suddenly took an angular turn towards the forest on his right. By then he was only 25 feet from our Safari-Zeep.

Strangely again, he halted and sat down at a distance of merely 15-20 ft from our Zeep, this time maintaining a steady Eye Contact with me (us).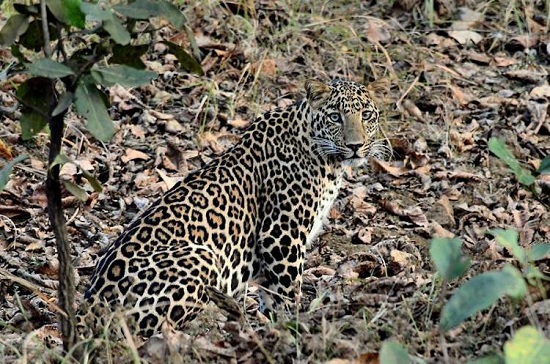 Leopard Locking Eyes
Then, standing parallel to our Zeep, he looked at the other vehicles that had now been lining up with us face to face. He slightly exposed his fangs as a mild warning.

Then he yawned … perhaps to let me shoot his profile

Finally, he decided to leave … and as he walked away in royal pace to the back of our Zeep, he was only 10 feet away, giving us a lifetime experience of being so close with the Wild.

The tourists on the other vehicles were impatient … and their Drivers now decided to cross ours. But as they started the engine, the Leopard halted and looked at them.

Then the Leopard urinated pheromone in characteristic way to mark his territory. As he passed through the trees angular to the back of our Safari-Zeep, he halted again to look at us. Now he crossed the road behind us … and before stepping on the grassland on the other side of the road through heaps of road construction material and Surki, he looked at me again.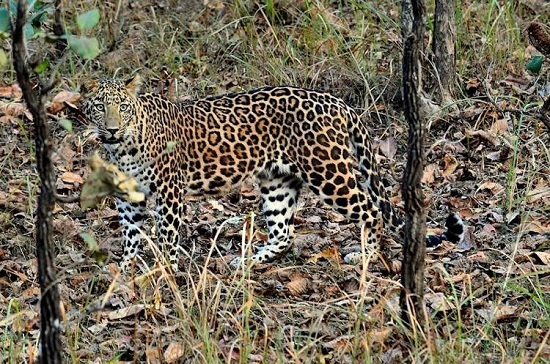 Eye Contact
The "Caller" Langur on top of the tree kept on barking incessantly all the while. We were grateful to it. It was for him that we had our day.

After the Prince vanished in the jungle, it was a moment of great jubilation for us, and not for nothing.

Leopards are extremely elusive. Sighting leopard is a rarity, and sighting for full 15 minutes is a matter of rare luck that every wildlife lover knows and dreams of.

When we returned to Chorkhamara gate at 6.30 pm, we received almost hero's welcome – well, as usual, for no real credit of ours. We were just lucky with the Leopard and his royal mood; however, at such moments, logic is always at the backburner – and certainly we were happy it is so.

The Guides, locals, and some other tourists crowded around me and my friends to see the shots … and proud was I to show them as I learnt that our long Leopard-sighting was an achievement indeed because such prolonged sighting has not occurred for years.

For me too this was a lifetime moment because I had my last Leopard-sighting way back in 1993 near Rudraprayag in Garhwal, Uttaranchal.

The post-Safari evening passed away gossiping, seeing each other's photographic masterpieces of the day's remarkable and "historic" hunt, and drinking tea-coffee. Dinner at 9 pm with chicken curry – the most expensive dish I have ever come across for this simple chicken curry – precisely Rs. 1000/ per kg including preparation – and the Moon rose from the forests of the Nagzira Tiger Reserve in all splendor to soothe us and give us hope of even better sighting the next day.

Drinking morning tea at a makeshift stall run by the Guides, our second Safari started at 6.30 am. Sonu was our Driver today, and Naresh, our Guide.

We saw two Crested Serpent Eagles (Spilornis cheela). No sooner had our Safari-Zeep halted by the tree on which they perched, than one of them decided to glide away.

I was lucky to frame it at the instance of its commencement of glide.

The other one kept its position nonchalantly. And as I looked at it through my Teli-lense I noticed a snake in its left claw.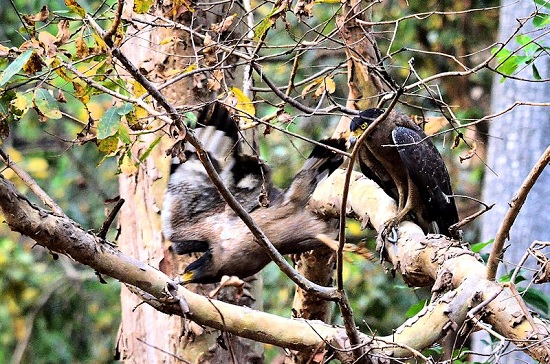 Crested Serpent Eagles
Then we saw a mother Sambar with her baby, and another Crested Serpent Eagle, followed by a Brahminy Kite (Haliastur indus) atop a high tree.

After the Leopard-sighting, the ball was now in the court of our Goddess Luck to grant us a glimpse of the Tiger.

Well, she was certainly pleased with us to fulfill our Heart's wish soon.

As we drove towards Bandar-Chuha after the compulsory reporting at Chaukashi and crossing the Bison Street (Gaur Gali) junction, we neared a place with dense bamboo bushes on either side. This region has deep soil combined with moisture, and is locally known as "Ranjioali TAKA" ('Ranji'= bamboo; "TAKA" = water tank).

Soon we noticed excited visitors standing on Safari-Zeeps and some on seats looking at a Water Hole (the TAKA No. 17) and aiming lenses to our right. Though we could not see anything through the dense trees from where we were, given their Body Language, it did not require a guess what they had spotted.

Naresh whispered, "It is MAI, sir."

MAI?

Yes. Tigress … the eldest one in this Forest, mother of JACK and JILL (also JOY and VEERU)

Oh, MAI! Mother. Nice start with the Queen …

As our Safari-Zeep neared the TAKA, the Guides of those Zeeps signaled us to come slowly. Reaching the spot and lining behind three Safari-Zeeps, we saw MAI walking at leisurely pace towards a bamboo bush. Her water sport was already over, bad luck for us; nothing could be done but to submit to her royal mood.

The long wait began now.

MAI hid herself behind a thick bamboo bush, only her head was visible every now and then. As we prayed for her to come out and grant us a fashionable cat-walk, she kept busy licking her paw and yawning in her own fashion. Each time, her large head flashed through the bamboos, our hopes rose high.

Soon many Safari-Zeeps and vehicles came there and stood in chaotic line.

The Picnic-Tourists soon became restless and impatient, and I thought I had already taken the shot for today. MAI certainly would not give any second chance.

Then the unexpected happened.

MAI decided to take a walk back to the water. To our heart's delight, she not only came out of the bush, walked leisurely to the Water-Hole, drank water in crouching posture, her powerful shoulder muscles puffed up, but also stepped into the water to have a body-bath. She remained in that position for quite sometime resting her head on her paws. Not even once did she look at the onlookers – as if they were simply non-existent.

How could I not remember William Blake's "The Tyger"?
"Tyger! Tyger! burning bright
In the forests of the night,
What immortal hand or eye
Could frame thy fearful symmetry?
In what distant deeps or skies
Burnt the fire of thine eyes?
On what wings dare he aspire?
What the hand dare sieze the fire?"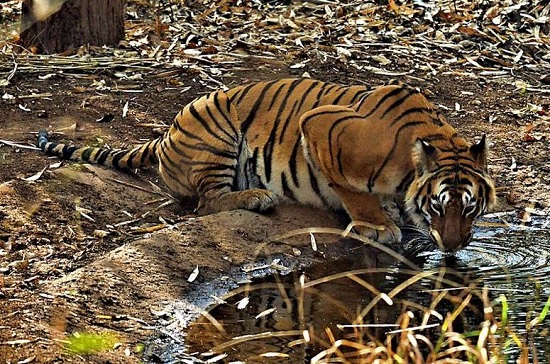 MAI drinking water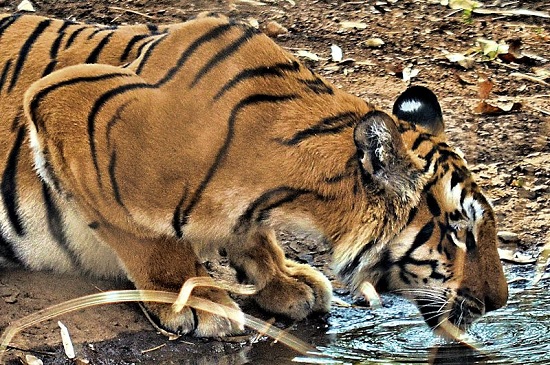 MAI drinking water
Many other Safari-Zeeps and vehicles soon arrived, and the jungle-path was now no different from a busy traffic in rush hours. The road being narrow, two vehicles could hardly stand side by side; however, that was not to deter many a Driver to attempt a third row, or even a fourth.

One might try to guess, what could happen if MAI's mood had changed suddenly to charge at the vehicles. Needless to say, most of the vehicles – except those at the outer fringes with unfortunate tourists who still failed to manage a full glimpse of MAI - could not even bulge an inch in the wake of such a scenario – so mutually trapped they were.

Then again, every Tiger-lover remembers Jim Corbett's words: "Human beings are not the natural prey of Tigers, and it is only when Tigers have been incapacitated through wounds or old age that, in order to live, they are compelled to take to a diet of human flesh." (Introduction, Man-eaters of Kumayun)

As our Guide informed us, there is indeed one charging Tiger here, named Dendu (meaning, 'Tough' in local dialect).

After MAI decided to retire behind dense bamboo groups once again, we drove towards Bandar Chuha and reached a bifurcation. A beat office named Tibbat Camp (Mangezari Bodalkasa Tibbat) surrounded by iron-net fence all around is located at the juncture. The right track leads to Mangezari, and the left one to Bandar Chuha.

One forest guard clad in vest and Lungi came out with a grin and informed us that he had spotted a Tiger 15 minutes back at the next Water-Hole while he had been there to collect water from the tube-well. We rushed immediately – driving on the main road for sometime and then taking a sharp turn left along a narrower lane with overgrown trees on either side. It is a dead lane ending abruptly at a concrete block 10 feet away from the Water-Hole and between slow-rising slopes.
Sonu immediately negotiated the Zeep on the slopes to turn its face towards the entrance-cum-exit.

We waited for about 20 minutes with baited breath, but the King was in no mood to grant us a glimpse. However, his supposed presence nearby did gift us with a Silence – the very inner voice of the Forest. Far from the madding tourists, this is the first time in Nagzira that we had the opportunity to taste the wild flavor of the Forest.

The Silence terminated with the announcement of the mechanical sound of another Zeep making its entrance in the lane. As it approached us, the Driver geared the vehicle on the slope to negotiate a turn-around and let us pass.

We returned again to MAI's abode, and this time she seemed to be nowhere. Pairs of eyes aided by tele-lenses however, soon discovered her resting at quite a distance beneath a tree in a peculiar posture – lying on her back, lifting one paw erect in the air like radio antenna.

Three Safari-Zeeps were already there including us, and three more joined soon. We all waited patiently for half an hour; however, MAI had certainly thought enough is enough to compromise her royal status to lusty eyes of the weak human species.

It was almost 11 am, and our Guide Naresh said we must leave now, because it would take another 30-40 minutes to reach Chorkhamara Gate from here, and a late of 15 minutes would surely earn us a fine-slap - not so fine to cough up Rs. 2000. On our request he agreed to take the "Gaur Gali" route – and as luck would have it, we were there to find how much still was left for us that day.

We had all thrills of having a very Good Luck of Bad Luck – indeed, our Safari-Zeep suddenly decided to faint, and the voice of the engine passed away with a hiccup first, and then a gentle murmur like the dying tone of small waves lashing a river bank.

Despite Sonu's ear-boxing the naughty starter Key, the engine proved too knotty to bulge; Sonu's efforts could only squeeze an alternative cough or gurgle-like laughter from the machine. This happened about 1.5 km before No.1 TAKA (Water Tank) falling under Kaksha-121. We were now trapped in the middle of the jungle with no communication possible.
It had always been a scenario running like a very faint subcurrent in my mind because even at the start of our Safari the engine indeed gave a warning performance of failure that Sonu overlooked with a grin as did we with all excitement.

As Sonu gave up, and no other vehicle came that way, our Guide Naresh decided that we should walk to Nagzira Chaukashi – about 2.5 km from here.

So, we had the experience of the most welcome jungle-trek – otherwise strictly prohibited - with every possibility of Tiger-sighting while on foot and with the overwhelming consciousness rich in fresh-in-the-mouth firsthand experience that there was a Tiger lurking somewhere in the jungle. We walked together at first – two by two – soon the discipline breaking up at the onslaught of camera-spree – often-spotting Sambar, Chittal and Gray langurs (monkeys).

We knew that as long as these herbivorous animals were comfortable grazing and the Langurs in particular were on ground, with no "Calls" around, we knew our trek was going to be a pure vegetarian sort. Well, that was the complacency at that time, and later I remembered how Jim Corbett once encountered a Man-eater Tiger who appeared to feast on its kill eluding notice of "callers." (Corbett. The Temple Tiger)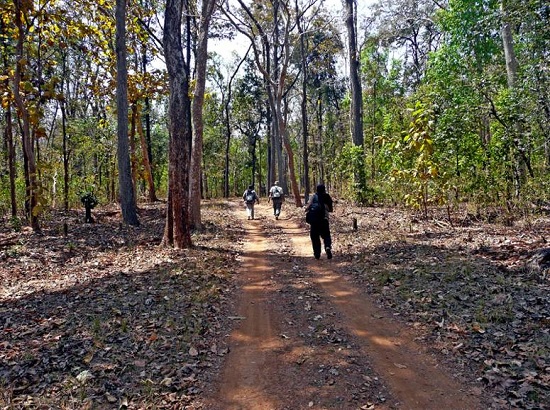 Trekking through the Forest
After a trek of about 40 minutes through Kaksha-124 and 125 – along the red-soiled track through blazing green on either side, now under soothing shades, now in scorching heat - a real enjoyable thrill with MAI's memory afresh, we reached Niloy Guest House on the western bank of Nagzira Lake to the surprised gaze of workers sitting there for a break.

We let them have their imagination flourish, and went to the side of the serene Lake to sit on a circular concrete seat, as Naresh and Sonu walked to the Nagzira Chaukashi Kaksha to report the matter (since we had overstayed in the forest we could be fined on failure to show sufficient and reasonable cause) and seek help by wireless. No mobile signal is available in the forest, and rightly so.

After half an hour, Umesh arrived with a Safari-Zeep. We returned to the place where our abandoned Safari-Zeep lay alone.

At first Umesh tagged the broken Zeep with his with a rope. Sonu sat on the wheel of the broken Safari-Zeep trying to maintain rhythm with the live pilot Zeep.

Sonu's Zeep trailed loyally for about a kilometer. However, the loyalty snapped proving to be as fragile as always. Three more attempts and the rope snapped thrice. Finally, Umesh had to re-abandon Sonu's Zeep there for a later recovery with the Ranger's permission.

It was 1 pm and the sun profusely poured scorching heat from above. We hoped against hope to see Tiger by the water holes during this extended stay in the forest as Umesh drove in high speed; and sensing what could our request be to him if the over-stay proved a blessing, he kept on reminding us every now and then that even if a Tiger was sighted, he would not stop because he did not want to tarnish his repute with the Forest Department.
This time we could not spot anything else than Chittals, Sambars, Langurs, and a lone peacock (75-100, census 2007). We reached Chorkhamara Gate at 1.30 pm – hardly much time left to prepare for the next Safari at 3 pm.

Undoubtedly, it was a very eventful Safari for us, and the happy mood did not let tiredness creep in. Quick bath and lunch completed, we sat on the verandah of the lodge waiting for the next Safari ruminating over our treasured experience.

When Umesh came back to take us, he gave us a happy news adding spice to our experience, that, on return, he found three of the four bolts of the front-right wheel gone! He said he could have no bath or lunch because he had been busy recovering the lost health of his dear vehicle.

Instead of worry, the information evoked hearty laughter.

Now that we have seen the Queen-Mother and Prince of Nagzira, nothing could bother us.

The third Safari was all about Chittals, Langurs, Eagle, Sambar, and Peacock. This time Puresh was our Guide and he altered the wheel with Umesh. When Puresh drove, Umesh stood on his seat facing us and giving us an account why he had not married yet. He said, he would not like to commit suicide so soon!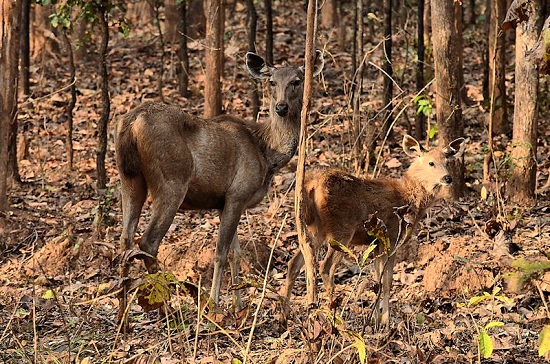 Sambar Mother and Baby
We religiously visited MAI's abode again, however, by now the news of Tiger-sighting had spread so much like Forest-Fire that, it seemed, all the vehicles in that shift had thronged there. The Picnic-Tourists created much chaos. We knew we would not meet MAI again, and decided to try our luck in other parts of the forest leaving them licking their patience and flicking their lenses.

On our return journey, Puresh spotted something and told Umesh to stop and then back-drive the Zeep. On our query, Puresh said it was probably a Sloth Bear. We earnestly hoped so, however, as our Zeep reached the place of spotting, we saw a huge Gaur (Indian bison) (400-425, census 2007; decline from 550-600, census 2006) at a distance in deep wood; unfortunately it was too far to allow a shot. We thirsted for a glimpse of Sloth Bear, but it did not oblige us this time. The thirst is however, a healthy thirst to be the pretext of another visit to Nagzira in the coming months.

Returning to our lodge, we decided to take our next morning's Safari at New Nagzira.

New Nagzira has its own beauty with many natural water pools and streams. We learnt that it is the territory of the oldest Tiger of the Sanctuary named "Rashtrapati" (meaning, 'President') – really a fitting name of tribute – and another Tigress named Alpha! 'Alpha' applies to Male, perhaps this Tigress is the mother of Tigress-Feminism!

After driving about 2 km, halting often to camera-shoot birds, we reached a check-post where our entry was verified. We crossed the metal road that runs through New Nagzira and entered the Forest on the other side.

After a drive of half an hour interrupted by hopeful halts by the side of natural water bodies, our road now took curvaceous ascent to a hill.

We reached the hill top to find a high watch-tower. The display board reads: "Chanditibba Bihamgam Drishya; Kaksha-146; 454 mt. above Sea-Level." (Bihamgam Drishya – literally, bird's eye view).

The watchtower offers a spectacular vision of the entire Nagzira Snactuary and beyond. In the far northeast is Chorkhamara Talao.

Chanditibba Bihamgam Drishya
After spending sometime there, we drove along the descent to the other side of the hill. Chittals, Sambars, and Blue Bulls (290-300, census 2007; decline from 325-360, census 2006) are common in this region.

Again we waited in vain beside natural water bodies and returned to Chorkhamara.

Half of our team decided to have another Safari in the afternoon, while Arjuna and I decided to visit the Chorkhamara Talao.

Indeed, visiting Nagzira Wildlife Sanctuary remains incomplete without a visit to this Lake.

Arjuna and I reached there at 2 pm on our last day of stay. It was very hot, but the air was dry and a constant breeze blew so that the heat never pierced the skin.

Tourists who focus on Tiger-watching only (sometimes their over-enthusiasm resembles Obsessive Compulsive Disorder) often miss the beauty of the picturesque landscapes of the region. A huge sprawling blue water body with lush green banks flavoured with brown mud of varying shades, and surrounded by hills – both distant and nearby – is a gem of a landscape not found aplenty – and indeed a paradise for landscape and bird photography.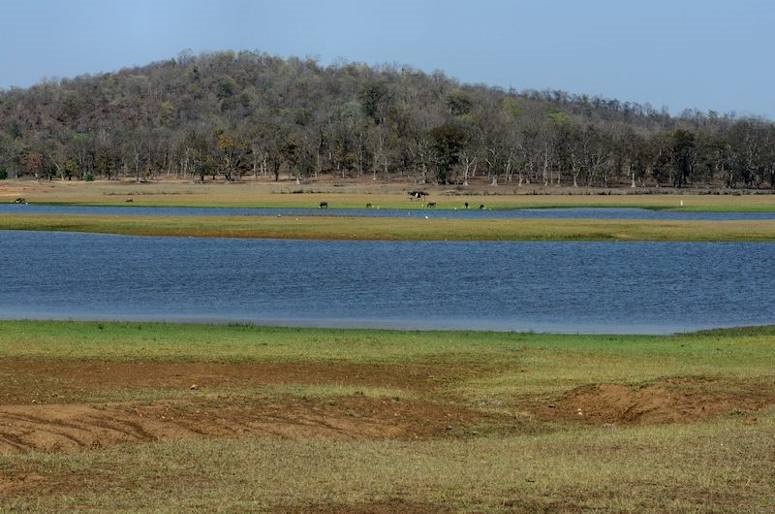 Chorkhamara Lake
We roamed about the bank for sometime running after birds, and then perched on a dry place beside the lake with our back on the sun. It was again a return to my childhood days spending many a leisurely summer noon during vacations by the side of water bodies.

Colourful Dragon-Flies hovered around us; the Plovers, River Lapwings and Sparrows chattered around us – obviously complaining against our untimely intrusion on their day's business. After sometime, we were considered harmless and they came closer. A River Lapwing however, refused to buy our innocence, flapped its wings over our head, and chirped irritatingly in cantankerous mood. It was indeed a social servant renting precautionary alarm calls for other birds.

The most spectacular sight was offered by a Pied-Kingfisher that kept us spellbound with its stunts for about 45 minutes. It perches on the trees or island to prepare itself for action, before taking flight on the water. Spotting fishes, it hovers fixedly like a helicopter, and then splash! It swoops directly into the water. Often it is successful at the first swoop. If not, after 3-4 attempts it returns to a perching place to take the next round of action with renewed vigour.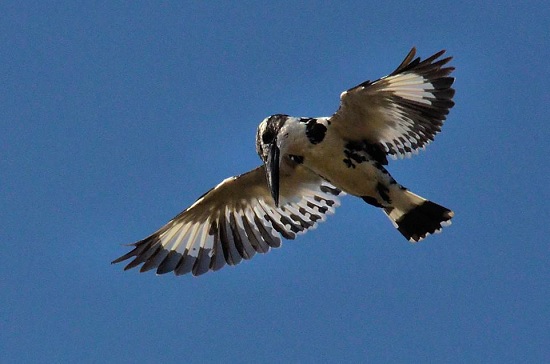 Pied-Kingfisher Hovering to make final swoop
We walked along the bank observing various species of birds. The Plovers took flight in unison offering a spectacular sight in disciplined flight and harmonious sudden turns. Reaching the western end of the Lake I noticed a Sparrow-Hawk or Shikra (Accipiter badius). I neared to take a shot, and after the first one it took flight expanding its vast wings and glided away offering me another beautiful moment to frame.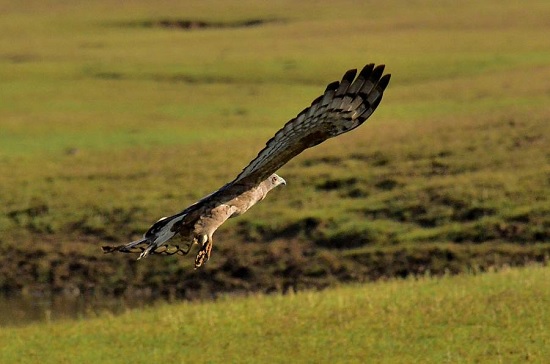 Shikra in Flight
On the other side of the Lake are an irrigation bungalow, and two temples – Rama temple and Shiva temple.

With our heart full, that evening we availed Gitanjali Express from Gondia Station and returned Kolkata the next day.

A Forest Trip like this endows one with a reflective mood given the unique chance to observe the wild and the civilized side by side.

Human Adult is a species by itself often transforming into Child imagining competitions when nothing of that sort should be there.

After the Leopard-sighting, when we returned to our lodge, I chanced to hear one of our neighbours of the lodge saying excitedly to her husband, "They have seen it, so what? Have they won world cup?"

Why would this competitiveness creep up when sighting Tiger or Leopard is just a matter of Luck? If that is inherent to Human Nature, then wildlife observation and Self-observation undoubtedly merge together as two sides of the same coin.

Another thing that saddens is the Picnic-Tourists, a perpetual hazard in Forest. This unique species must have a sanctuary of its own for wildlife lovers to visit. This species have little patience, zero workable knowledge on wildlife, and lack of common sense. While entering a sanctuary they think they are visiting a fashion parade in which the wild animals would catwalk on romp before them. With this pious mood they often create quite a chaos when no animal is in sight (except themselves) as well as when an animal is in sight.

I admire and congratulate the Guides and Drivers for their awareness to maintain the discipline and environment. Once I saw our Guide Paresh, and Driver Umesh deboard the Safari-Zeep to collect plastic left by some Picnic-Tourists. In all the three Safaris we undertook, the Drivers and Guides were keen that we should return in time.

One request to the Forest Department of Nagzira.

The Water-Holes despite their utmost necessity and utility for the wild ones are really an eye-sore. Couldn't the forest department use a little imagination and shroud the cemented rims to hide that glaring artificiality? Even a good shot of Tiger at a Water Hole is bound to be marred by that zoo-fashion.
Information
How to go:

Visa: Usual Government rules for tourists from abroad

Rail & Road:
For entry into park at Chorkhamara Gate: Nearest Railway Stations: a) Gondia 47 km b) Bhandara Road 50 km c) Soundad 20 km d) Tirora 20 km e) Nagpur (122 km)
Nearest bus stand - Sakoli, 22 km (National Highway No. 6 Mumbai-Kolkata passes through Sakoli)
For entry at Pittejhari gate: About 45 minutes drive from Sakoli town at NH6 (Kolkata-Mumabai National Highway)

Air: The nearest airport is Nagpur (120 km) and Gondia (for private planes).

Nearby Attractions:

Nearby attractions include Navegaon National Park (50 km), Itiadoh Dam (65 km), Tibetan Camp at Gothangaon (60 km) and Pratapgad (70 km)

Best Time To Visit:

April-May
June 16 – September 30 — Park remains Closed.

Park also remains closed on every Thursday

Visiting Timings:

October 1 – January 31 — 7 am to 6 pm.
February 1 – June 15 — 7 am to 7 pm.

Safari timing is subject to change at discretion of Forest Department and it might not tally the notice board display. Visiting at last week of February, I found the following timing:

Two Safari-shifts per day; morning Safari from 6.30 am to 11.30 am; Afternoon Safari from 3 pm to 6.30 pm.
Only 8 vehicles allowed per Safari per Zone (flexible subject to discretion of Forest Department)

Dos AND Don'ts

There being three Zones – I, II, and III – each Safari allowed for a particular Zone only. Late return from Safari, that is, overstay, and Zone Violation are subject to penalty of Rs. 2000, other than punitive action like suspension, cancellation of license etc. against Guide and Driver, and ban on tourist from further Safari.

Expenses:

Safari Rate: Perhead Rs.25/ for park entry; 1 Guide charge (compulsory) Rs. 200/; per vehicle charge for park entry- Rs. 100/; Still Camera charge (each) – Rs. 2/ (yes, Rs. 2/ only); Movie Camera charge (each) – Rs. 20/; Each Safari-Zeep for hire – Rs. 1500/ - Rs. 1800/ per shift (negotiable). Six persons can sit on the two rows of seats (three on each row-seat).

Accommodation:

Accommodation in Core Area is now no more available. It is available outside Chorkhamara Gate at private lodges, or in Chorkhamara Village. Any Guide will help in this matter. Standard charge for accommodation in private lodge inclusive of vegetarian fooding for 2 days (12 noon to 12 noon) is INR 2000-5000 per person. Non-vegetarian food is officially prohibited, though can be managed.

Climate:

Nagzira has moderate climate throughout the year. Noon is extremely hot, so it is advisable to stay indoor at noon.
Reference:
a) Official website of Nagzira Wildlife Sanctuary
b) Y.V. Jhala, R.Gopal, Q.Qureshi (eds.), ed. (2008). Status of the Tigers, Co-predators, and Prey in India. TR 08/001. New Delhi: National Tiger Conservation Authority, Govt. of India. pp. –151
c) Tukdoji Maharaj (1909 - 1968) Name : Manik Bandoji Thakur was a spiritual person from Maharashtra, India. He was born in 1909 in a poor family in the village of Yavali in Amravati District of Maharashtra . He was a disciple of Aadkoji Maharaj. Tukdoji Maharaj was involved in social reforms in the rural regions of Maharashtra, including construction of roads. He wrote Gramgeeta which describes means for village development. Many of the development programs started by him have continued to work efficiently after his death.