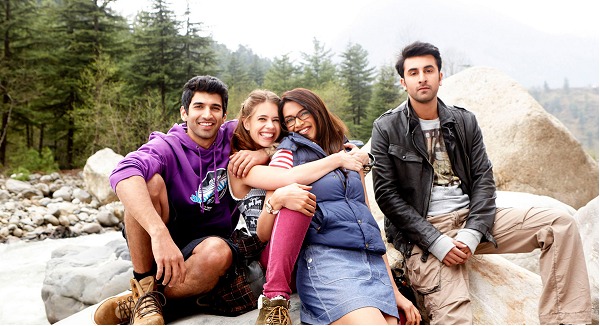 India may cry hoarse from the roof tops that it is still a 'poor' and 'developing' country. But, if one watches the Hindi movies and especially the productions reeled out of Karan Johar factory will find it hard to digest. They always have surfeit of opulence. 'Yeh Jawani Hai Deewani' is no exception. Pleasant looking characters, eye catching locales, Madhuri Dixit's unexpected item number, foot tapping music and above all the time tested love story of boy meeting a girl and the triumph of love at the end make the movie to a great extent watchable. Even then, one cannot but start feeling restless in the second half as it turns too elastic before making way for the climax. It is a bit surprising that such love stories still find patronage among the gen X.
Ayan Mukherjee, the young director has peppered his product with all spices to cater to the needs of the younger generation. So we enjoy a boisterous group's trekking trip to Manali, a glimpse of Paris and a gala marriage at the Udaipur Palace. Friendship seems to find special privilege in the present gen movies after 'Dil Chata Hai'. But, here YJHD resembles more on 'Zindagi Na Milege Dobarah'.
YJHD is more of a love story in the present day context where the youngsters with full conviction of what they want and those who are also more self opinionated. Kabir (Ranbir Kapoor) cares only for his happiness and does not believe in love (including parental) and marriage. Naina (Deepika Padukone) is a medico who is brought up under strict vigilance of her parents. Avi (Siddharth Roy Kapoor) is more an aimless care free boozer, while Aditi (Kalki Koechlin) is happy go lucky but knows what she wants in life. They were school mates and accidentally join and merry make on a trip to Manali and part to meet after eight years on the marriage ceremony of Aditi. I have not come across school mates extending their relationship with different profession continuing their association to this level. Well, in India anything is possible. The love Naina developed for Kabir during the Manali trip succeeds or not forms the rest of the story.
Except for some crisp and meaningful new gen dialogues and action and colorful wardrobes and ambiance the movie does not offer much except an extravagant time-pass. No wonder the 'poor' Indians love 'rich' dreams like YJHD.