In Conversation with Antonio Casella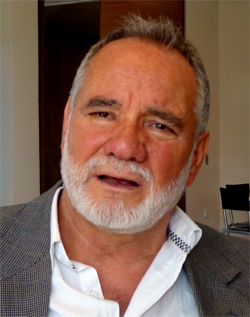 Antonio Casella was born in Italy and migrated to Australia as a 15 years old. He published his first novel in 1980. His short stories have appeared in magazines and newspapers in Australia and overseas. He completed an MA in Creative Writing at UWA and a Ph.D at Murdoch University. He was writer in residence at the Australia Council's Whiting studio in Rome in 1996. His novels are reading wonder. He engages a reader with well-knit plot and the gusto of intensity. He is not a common narrator; an outstanding story teller who follows the picaresque trend. Walter Tonetto in The West Australian observes, "Dream and ritual intersect with the real man, define the purpose of things." At present, he lives with his family in Perth,WA.

~*~

J.S.:How about your childhood days...

-I was born in Italy, on the island of Sicily in 1944, the youngest of 5 children, in a hill-top town called San Fratello. From my house you could gaze at the sea some 18 kilometres down the slope. By day that blue hazy surface in the distance seemed mysterious and infinite. At night the lights of the fishermen's boats fed my imagination with thoughts of adventure. I remember looking at those lights far away filled with a mixture of fascination and sadness. The sea is a recurring image in my writings.

At age 11 I thought I wanted to be a priest. My parents sent me to a Jesuit college in far-away Catania where I boarded for 2 years. By age 13 I had lost my desire to be a priest and left the college. Two years later my family and I migrated to Australia, a boat journey that took 23 days. In the new country I had to learn a new language and find new friends.

I went to school for a few months, but was unable to follow the lessons, as my English was so poor. I then left school and found a job working in an iron foundry. I completed an apprenticeship there lasting nearly 5 years. During that time I attended night school to qualify for a place at university. In 1970, at age 26, I enrolled at the University of Western Australia to do an arts degree.

J.S.:When did you start writing?

-Writing has always been my vocation. As a child I started composing poems in Italian and would show them to the priest, who was also my teacher. He seemed very impressed. That encouraged me to write a whole series of poem, mainly of a religious nature, full of love of God and my fellow humans. They were very personal and no doubt extremely melodramatic. I left the poems with my priest-teacher then I kept harassing them. He told me he was very busy and would get to read them soon. One day we were told that the priest was transferred elsewhere and I never learned what happened to my poems. That experience cured me of my writing bug for a while.

It would be another 10 years before I started writing again, in a different language.

J.S.:Are you bilingual?

-Yes. Italian is my mother language, but I write in English. In Australia English is the language I speak every day. However I am just as fluent in Italian.

J.S.:You come from a country with long history. Is there an advantage for a writer from Italy, Greece and India to harp on myths and legends?

-Myths are integral to a country's culture, part of its blueprint. They are something to learn about and build upon. I don't think it's necessary to adopt myths and legends in your writings, it depends as well what kind of writing you are doing. I have made some references to the myths of the two countries I have lived in, Australia and Italy, but I don't build a whole work on them.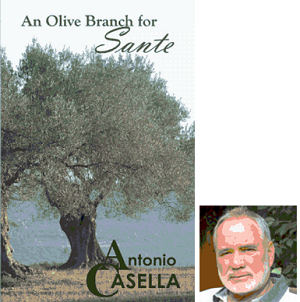 J.S.:How many novels you have written so far?

-I have completed 4 novels. Southfalia, The Sensualist, An Olive Branch for Sante and Men and Fathers. The last one of these is finished but remains in my drawer for now.

J.S.:'An Olive Branch for Sante' seems to be a picaresque novel dealing with Sicily and Australia. How did you make the book so effective combining two different cultures?

-I'm not sure I would apply the term picaresque to this novel. Yes there is travel involved, but it lacks the pace, the high adventure and plot twists associated with that term.

I don't think the book attempts to combine the two cultures, rather it highlights aspects of two worlds which at times appear very different, other times they are mirror-like reflections of one another and that can be surprisingly revealing. At one level the novel can be seen as an attempt to cast a bridge between two countries in which I have lived and loved.

J.S.:What is the theme of this novel?

-A major theme of the novel is the formative power of past experience and of the environment in which we operate. By environment I mean not only the world that surrounds us but also the people we come in contact with and how these can change our lives. The book means to convey that neither Sara-Jane nor Sante will be the same once they became aware of each other's existence.

J.S.:Do you think the novel can be termed as "autobiographical"?

-All writing is biographical to some extent, by which I mean that authors reveal something about themselves with every page they write. Not directly, but by the choices they make, the tone they adopt, the attitudes they display and the characters they construct. There is a little bit of you in every character you bring to the page, regardless of whether they are despicable or uplifting. The character in, An Olive Branch for Sante, I most identify with, is Don Alfio.

J.S.:There are so many Italian expressions in the novel.Don't you think these could put off a common reader ?

-No because there is a glossary at the back of the book with translations of the Italian phrases.

J.S.:What is the main theme-line of 'Southfalia'?

-'Southfalia' was written in reaction to a political event in Australia: the dismissal of one of our most charismatic leaders, Prime Minister Whitlam. It's a satire, a provocation and in the end a cautionary tale, about the effects of enshrined greed and corruption. I believe it has a strong message that's more relevant than ever today. The epilogue depicts all too starkly the kind of end the planet faces if we continue on the path we are on.

J.S.:Do you have a mentor?

-No

J.S.:How about the contemporary writers in Sicily?

-Sicily has one of the most influential literary traditions within the Italian context. Giovanni Verga, Luigi Pirandello, Nobel-prize recipient Salvatore Quasimodo, Giuseppe Tomasi (il Gattopardo) and Leonardo Sciascia are considered literary giants in Italy. More recently Andrea Camilleri has become the most recognizable name in Sicilian writings, thanks to the world-wide success of his Montalbano TV series.

J.S.:Do you consider yourself alien in Perth?

-Not at all, I feel very much at home in Perth. It's my city. At the same time I am proud of my Italian heritage.

J.S.:Are you familiar with Indian authors?

-Salman Rushdie's early work is among my favourite readings ever. As is Arundhati Roy's God of Small Things. I've enjoyed every book set in India that I have read. Aravind Adiga's, The White Tiger, William Dalrymple's Nine Lives and Yan Martel's, Life of Pi come to mind. I'm told that Vikram Seth's A Suitable Boy is wonderful. It's one book I am going to tackle one of these days. Its sheer bulk has put me off.

J.S.:Thank you,Antonio.Wishes for all your good writings in future!

14-Jun-2013
More by : Prof. Jaydeep Sarangi
---
---
| | | |
| --- | --- | --- |
| | wonderful n thought-provoking interview with utmost lucidity and smoothness as well. Apt interrogation from Dr. Sarangi's side and at the same time deliberate and prompt reply from Antonio Casella. | |
---
| | | |
| --- | --- | --- |
| | Without doubt readers will relate to the sentiments of "An Olive Branch for Sante", whether or not they have Mediterranean connections. Some aspects of the human condition are universal, and that's what keeps a reader engaged: curiosity about an unfamiliar culture by relating to feelings common to us all. | |
---
Great to know about the great Australian novelist Antonia Cascella. . Congratulations!! Wonderful interview !! Commendable work done by Antonia ! Keep it up and Best luck for future endeavours.
Thanks and Congrats to Dr Jaydeep Sarangi for his fantanstic work. Best wishes !!
---
| | | |
| --- | --- | --- |
| | Congrats to Antonio and Jaydeep two thinking heads from two continents. Great work! | |
---
| | | |
| --- | --- | --- |
| | It's a wonderful analysis of Antonio's achievement ... a poet taking about a poet is always absorbing | |
---
| | | |
| --- | --- | --- |
| | The scent of the Mediterranean is clearly exhibited in you Antonio. The long journey you and your folks had made at that early age to the new world and the struggle to adopt show the strength of your faith. You have no doubt given that special flavor of virgin olive oil to the Australian literary works. | |
---
| | | |
| --- | --- | --- |
| | Came to know about Antonio's latest novel 'An Olive Branch for Sante'.The interview is fascinating.It connects Australia and Sicily. More to flow from his pen!....Sourav | |
---
| | | |
| --- | --- | --- |
| | A most enjoyable and enlightening article/interview. Thanks Dr Sarangi for bringing Antonia Casella to our attention. Rob | |
---
| | | |
| --- | --- | --- |
| | Hope this interview will help research on contemporary Australian writers.Antonio engages a thinking mind. | |
---