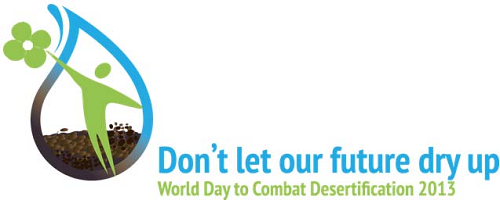 The United Nations' World Day to Combat Desertification and Drought is annually observed on June 17 to highlight the urgent need to curb the desertification process. It also aims to strengthen the visibility of the dry lands issue on the international environmental agenda.

This year's slogan, "Don't let our future dry up" calls upon everyone to take action to promote preparedness and resilience to water scarcity, desertification and drought.
In December 1994, the United Nations General Assembly declared June 17 the World Day to Combat Desertification and Drought. The assembly acknowledged that desertification and drought were global problems because they affected all regions of the world. The assembly also realized that joint action by the international community was needed to combat desertification and drought, particularly in Africa.
When land degradation occurs in the dry lands, it is called desertification. Desertification is not always inevitable. Human factors, such as overgrazing and clear-cutting land are main causative agents of desertification and can be controlled by improving agricultural and grazing practices. Other factors, such as rising temperatures, can be predicted and dealt with pro-actively.
According to estimation each person needs at least 2,000 cubic meters of water for human well-being and sustainable development every year, on average, unfortunately, people in the dry lands have access to only 1,300 cubic meters.
Sub-Saharan Africa, where 66 per cent of the land is either desert or dry land, is particularly at risk. And around 1.2 billion people in more than 110 countries are threatened by this problem. United Nations officials say that if they continue with business as usual, two-thirds of the world's population will be living in moderate to severe water stress by 2025 and due to this people living in the dry lands who are already poor will become the poorest in the world, because they have no water for growth of plantation and food ultimately drought would be their fate due to desertification.
No doubt Pakistan's water crisis is predominantly an anthropogenic phenomenon. Pakistan's climate is not particularly dry, in fact it is semi-arid to arid, nor is it lacking in rivers and groundwater. Extremely poor management, unclear laws, government corruption, and industrial and human waste have caused this water supply crunch and rendered what water is available practically useless due to the huge quantity of pollution. Today millions of Pakistanis lack access to clean drinking water, and the situation is simply getting worse with the every day passing. The country has approximately 35 million acres (140,000 km2) of arable lands irrigated by canals and tube wells, mostly using water from Indus water.
According to a World Bank report of 2006, Pakistan was fast moving from being a water-stressed country to a water-scarce country, primarily because of its high population growth, over-exploitation of ground water, pollution, poor repair in water infrastructures and financially no sustainability of water management system. Interestingly, the country's has good soil, and sunshine.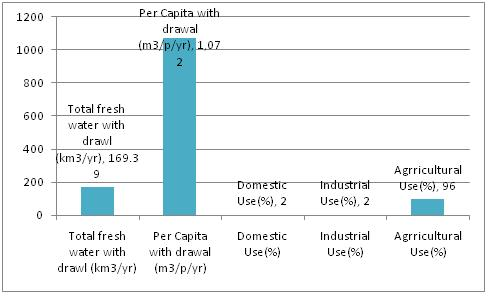 Water for existing irrigation in Pakistan is decreasing because by exploitation and misuse of ground water. Ground water is being over-pumped extensively in order to meet current demands for food production but if our demands exceed that renewable supply, then we must be in the situation that we might be over-pumping groundwater to satisfy the demand, or taking too much water from river basin systems, result in formation of salinity and barren land that in long run cause food scarcity. Over-pumping of groundwater for agriculture, industry or domestic use comes at a sharp ecological price. It disrupts the natural hydrologic cycle, causes rivers and wetlands to dry up, the ground to collapse and fish and wildlife and trees to die.
Fortunately both desertification and drought (slow and silent killers) are predictable and reversible. The need is proper plantations and crop rotations by reserving water sources. Prevention of non-degraded land must be enforced, planting grasses can help stabilize the soil and cut down on erosion by wind and rain. Terracing the land to slow down the water running off will make better use of the rain that does fall. Combating other social, economic and environmental issues that are related to land degradation and further cause desertification and drought. In nutshell awareness is the key of problem solution.