Continued from "At DARE They Care"
Heads bent, hands dexterously working, they are seated in groups at separate tables. Painted in large black letters on a beam is their guiding motto - We can and we will.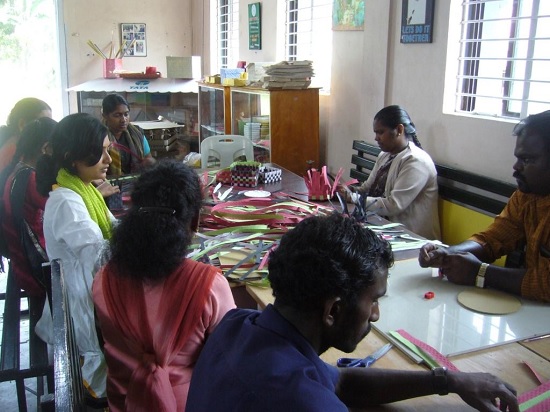 And they are a success story! These thirty-five differently-abled young people just like the rest in the other units of Srishti. It started off in 1991 as an envelope making unit with just twelve employees. Today it has expanded to its present form with thirty-five workers. These one-time dependents are now trained, self-sufficient individuals of the hand-made paper unit. In producing wealth from waste, they themselves have become invaluable assets to their families.

This unit, as explained by Ms. Vasumathi Rengarajan, recycles 70% discarded bits and pieces of cloth and 30% of paper sourced in the form of cut boards and other stationery waste from the tea estate offices, to generate new paper and products.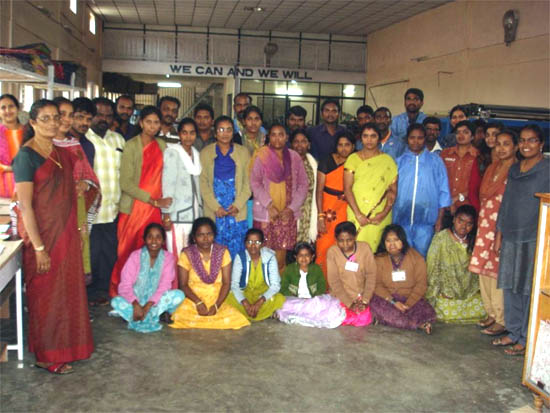 It is astounding what beautiful paper can be produced using waste such as banana fiber, leaves of eucalyptus, pineapple, carrots etc., tea waste, onion peel, flower petals, lemon grass, water hyacinth and even elephant droppings!! The enthusiastic young workers with special needs routinely create a whole range of eco-friendly, azo-free and bio-degradable innovative products. Collapsible waste paper boxes, gift boxes in various sizes with attractively colored and designed paper, folders bound handsomely in cloth covers, sets of letter papers with envelopes to match, book marks, photo frames, gift bags and wine bottle bags, napkin holders, greeting and visiting cards, office table sets and various other meticulously handcrafted goods. Paper made from processed elephant droppings is a huge attraction and is in demand.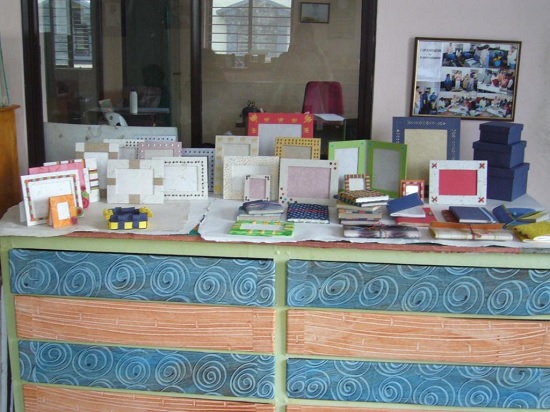 Another very useful merchandise of theirs is paper made from eucalyptus leaves and lemon grass. Available in rolls of six sheets each, they are good insect repellents and can be used for lining kitchen and book shelves.

Ms. Jessina Haris, project coordinator, pointed out to a pile of grey square units. "We have a huge order for these panels. They are used for sound-proofing walls." A strikingly painted serving tray made of hard cardboard caught our eye. This novel product has been introduced by the coordinator after she took over from Ms. Viji Maharaj, who had introduced the dry flower patterns on many products here. They decorated envelopes and place mats with dry flowers. Also pasted papers were introduced by Ms. Maharaj, who had been the guiding spirit of the unit for many years. The office proudly displays Businessworld FICCI-SEDF Corporate Social Responsibility certificate (2007) awarded to Tata Tea now called Tata Global Beverages.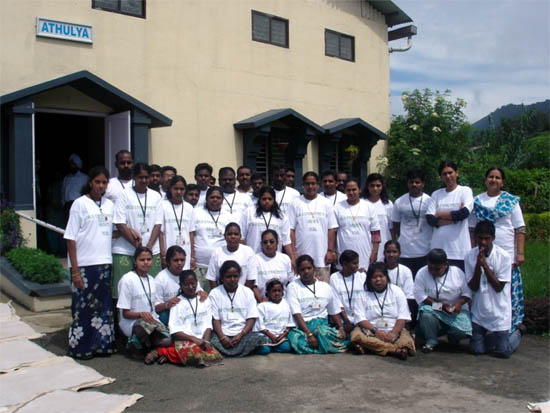 The young workers are introduced to new methods and products through workshops. Experts like Mr. Shiyo from Japan, Mr. Anupam Chakravarty, who owns a handmade paper unit in Calcutta and specializes in banana fibre paper have shared their knowledge with Athulya. Ms. Geeta Patil had shown how the finished products could be made more eye-catching by giving them a few special touches.

Athulya products have been exhibited at 100 Hands exhibitions held in Bangalore, Kochi and Coimbatore. It is affiliated to Khadi Village Industries Commission and participated in the Pragati Maidan exhibition held in 2009.

Among their clientele are big names like Croma, KDHP, Titan and Bata. Schools, holiday resorts and textile shops in Munnar and within a 100km radius are also their customers. They cater to bulk orders of any item requested.

Arthur C. Clarke's words -"The only way of discovering the limits of the possible is to venture a little way past them into the impossible," – are validated by the project units of Srishti Welfare Centre.