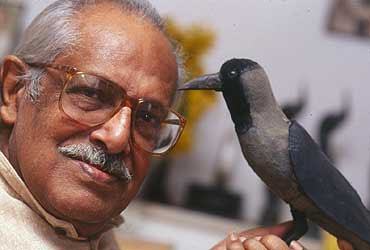 Nothing encapsulates the movies of Hrishidaas much as this song from one of his own movies - Zindagi kaisi hai paheli haye... Kabhi to hasaye, kabhi to rulaye. His movies were indeed just like life - kabhi khushi kabhi gam, very realistic and down-to-earth, unlike a movie of recent times with the same title. His are the characters one could easily identify with - whether it is the emotionally recluse and withdrawn father in Anupama or the star-smitten fan in Guddi or the simplicity, innocence and idealism of Raj Kapoor in Anari or the intense love and the ego hassles of a couple in the same profession in Abhimaan. The situations are such you couldn't help but partake in the joys and sorrows of the on-screen characters: you are one with the father when he finally gets over his long-festering resentment towards his daughter and comes to the railway station to secretly rejoice over her elopement; you also connect with the idealistic yet human Dharmendra, who marries the rape victim (played superbly by Sharmila Tagore) out of his own sense of morality, yet has problems accepting either her or her illegitimate child completely.

Hrishida's foray into film direction is a perfect case of one step at a time - from the coffee houses in Calcutta with eminent people like Salil Choudhary, Mrinal Sen and Bimal Roy among others, he moved to Bombay along with Bimal Roy and gradually graduated from film editing, screenplay writing to film direction. The seeds of Musafir, his first film, were sown during the making of Do Bigha Zameen. When you look at Musafir today, especially in the context of the cinema we get to see now - where everything, from the sets to the characters to the stories, is larger than life - Hrishida's first film stands out for its realistic story alone. It is an interesting movie with the main character of the film being a house. The film revolves around the tenants of this place - three families, three stories - all of whom stay in the house for a little while, let viewers partake in their daily joys and sorrows and then leave. In many ways, watching the film seems like watching the happenings in one's neighborhood.

Musafir was not a commercial success, yet it laid the foundation for the expectations from a Hrishida film - engaging family chronicles, laced with wit and humor, and a sensitivity that came to the fore at unexpected moments. Anybody could walk into a theater playing Hrishida's film, assured that if not anything he is sure to be treated to an engaging and entertaining film devoid of any vulgarity. All his movies explored human relationships with a discernment and perceptiveness that is increasingly becoming rare these days.

Musafir resulted in an Anari, the movie that saw an instant rapport develop between Hrishida and Raj Kapoor. Anari had a few memorable numbers which to me are reflective of Hrishida and his philosophy in life - Kisi ki muskurahaton pe ho nisaar and Sab kuch seekha humne na seekhi hoshiyaari. It is said that Hrishidawrote the script of Anand with Raj Kapoor in his mind for the title role, which is why the movie is dedicated to him.

Anand is often considered to be Hrishida's chef-d'oeuvre, and it most certainly is one of the most sensitive movies ever made. The story of a terminally ill man battling cancer yet embracing life with a smile on his face touched a chord in many a heart - this was one movie that celebrated life to the fullest. Anand is said to be Rajesh Khanna's best act ever - but to me the movie also stands out for Amitabh's intense, brooding portrayal of Babu Moshai, the reticent doctor who is weighed down by the medical prognosis yet enamored by Anand's approach to life and living.

As a correlation to Anand, years later Hrishida made Mili, which featured Jaya Bhaduri as a person with just a few months to live. Mili is just like Anand, someone who lives for the moment and doesn't despair about her impending end. But unlikeAnand, in Mili death doesn't have the last word - Mili reinforces dreams and life. Both Anand and Mili in their own way ingeminate the same message - death or the knowledge of it doesn't necessarily have to mean the end; life is all about living.

Two of my all-time favorite movies of Hrishida are Anupama and Anuradha.Anupama has often been viewed as a heartbreaking tear-jerker that explores life and death through the eyes of a young woman who has lived as a burden to her estranged father. But to me Anupama symbolizes the coming of age of a reticent, self-effacing and subdued young woman portrayed brilliantly by Sharmila Tagore. The movie is an intimate look at the daughter's unarticulated anguish at her father's rejection culminating in the final assertion of her self. The final scene - when Anupama finally finds the courage to walk out of her father and "elope" with Dharmendra (in an absolutely repressed portrayal of a writer-poet) and her father rejoices silently - to me encapsulates the essence of the movie brilliantly. Aise bhi baatein hoti hain, kuch aise bhi baatein hoti hain, kuch dil ne kaha, kuch bhi nahin - sung flawlessly by Lata - epitomizes the crux of any and every relationship.

Like Anupama, Anuradha to me is undoubtedly one of the classics of Hindi cinema. The film is a touching saga of an idealistic doctor who dedicates his life to his practice in a village, and his extremely talented wife, who is caught in the middle of her own dreams and her sense of duty. Once again, as his forte, Hrishida depicts the relationship between the husband and the wife with great sensitivity and understanding. The love, the companionship between the two, and the frustration and desperation of the wife all these lead to a denouement, which can move anybody to tears. Finally, when the wife does decide to leave her husband to pursue her career as a singer and dancer, even as one feels sorry for what could have been in the relationship, one understands perfectly why she chooses to do so. Hai re woh din kyon na aaye and Jaane kaise sapnon mein kho gayi akhiyan - these gems that saw Pandit Ravi Shankar's rare foray into Bollywood are classics in their own right.

I don't really recall the first Hrishida movie that I watched; but then I also don't recall any time in my life when one of his movies or a song from one of his movies was not among my top favorites. Even today many a day I wake up with a song from one of Hrishida's movies on my mind - be it either Anupama's Aisi bhi baatein or Asli Naqli's Tera mera pyar amar or Anand's Kahin door jab din dhal jaaye orGuddi's Bole re papihara. Each song, as with his movies, spoke to you in a special manner and touched a chord somewhere deep within.

In an age when everything is defined by first impressions and apishness, by artificiality and ostentatiousness, what one is sure to miss is what Hrishida's movies always stood for - simple, yet refreshing; poignant, yet un-theatrical portrayal of genuine and real people - people like you and me, people who you really know or could have known.