Preeta Chandran & Pankaj Kumar Saxena
Newdelhi & Newyork: PROMILLA & CO, 2013
ISBN: 978-93-82337-08-9
Hardbound: Pages 111. Price Rs 800/-
Poems and Arts stimulated by Love, Compassion, nature and Inner Light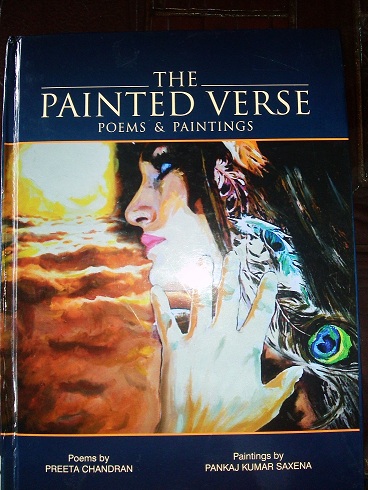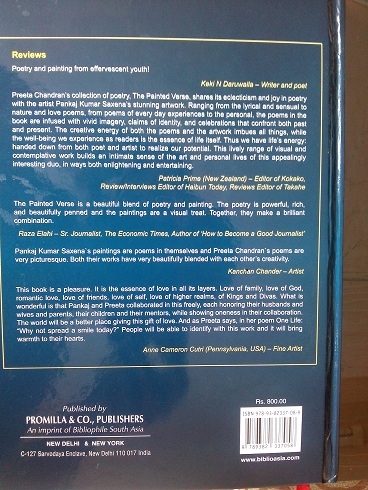 The poetry and art collection under review entitled – The Painted Verse – is the maiden venture of Preeta and Pankaj into the publishing world. Preeta works with a reputed MNC and a lovely free verse poet. Pankaj works with a leading MNC and an award winning artist, well known for his experiments in modern art. The blurb says that "the poet has a way with words, which enables her to transform her thoughts, imagination and deepest emotions into prose and poetry alike.", "the artist is a born experimenter, blending and transforming both traditional and unexpected items into meaningful pieces of self-expression. Both of them have sincerely stuck to their beliefs and delivered a novel idea with great oneness.

It is a matter of pride to me to be reviewing the work of this poet and artist whose poems and arts have gained much appreciation and applause in their respective review sections; Preeta's poetry in the interactive forum – 'Your Space' – of our journal Muse India and Pankaj's arts in several competitions and exhibitions. Preeta's poems 'The Butterfly' and ' A Whole New World' has been awarded honorable mention in Muse India and her poetry submissions are sought after by Indian and International Journals for their sheer poetic quality.
Preeta use words creatively to reach beneath the layer to highlight thoughts aesthetically, who is a fine poet with a fine rhyme sense too. True to Macaulay's words, Preeta has employed words in such a manner as to produce an illusion on the imagination.

Pankaj use thoughts colorfully to evoke feeling within the reader. His paintings are fresh and full of life with fine details, suppleness and freedom of movement. The tones of his images are always delicate and gentle; thins and dilutes the brutality reminded, through the watercolors.

In the first poem 'The Painted Verse,' both of them tributes to each other's work. I quote here few lines from the poem.
"The pen inspired,
Stringing words together,
The brush, splashing them,
With a myriad of colors and hues,
A small tribute,
The Painted Verse."
The poem 'The Butterfly' is a finely crafted poem that provides an awe-inspiring feel to the mother from a nature's moment through her daughter's eyes. I quote the last para of the poem to reveal its essence.
"The Mother arrives,
Gathers her bundle of joy,
Into her arms,
Unable to fathom,
Why he doesn't,
Snuggle up to her bosom,
Till she sees wonderstruck eyes,
Gazing at the Butterfly,
Perched on the daffodil,
Poised for flight."

My favorites from the prolific list of 50 poems are inspirational poems; Life is Beautiful, Lend wings to My Dreams, Two Trees, You are Worth, When I rained, One Life, and Back Again, Tribute Poems to Mother and Father; An Angel and Oh Dad!, Love Poems; Oh God, I'm in Love, Love at First Sight and I know, My Love, the poems of joy expressed through experience of nature, being in present moment; The Window, With the Pigeons, My Spirit and Toothless Smiles and the poems of suffering being in love; Hell but Heaven, All I Want, The Promise, At the Airport and You are Worth and the self-confessed poem; I am sorry and I accept.

I quote paras from my favorite poems,

"I am back again
In this tiny world,
My sunshine,
In the autumn of my life." – Back Again
I know that you are,
My eternal soul mate,
Though, I know, in this life,
We will never unite." – I Know, My Love

Since most of the poems and arts in this collection are fuelled by insightful thoughts, poetic feelings, idealistic vision and worldly wisdom of the poet, the poems and arts find resonance with the readers.
"Genuine poetry can communicate before it is understood" said T.S. Elliot. Preeta's poems hold true to Elliot's words. Preeta and Pankaj succeeds in doing so in their very first book.

"I will always remember,
The happiness on your face,
When you lost that game,
For the first time ever,
And jumped for joy,
Because I had won;" - Oh Dad!
"And somewhere down the line,
I learnt,
That I must live,
To be worthy of trust myself,
For trust heals,
Like nothing else can,
Trust protects,
And makes life beautiful;" - An Angel

It seems only after feeling a deep kinship with the work of Preeta and Pankaj that Soli J. Sorabjee, President of IIC and Former Attorney General for India must have written his insightful foreword. It fulfills its duty in bringing out the best and salient features of the book and like a beacon light guides the readers' mind unto the poetic and art path. To quote few lines from the Foreword, "The Painted Verse offers a multitude of poems and paintings to the reader. They exemplify the poet's craftsmanship accompanied by the fine strokes of the painter which transport the reader to a world where we have time to reflect, and also have time to stand and stare." As Sorabjee Sir has mentioned, the works of Preeta and Pankaj makes the reader to come back to the present and to live moment by moment by with it to breathe the wonderful scenes outside and the feelings inside.
"Painting is silent poetry, and poetry is painting that speaks." said Plutarch. This quote hold true of the sensational verse and art flow by poet Preeta and artist Pankaj, whose maiden venture acts as a launch pad to shoot them to the realms of their dreams. They have created a unique place in literature and art through this creation.

Pankaj has given his heartfelt special thanks to Mr. Tarun Beri for the book design and Anuj Vidyarthi for the photography. Similarly, Preeta has given her heartfelt special thanks to Muse India for providing an enriching platform and meaningful learning experiences to new as well as seasoned poets.