Lovable 'Lootera'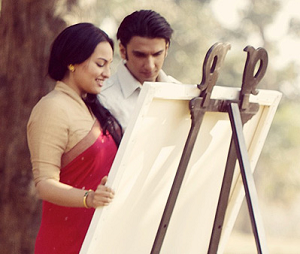 In fact, the aesthetic and captivating movie stills have influenced and fuelled my interest to watch the movie 'Lootera'. The names like Vikramaditya Motwane of 'Udaan' fame and Anurag Kashyap further raised the expectations. My curiosity became multifold after reading those glorious reviews by many critics in the last few days.

Yes. Watching 'Lootera' was an experience in the present day genre of Hindi movies. It was not just a period film with perfection but also a movie with minimum dialogues and loudness. In many places, silence was so poignant and the characters almost exchanged many words just by a look. It was indeed very amusing to see in love scenes the lovers actually spoke in whispers. True, the film moves languidly with special attention to details in the frame and ambience. It is a touching story of a zamindar who losses his treasures to a conmen and the tale of a pampered rich girl falling in love with a stranger who turns out to be a charlatan and the life of a young man who believes in cheating but captured in the magic of love. The O' Henry short story 'Last Leaf' seemed like a push to give the movie a classic status. But, surprisingly, even without that and notwithstanding the fact it bears semblance to 'Fanaa', 'Lootera' lives up to the level of an art film with subtlety.

It is because of a crisp sequence of scenes and dialogues. The colorful first half ends in a calamity and the second half was mostly shot in grey, black and white suiting the mood of the movie.

Vikramaditya Motwane's characters are well etched and presented with life on the screen. The lead players Ranveer Singh and Sonakshi Sinha look not just ravishing but also act with complete conviction and style. The supporting artists Vikrant Massey, Arif Zakaria and Adil Hussain provide perfect foils to the main characters. However, 'Lootera' may be a critics' delight and commoners' disappointment. The present generation of youngsters may find this movie hardly interesting. The three youths sitting next to me in the theater were just giggling when there was an intense emotional outburst happening between the lead pair towards the end. The values, ethics and the concept of love all are going for a toss with time.

With pleasing visuals, creating a nostalgic feel, soft music and excellent re-recording, controlled performances, 'Lootera' stands out in the extravagance and loudness of modernity.

07-Jul-2013
More by : G Swaminathan
---