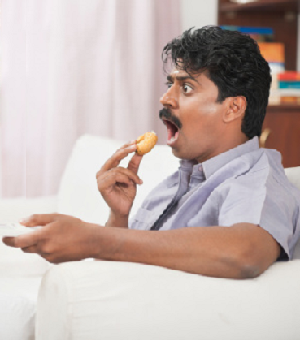 It was one of those days when one is itching to do something creative. I got up and had my first cup of chai with a zing − boiled tea with crushed ginger, spices and cardamom pods. In India, long distance truck drivers drink 'nabbe meel ki chai' (strong tea reputed to keep you awake on the road for the next ninety miles!) The tea brewed by me was guaranteed to keep me awake for the next ninety minutes!
As I turned the first page of the latest edition of India Abroad magazine, the phone rang. I ran into the bedroom to answer the phone. It was for my wife. After two minutes of animated conversation, she said, "Shantaben and I are going to Farmers Market and later to the Mall at Lawrenceville Highway. We should be back by 2-00 p.m. You better mow the lawn, as it is cool and breezy outside. And no cooking!" I felt someone should detain her under T.A.D.A. (Torture against docile author!).
She was going out. My spirits leapt like a trout in a river. After fifteen minutes, she came down the stairs, dolled up in a light blue sari, carrying a purse in her hand. I could smell perfume. "That smells nice" I complimented her. She said, "You think so! It is horrible. Tea rose! You are a tea junkie! Why don't you buy Shalimar for a change? Kantibhai is so generous he bought 'poison' for Shantaben." "I hope not," I said," It must be poison! Shantaben is not a rat!"
I went to drop her at Kantibhai's house. I rang the doorbell. After a few minutes, down came Shantaben, wrapped from head to toe in a crumpled cotton nightgown, looking like a well-preserved Egyptian mummy. Rubbing her sleepy eyes, she said, "You are early. What time is it?" I replied, "Time to go to the Farmers Market before the vegetables get dehydrated!"
After returning home, I woke up Bintu, and fixed him a quick breakfast. "Bintu, can you help me mow the lawn?" I begged. Bintu smiled, "Sure dad, but it will cost you double. I am supposed to be on holiday." I was desperate so I agreed. "O.K. sport. It's a deal." I wished I had a robotic solar mower. I was glad he didn't ask for medical insurance or a pension plan! I was sweating by the time I bagged the grass. I opened a tin of diet coke, took two big sips and put the can on the lawn. Bintu came out for his reward. I gave a crisp note of 20 dollars to him. "Thanks Dad". He instantly pocketed it and rode off on his bike, knocking down the can of coke, to meet his friend Billy. The freshly cut lawn had a liquid fizzy fertilizer, thanks to Bintu!
Quiet once again. I was hungry. I felt like eating batetavada (potato fritters) with my tea. I relish sweets and snacks, which are round and soft, like gulab jamuns, rasso gullas and batetavadas. Samosas are nice too but filling those triangles is cumbersome. The recipe book said I would need 90 minutes for preparation and cooking. I mentally added ten minutes for eating! I had enough time for the culinary experiment.
You must have read about Smart House (electronically manipulated house of the future!) Well, if my wife had her way, she would have opted for a Smart Kitchen, where an automated voice would say, "You are now entering the kitchen. Place your I.D. Card on the oven and state your name and status." Then maybe the voice would say, "You are cleared to cook today. Put on your apron. Do not leave any fingerprints, vegetable peelings, unwashed utensils, oily smell or smoke when you are done." And a green light would go up.
I boiled the potatoes, peeled and mashed them. Next I tried to peel an onion. Onions always make you look like a departing bride at 'bidai time'! − Leave your eyes full of tears! I hunted and searched for various spices, chilies, ginger and so on. God only knows why He made chickpea flour. To get right consistency batter is like teaching a giraffe to dance on three legs!
I tried to roll the first ball of mashed potato in it. The batter stuck to my fingers like putty on a window frame! And the phone rang! I forgot I was cooking and ran to grab the cordless phone. Unlike O.J. Simpson, I left batter soiled finger prints on the phone! "Oh God, stupid me" I cried out loud and quickly wiped out the incriminating evidence from the phone! I added extra water to the batter. It became so thin; it wouldn't stick to the ball. I added a pinch-full flour, stirred it well and rolled another ball and dumped it into the karai. Because the oil was not smoking hot, the ball sat spluttering at the bottom of the karai like sunken Titanic! I turned on the gas, and the oil got hotter.
Again the phone rang and I rushed to pick it up. It was wrong number. When I returned I saw smoke from the karai rising towards the ceiling and the smoke alarm. I instantly took the black batetavada out of the karai. It had received fifth degree burns. I switched off the gas and opened up the windows. After a few more mishaps, I managed to make six vadas (they looked pitiful like deflated footballs!)
I was about to taste one, when Bintu rushed in. The vada dropped out of my mouth onto the floor. "S..." I cursed. Bintu heard me and said, "Dad, my teacher told us not to use 'S' word." I apologized, "I know, I'm sorry. Anyway, try this vada." I proudly offered him my delicacy but he disappointed me, "Dad, not now. I just ate a McDonald burger! Maybe mum can eat these in the evening." he suggested. I quickly hid the vadas in a plastic container. I finished washing up dozens of knives, spoons, plates etc. I removed all the batter blobs and liberally sprayed garden orchard freshener in the kitchen.
Everything looked normal when my wife returned carrying two heavy bags of shopping. "The lawn looks really nice. I'm so tired. Did you finish your article? The kitchen smells like a fruit orchard for a change. And oh, I forgot. I bought these batetavadas from Chatpati restaurant. I'll make some tea and then we can enjoy these vadas with tea." Bintu heard this and muttered, "Mum, you just ruined dad's surprise!" She couldn't follow what he said. I quickly looked at Bintu who impishly winked at me.

Image (c) Gettyimages.com