Solitude is an eloquent collection of poems that reveals the very deeply sensitive and incisive mind of the author, Rajender Krishan. Thought-provoking, astute and delightful, the poems have the potential to deepen a reader's experience and make the soul blossom. His colorful scales of words reflect thoughts that are a delicate balance of emotion and intellect as he delves with integrity into the depth of his being.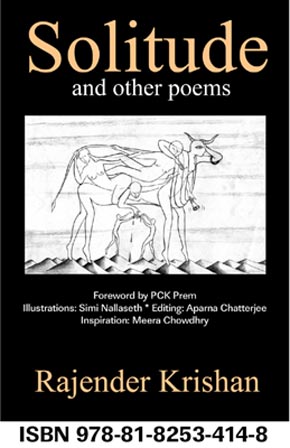 It is a treasure chest of splendorous jewels – riveting, masterful and charismatic. Rich in metaphor, the poems give us glimpses of wisdom often hidden below the surface. There is movement in stillness and stillness in movement; balancing the two, the poet dances to the music of his insights, while his simple, unassuming words work their alchemy on our awareness.
He celebrates the ordinariness of everyday life by taking it to the realm of inspiration. His first poem titled 'Core of the Onion" meanders from the relatively humdrum to the philosophical. Millions peel onions daily, how many go from its core to the core of their being? He goes to the crux and nub of life in the mundane, endowing it with a spiritual light all its own.
All layers strewn
the bulb obliterated
core unsheathed
one grasps a tangible nothing
realizes an intangible something
In easy yet potent language the poet takes us, poem by poem, on an inward journey to examine our own consciousness. He hears sermons in his solitary moments in the interior world and dives into the living ocean of truth to come up with gems of awareness. He searches for Freedom –
I am trapped in non-acceptance
in trying to become
what I am not
In "What I Am?" a bewildered poet probes his identity. Am I defined by epithets and relationships, he wonders. He senses 'a naked Self' that he wants to reach by detaching from it the masks of duality.
The labyrinths of his mind open up new avenues in the reader's thoughts, holding up a mirror that takes him deeper into self-reflection.
Now
for an individual like me,
The "Festival of Lights"
is to know the flame within
that glows eternally
So that "I" too may attain
victory over Ravana
The symbol of evil -
that also dwells within
like a shadow
and manifests in the form of
Anger, Carnality, Attachment, Greed and Enmity. (Illumination)
If he agonizes over injustices, ironies, dilemmas and debauchery of present day society, (Physics and Social Chemistry, Struggling Workers, Irony, A Monkey's Fall), he raises the bar of relationships, love, passion, eroticism in his poems – Relationship, Deluge, Nirvana, Immersion...With lucidity, absolute sincerity, he attires passion, sex and eroticism in language that is exuberant, liberating, refined, almost 'sacred', transcending carnality to move into the territory of inviolable purity.
Khalil Gibran's words come alive in the essence of Solitude and Other Poems -
Therefore let your soul exalt your reason to the height of passion, that it may sing;

and let it direct your passion with reason, that your passion may live through its own daily resurrection, and like the phoenix rise above its own ashes. And since you are a breath in God's sphere, and a leaf in God's forest, you too should rest in reason and move in passion.
Solitude and other poems by Rajender Krishan. Cyberwit.net 164 Pages ISBN-13: 978-81-8253-414-8
Available on Amazon | Cyberwit.net | Flipkart | Ombooks.com