(7-10-1964 to 13-7-2013)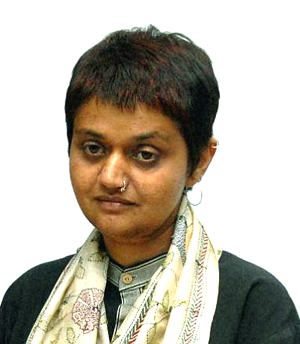 I am indeed shocked to learn about the sad and untimely death of Sharmila due to cancer of colon at the young age of 49. She was not only a good scholar but also a refined human being and ajatshatu (individual without personal enemies). Prof. Sharmila Rege was an Indian sociologist, feminist scholar and widely discussed author. She was a leader of the Kranti Jyoti Savitribai Phule Women's Studies Centre (KJSPWSC) at University of Pune who fought for her ideological commitment for the excluded and brutalized sections of society.

I was amazed when Prof. Sharmila Rege, Head of Department of Sociology decided to join as Director and Reader, Centre for Women's Studies. In a hierarchical institution such as university, a scholar established in the mainstream discipline switching for 'lower' position without batting an eyelid showed her commitment towards women's studies in 2007. Under her leadership, KJSPWSC became an intellectually vibrant center providing platform to academicians, retired scholars, freelance researchers, social activists and feminists. I had opportunity to meet Sharmila for 10 years continuously, from 1996 to 2006 when I was invited by her center for 4 lectures in a day on gender budgeting, globalization, sex selection and declining sex ratio and sexual harassment at workplace for Refreshers Courses/Certificate course in Women's studies. I was impressed by atmosphere of nurturance, voluntarism and cooperation created by Sharmila even in the midst of tremendous financial crunch experienced by the center in that period.

Sahrmila as a social activist, feminist scholar and social analyst single-minded challenged the Brahminical patriarchy from 'Dalit Standpoint'. In 2008, her inspiring and insightful Savitribai Phule Oration on 'Education as Trutiya Ratna: Towards Phule-Ambedkarite Feminist Pedagogical Practice' sponsored by NCERT in a jam packed hall at SNDT Women's University, Mumbai was mind-blowing. The audience, whether agreed with her or not, listened to her with rapt attention and many of them gave her standing ovation.

She could convincingly explain women's predicament determined by complex interplay class, caste, religion and sexuality with the help of historical evidences, contemporary concerns of dalit-tribal-minority women and queer community. Sharmila practiced what she preached within the academia and from the political platforms. She fought for the right of the Dalit students in her university. She legitimized crucial contribution of Babasaheb in examining Indian civilization from the point of view of the oppressed and exploited sections i.e. shudra and ati-shudra.. She brought to the fore knowledge of the 'subjugated' and challenged the dominant Brahminical discourse.
She left a lasting impression on any one who met her. She had a huge fan following among post graduate, M. Phil. and Ph. D. students. How can anyone forget courteous, mild mannered and soft spoken Sharmila who was patient with her students, who gave quality time to her non-English speaking students, who with great perseverance brought out important works of women's studies in Marathi in collaboration with her colleagues-Prof. Vidyut Bhagwat, Dr. Anagha Tambe, Dr. Swati Dehadroy and Dr. Sneha Gole. Their commitment and strategic thinking for KSPWSC put their center on a national map. Every year we displayed their yellow poster announcing the MA and certificate course in women's studies. No one would remove the poster due to Savitribai's photograph on it. The KSPWS team played crucial role in Indian Association of Women's Studies and edited its newsletter during the millennium years.

Her concerns were encapsulated in the quotation from Dr Ambedkar that invariably accompanied her emails:

"My final words of advice to you are educate, agitate and organize; have faith in yourself. With justice on our side, I do not see how we can lose our battle."

Sharmila's book, Writing Caste, Writing Gender: Reading Dalit Women's Testimonies published by Zubaan, Delhi in 2006 had a massive ripple effect among sociologists, political scientists, women's studies and Dalit studies scholars. Sharmila received the Malcolm Adiseshiah award from Prof. Padmini Swaminathan, Director of Madras Institute of Development Studies, Chennai on 21-11-2006 for "sharpening the perspective on caste and gender by examining the differences and the connections of power that existed between women while also recognizing what connected them as women."

Sharmila Rege's articles, 'More than Just Tacking Women on to the 'Macropicture', Review of Women's Studies, EPW, Vol - XXXVIII No. 43, October 25, 2003; 'Real Feminism' and Dalit Women', EPW, Vol - XXXV No. 06, February 05, 2000; 'Dalit Women Talk Differently − A Critique of Difference and Towards a Dalit Feminist Standpoint Position', Special Issue, EPW, Vol. XXXIII No. 44, October 31, 1998 and 'Writing Caste, Writing Gender: Reading Dalit Women's Testimonies' must be translated in all regional languages of India.

Sharmila, an extremely popular teacher and warm fellow traveler in the women's studies movement will be there always with us through her writings on caste, gender and feminism and compassion she has shown for activists and researchers. Sharmila fighting colon cancer passed away today, within a month of it being detected. Her brutal death has given a major blow to the women's studies and dalit studies movements.