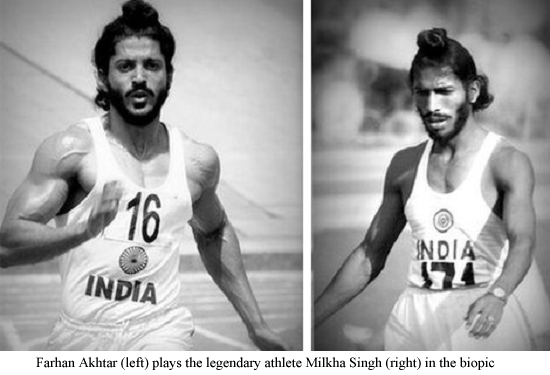 I am a flying Sikh air borne by business compulsions, rewarded by air miles and gold cards - if not a medal. Sporting a Sikh identity and running no less, my similarities with Milkha ends here.

In school I would run once a year on sports day and win cups. Over the years these guild cups have lost their shine. These cups now gather dust and sit on those old wooden shelves, a misfit to the modern furniture décor.

As age would have it, in college running behind girls was macho. As backbencher I held no prejudice to those who ran for ranking 1, 2 and 3. I rather run many a miles to be in the hall of fame – 'first night, first show'. It was always, run for fun. On the D-day, parents ran through my report card and got judgmental about my future. A degree dangling around my neck is a stark proof that I ran my race to qualify as an engineer.

The race for livelihood spares none. The grit of competition and the fear to fail was humungous. Like most, I ran pillar to post in search of a job and what does a job do – churns you workaholic. From production to sales we are chasing targets. In the race of me first, you last; walking has lost its essence, in every walk of life.
Run is the trigger to growth and I have not stopped running and wonder who has? There is a Milkha in each one of us, running for many a mile stones.

I have been pampering my body at sports stores. Nike track suits and Nike shoes to run on tracks of healthy life. At 45 + my doctor still wants me to run. The mile stones have changed. BP, sugar, cholesterol take a good measure of your health. Health is now wealth and I cycle my way in the gym. Hope to run a long healthy life.
I ask my retired accomplished father, 'when he looks back, how well did he run'? He says, "I am still running, running on pensions – walking is not an option, life is about running"!

Human wants are unlimited and hence the rat race. I guess success lies in not running away from problems. Indeed there is no relaxing.

'Bhaag Milkha Bhaag' is running in theatres, I am no film critic to judge it. The athlete Milkha lived his story; we are dying to live ours!

Image courtesy BBC