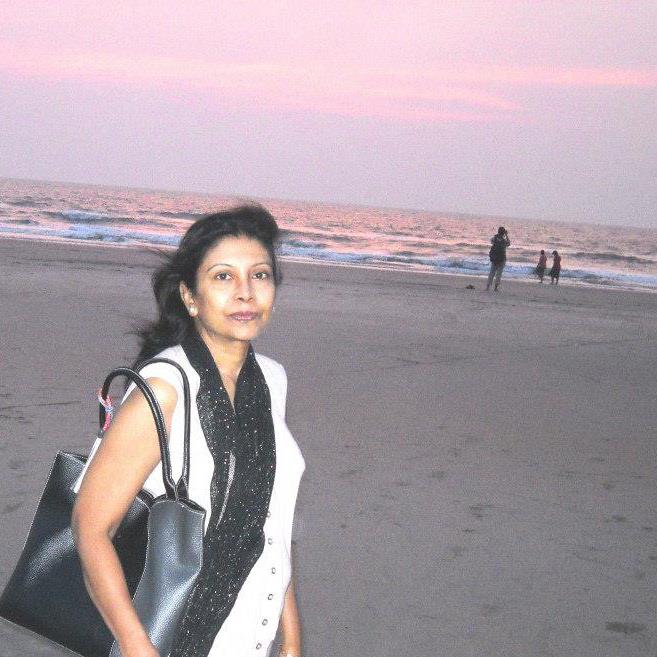 Sanjuktaa grew up in the culturally vibrant city of Calcutta and after graduating from Lady Brabourne college, she went on to do her Master's in philosophy under the aegis of Calcutta University. Though she has always been in love with poetry, she is a relative new-comer on the haiku scene. Her work have appeared on various online and print journals like Frogpond, the Herons Nest, Acorn, Simply haiku, A Hundred Gourds, Moonbathing, Ribbons etc, in the past few years and apart from her tanka which has already been anthologized, some of her poems are scheduled to be anthologized. She has also been the recipient of a few awards for her poems.

Sanjuktaa lives now in Belgaum, a small city in Karnataka with her husband.
RA: What are haiku, senryu and tanka to you?

SA: By definition, haiku is a brief poem with a two-part juxtapositional structure that captures a fleeting moment and is usually written in three lines within 17 or less syllables. For me, though, haiku is much more than that. Through haiku, I am able to reach that one moment of serenity between speech and silence, between the sounds and images of this world and my sense of wonderment at it.

Senryu is structurally similar to haiku, but it focuses more on human nature though having human content is not a distinguishing factor always.Nor is a senryu always humorous/satiric in tone; there is a serious side to it as well that explores the whole gamut of human emotions. A well-written senryu can be sparkling and witty, it can be soft and tender too!

Tanka is a lyrical 5-line poem of 31 or fewer syllables that juxtaposes the poet's emotions with the outer world. If the poet feels a little cramped by the restrictions in haiku, he has the space to flex his poetic limbs and employ the poetic devices in this form. To sum up what tanka does mean to me, I'll have to quote Gerald St Maur. "Tanka is what moves us from the simple to the complex, …from thread to tapestry, from sketch to picture, from chord to melody."
RA: Why you chose Japanese short forms over other forms of poetry as your specialness?

SA: A haiku can pack a punch within its three lines which sometimes even the longer poems fail to do. After I discovered haiku, the longer poems which I had been writing (and reading) before, could no longer hold my interest, with a few exceptions, of course! I love haiku not only for the brevity of its form or the layers within it, but also for the way it could transport me to places where I've never been or will never be. Not that the longer poetry cannot do it, but I felt I could express myself best through these forms. The emphasis in haiku on concrete images also appealed to me.

RA: Briefly tell us about your entry in global publications in short forms.

SA: I attended a haiku workshop by Australian poet Myron Lysenko on a poetry site and that was how my foray into haiku began. Within a few months I had sent off a few poems to The Herons Nest and to my amazement, they were accepted. It was in 2007. But after a long hiatus of almost 3 years, when I began writing again in mid-2010, I would not have had the guts to send my poems to any major journal, had I not been encouraged and egged on by Martin Gottlieb Cohen whom I met on the same poetry site. I was also encouraged and nurtured with a kind word here and a pat on the back there by many well-known poets/editors like George Swede, Paul McNeil Pamela Babusci and Lorin Ford at different times.

RA: Who were the prominent Indian short forms poets during your entry into global publications.

SA: Frankly speaking, when I first came on the haiku scene, I knew of no other Indian haiku poets than Angelee Deodhar and Kala Ramesh. But I'd put it down to my ignorance rather than anything else. As I started to read various haiku journals, I gradually became familiar with the names of Johannes Manjrekar, K. Ramesh and R.K. Singh.

RA: Who are the prominent short forms poets in India today?

SA: Short-form poetry in India is thriving today. Apart from Kala Ramesh, there are many talented poets who are writing brilliant haiku. You yourself, Ramesh, are playing a prominent part in bringing Indian haiku to the forefront. There is also P.K. Padhy and many others. New talent is emerging everyday as more and more people are getting interested in haiku and without singling out any one of them, I'd just say that some of them are worth watching out for! It all looks very promising!

RA: Please share with us the honors you have won in short forms poetry along with the honored poems.

SA: Of the few awards I have received in the course of my brief haiku journey, The Herons Nest editor's choice award in June 2011, ranks very high. The poem was:
shanty town-
the jagged edges
of moonlight
I also won the Calico Cat international bilingual haiku contest held by Origa in memory of Hortensia Anderson, in the same year for the following poem:
the last poem
signed with a flourish—
falling star
And the following poem received a HM in the Vancouver cherry blossom festival, 2011
even
on a dented beer-can…
cherry blossoms
There are some other minor awards that I picked up along the way and I was placed first in the Sketchbook kukai contest, March-April 2011; then placed first twice in the International kukai contest held by Rita Odeh, the poet from Israel; though they are nothing much to crow about.

RA: From your reading kindly share one haiku, one senryu and one tanka that are most favourites to you.

SA: It's virtually impossible to pick favorites as one reads hundreds of haiku and tanka all the time; but I'll try picking a few randomly. These must be among the best of the respective genres.
Haiku:
no thought
of air until
that blue feather's drift

- Peggy Willis Lyles
Senryu:
sand castles…
her youngest daughter
calls me daddy

- Colin Stewart Jones
Tanka:
for fifty years
through all the weathers
of the mind,
I have loved the world with my eye
…if nothing else, that

- Larry Kimmel
RA: Sanjuktaa, many thanks for this wonderful interview. All the best for the future publications and awards.