Rajender Krishnan, a multifaceted personality, believes in freedom of expression. He is passionate about Kabir and poetry is one of his favorite subjects. He ushered a new cyber platform for creative writers via boloji.com in 1997. Rajender's sweet and elegant poetic cadence is amazingly attractive. His poetic style is completely new and it engages a thinking mind. I have been following RK's poetry for some time and have enjoyed reading and reviewing his first collection "Solitude and Other Poems". To satiate my curiosity we engaged ourselves in an online question-answer session – a conversation.
JS: Hello! When did you start writing poems in English?

RK: I started scribbling in mid-seventies.

JS: Where did you spend your childhood? Who are the poets you read during your childhood?

RK: I was born in Delhi and grew up there. Kabir, Tagore, Nirala, Dinkar, Subhadra Kumari Chauhan, Wordsworth, Shelly, Keats are the poets that I read during my childhood.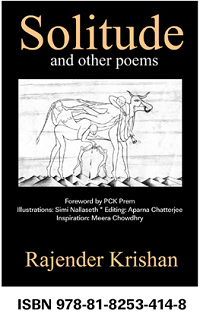 JS: PCK Prem in his Foreword to Solitude and Other Poems says, "The poet wishes a happy future for everyone and desires moksha for man engaged in mundane." How do you view this observation?

RK: Happiness and liberation is the birthright of everyone.

JS: Amitabh Mitra, a noted poet/artist/critic from South Africa rates your poems as "an absolutely new feel."...What is the secret of this?

RK: Amitabh finds newness because my scribbles do not follow a specific genre.

JS: Some of your poems deal with "modern consumer life which is unique in many ways." Why is this sordid presentation of modern life?

RK: We are living in a competitive world burdened by tumult and turmoil. One cannot turn a blind eye to it.

JS: Is poetry always spontaneous overflow of powerful feelings?

RK: For professional writers, all writings can be a conscious work. My expressions are simply my observations and introspections of issues that touch me deeply.

JS: Sunil Sharma, a renowned critic/writer captures you as "His style is completely NEW." Do you have any mentor? Did you read postmodern poems from different sources?

RK: Sunil is a kind soul. He sees newness in everything. I have no mentor though I am deeply inspired by Kabir, Nanak and Tulsidas. I do read poems of several poets who post on Boloji.

JS: Where do you stay these days?

RK: I live in New York, USA.
JS: Do you write for a particular audience?

RK: First of all I don't write. Words flow and the flow is an expression of my wonder, exploration, anxieties and gratitude. The flow perhaps is a mirror in which I see the reflection of my inner self.

JS: You have ushered a new cyber platform for creative writers via boloji.com. How did it come to your mind?

RK: September 1, 1999, I started the website as a single page containing translation and explanation of the Hindu Aarti "Om Jai Jagdish Hare". After the first page, then came a few of my poems and I started posting my understanding on Kabir. My wife, Meera, started writing articles on Family Matters. Her articles have been an indirect dialogue with our children (who today are 34 and 33 and themselves parents) and also expressions of a mother based on her personal experience. Although in its infancy, Boloji to me personally became my third child. Soon we started getting emails from a lot of people, commenting, encouraging and also showing interest to become a part of Boloji. With the active participation of many capable writers, Boloji transformed from our personal blog to a platform.
JS: For all-time famous P.B. Shelley, "poets ... are not only the authors of language and of music, of the dance, and architecture, and statuary, and painting; they are the institutors of laws, and the founders of civil society..." Do you think it holds TRUTH even today when the world is a different place to live in?

RK: Shelly may be right. In my opinion, poetry cannot be defined.

JS: Would you share with us your very act of writing/composing a poem?

RK: For me it is not writing. It is simply a spontaneous expression. It just happens.

JS: Can writing/composing poems be taught?

RK: I am not qualified to comment on it.

JS: You have travelled a lot; read and reviewed poems from several sources. Do you think an Indian writer writes differently than Keats, Sylvia Plath, Yeats or Eliot?

RK: All writers are primarily expressing their own observations and experiences. How can they be different? The apparent difference is only in the command of the language and individual perception.
JS: You depict your home of thoughts in a language that is understandable, soothingly global and lucid. Do you write for any particular audience in mind?

RK: I have no specific audience in mind.

JS: Are you bilingual?

RK: My "writings" are mostly in English. I do dabble in Hindi sometimes.

JS: Do you write in Indian/American English?

RK: American English, perhaps.

JS: You include a lot of Indian native expressions and terms. Don't you think that these create cultural and linguistic distance between the poet and a global reader? Is it deliberate?

RK: Native terms can only be expressed that way and I don't think it creates any cultural or linguistic distance. There are no boundaries in real culture or language – as both are mere tools of expression of love and life.

JS: Thank you for sharing your thoughts for all of us. I remain grateful to you! Wish you good luck for your upcoming book of poems.