Accidental Apprentice: Vikas Swarup, Simon & Schuster, Rs. 350, pp. 436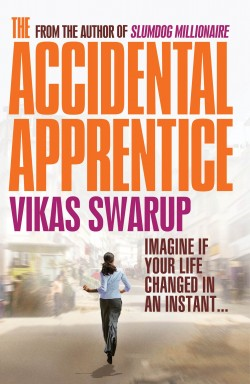 'Imagine your life changed in an instant…' says the book cover of recent Vikas Swarup's novel 'Accidental Apprentice'. Yes. As one turns the pages of this slightly massive book understands anything life could bring you at any time through the interesting and adventurous journey of Sapna Sinha, a nondescript sales girl of an electronic boutique in downtown Delhi.

Sapna who was relocated to Delhi with her fragile mother and ambitious younger sister leaving a happy and sour past at Nainital to a moderate living at Delhi was one fine evening accosted by a billionaire business tycoon Vinay Mohan Acharya with a strange and unbelievable offer to be the CEO of his empire with a catch that she had to pass the seven tests of her courage, capability and wisdom in the journey of her life.

She was least interested at the crazy proposal of the weird old man but ultimately she was uncannily pushed into the vortex of the vagaries of life and the business man's machinations. Sapna proved to be a leader; honest in character, courageous, focused, and decisive with every quality a successful CEO should possess and comes out in flying colors. But, what she least expected was that she would become a pan in the game of the two warring business brothers and a ghost from the past kept following her insidiously.

The last test turned out to too bizarre by landing her with a murder charge in jail. This section is also a test for the readers because of the incredible crazy run and hot chase covering some fifty or so pages to reach the dramatic denouncement.

Yet, the book makes a compelling reading because here the protagonist is a young lady like those of Sidney Sheldon novels, who faces all problems normally an action hero would face in movies and novels. With the changing business and professional scenarios, it is not impossible to find Sapna amongst us.

Intriguingly, the story starts with the sentence 'In life, you never get what you deserve: you get what you negotiate' but ends up with 'Life does not always give us what we desire, but eventually it does give what we deserve'.

The language, as usual is good and the narrative is racy not allowing the reader to keep the book down. Well, if you are a Vikas Swarup fan you are sure to like and enjoy the travails and tribulations of the 'Accidental Apprentice' Sapna Sinha.