Bonsaied Rhapsodies
Bonsaied Rhapsodies,Santanu Halder, Rochak Publishing,Allahabad,2013,Rs.200/=,Pp61
A poem is a verbal composition designed to convey lived experiences, ideas, or emotions in an imaginative way with the help of appropriate parameters. A good poem is always a cool shelter for a tired traveller walking in life's usual path. It is a matter of pride that younger generation in India is bubbling with poems; they are the saviour of this glorious legacy handed down to them. Santanu Halder doesn't live in a metro city, nor even a big town. Bongaon is situated on the banks of Ichhamoti river nearing the board with Bangladesh. The poet embraces profound solitude and deep silence of the place and the gentle sweet flow of the river as he establishes a close bond with all things living there.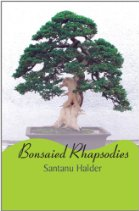 Bonsaied Rhapsodies has a 'healing' and 'aesthetic effect' as Sunil Sharma, a noted poet/novelist academic exclaims in the back cover of the beautifully produced book. Santanu's energy and gusto are inseparable. He converts his energy into poetic exercise with an elegant cadence.

Santanu registers his name is a poet in English with his maiden volume containing fifty well crafted poems.Dr. A.V. Koshy in his Foreword to the book rightly observes, 'I find Santanu a careful poet(.)" So is Santanu. Santanu's education and familiarity with English poets contributed a lot to his poetic inside and he is fully aware of it. He has wedded his knowledge and his artistic intent into an inviting discourse tinged with sweet cadence and rhythm. Bonsaied Rhapsodies is a brilliant poetic announcement of a poet who believes in 'return to nature' and practises it. Santanu tries to define poetry following the footprints of his predecessors in the genre:

"Poetry is like a river
which runs through my blood
an outburst of emotion
which submerges me in a flood(.)"(p.25, 'Poetry')

Poetry and river are inseparable. One completes the other. Variegated experiences in life speak through the poetic lines of Santanu who presents things in a simple and lucid manner. I'm impressed with the poet's artistic ability to handle images. Poems like 'The Joy of A Bonsaied Heart' and 'Icarian Tragedy' dazzle with both concrete and abstract images. Santanu doesn't use complicated mythological allusions or metaphysical conceits. He leaves things plain and simple so his poems engage a sensitive reader. I really would like to recommend his poems for children.

There is an easy flow that embraces Santanu's poems. When we read them they invite us to read again and again: "the expression of the imagination". To me, that is the essence good writing.

"My pen chronicles a new dawn
a dawn full of promises,
it strives at the particles of light
in the midst of darkness
in the bosom of gloom."(p.26, 'My Pen Chronicles a New Dawn')

He is a friend's delight on a rainy day! He is a teacher by profession who nurtures and moulds soft and tender human beings. His experiences are real and rooted in ground. The future is contained within the present, as the plant within the seed. The poet has dreams to share with us. Many of us have forgotten to dream at night. Santanu can!! That's why he is a visionary who ushers fresh ideas for a better tomorrow. In this collection he has a poem on a little boy. The boy is a recurring symbol for the poet. Someday, the boy will be an able bodied man who can restore peace and order in a civil society. Santanu is frank in expression when he states that he writes poems because "The pains which I got." His poems are poetics of pain and disorder in mind. Writing poetry is a cleansing experience ; it dignifies a soul that is awake. Movement between sublime portrayals of decay and death and the beauty of life's eternal flow of continuance, places Santanu into concept of the "negative dialectic." In the poem 'Life'(p.51) he consoles himself , "we live our lives." His poetic voice delves into the question of identity, Indian, Bengali and as a poet only to transcend limits and borders and become, above all, human.

This maiden collection by Santanu Halder is a welcome addition to the world of poetry and an worthy entry to the personal and library collections. Happy reading....

18-Aug-2013
More by : Prof. Jaydeep Sarangi
---
---
| | | |
| --- | --- | --- |
| | An wonderful one..thought-provoking. | |
---
| | | |
| --- | --- | --- |
| | It is nice review on Santanu Halder's book The deep perception of Santanu is profoundly analysed by another poet academician Dr.Jaydeep Sharangi. Nice.. it is really and will inspire many to read the poems which are simply wonderful in conception and smart in its thought content. | |
---