The Poet as a Faded Romantic and his poetry
− A Study in Faded Romanticism
"But residues of meaning still remain,
As darkest myths meander through the pain
Towards a final formula of light.
I, too, reject that clarity of sight:
What cannot be explained, do not explain.

The mundane language of the senses sings
Its own interpretations. Common things
Become, by virtue of their commonness,
An argument against their nakedness
That dies of cold to find the truth it brings."
− Nissim Ezekiel in Philosophy
(Nissim Ezekiel, Collected Poems, Oxford University Press, New Delhi, Third impression, 2007, p. 129)

"Friends,
our dear sister
is departing for foreign
in two three days,
and
we are meeting today
to wish her bon voyage.

You are all knowing, friends,
what sweetness is in Miss Pushpa.
I don't mean only external sweetness
but internal sweetness.
Miss Pushpa is smiling and smiling
even for no reason
but simply because she is feeling."
− Nissim Ezekiel in Goodbye Party for Miss Pushpa T.S. (Ibid, p.190)

"A poet-rascal-clown was born,
The frightened child who would not eat
Or sleep, a boy of meagre bone.
He never learnt to fly a kite,
His borrowed top refused to spin.

I went to Roman Catholic school,
A mugging Jew among the wolves.
They told me I had killed the Christ,
That year I won the scripture prize.
A Muslim sportsman boxed my ears."
− Nissim Ezekiel in Background, Casually (Ibid, p.179)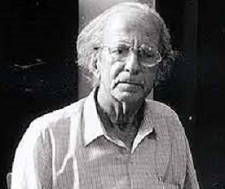 Nissim Ezekiel (1924-2004) is one of those poets of modern Indian English poetry, more specially of the post-1947 period who are generally credited with giving some dimension and shape, literary vigour and verve to this nondescript evolving genre of literature, but his contribution is as such that the new critics even go to the extent calling him the father of modernism, which we are not sure of whether right to designate so or not. Whatever be their perception with regard to him, but he is definitely one who matters more for us and the readers of modern Indian English poetry. But it should be kept in mind that Harindranath had still been alive to continue as an old-timer. Had time favoured, Burjor Paymaster, Adi K.Sett and others would have grown. P.Lal reviewed the book of Burjor Paymaster negatively. Whatever be that, we do not want to discuss in a supposed to be a way of interpretation.
Born in a Bene-Israeli family, Nissim took his early education, graduated from Wilson College and even did his Master's degree in English from Bombay University before moving to London. Just like R.Parthasarathy, he thought of becoming an Englishman, after settling there, but returned back to start his career fresh. He taught for some time as the professor of English in a college besides doing other jobs before moving to Bombay University English Dept., where he used to teach American literature and also served as the Head too for some time. Side by side he used to do freelance literary journalism even by contributing features and opinions, sending poems and editing literary journals which supported him most.

As a poet, Nissim had not been so much prolific, just went on peddling poems, trickling one after another, taking a long time of writing. The Bombayan circle of poets and critics supported each other and he too had been the editor of the Indian P.E.N. for quite a long time and this added to his name and fame. Though psychology and philosophy propped the things up, he has not so much to include in, as he felt almost outsiderish, an alienation feeling, which he used to suffer from. Though he dwelled in here, but was apart from Indian culture, philosophy, spirituality, thought and tradition, Indianism did not lure him at all, but instead of it was Indian and he could not banish it.
Long back in 1952, he dared to publish poetry in English, to put Indian English poetry on the world map through his Western acquaintances. He just went on exploring the theme of alienation, outsiderishness and so on. Something he too could not avoid instead of being a Jew, as his forefathers came from and settled here. Nissim is first of all a Bene-Isreali, secondly a Bombayan, thirdly a professor of Bombay, fourthly an editor, all these make up his mind and add to his poetic personality before being an ironist. It is true that being an outsider, he would have undergone something unnatural. But the cosmopolitan space would not stand as a barrier in coming to terms. But he chose to stay away like a foreigner, one of a different clime and environment. Instead of drawbacks and lacunae, he does the caricature in a better way, polished and good humoured, entertains and chuckles holding the tongue in cheek.

As a romantic, he is a faded romantic and his poetry a study in faded romanticism. The young man wants to love as well as repulses too and his retreat is not at all Henry Vaughanian, but quite different from. The poet in a very modern idiom distorts and derives from the Elizabethan song-writers, lyrists and poets. Side by side he is already under the influences of the modern poets. His love for the Gujarati girl, the Cuban dancer, talk of marriage and honeymoon and so on speak highly of all those things. Outwardly he shows it to be a great modern, but inwardly he is conservative and orthodox, when he talks of himself as a mugging Jew. In his poetry, hear we the music of the hoteliers and hostellers, English-medium educated boys and girls speaking in English and joking and this is the point of his difference with Aurobindo giving the sadhaka's experiences, but disheartening with the fusion of Oriental and Occidental myths. His joys are the joys of partying and club-visiting. The poet too seems to have refreshed his spoken English at the airport. Wit and humour save him from being a faded artist. Though he may not be so colourful, but chuckles no doubt; keeps smiling critically and ironically. Maybe the persona or protagonist a lover or an addict!

A Woman Observed shows it how art-loving the poet is; an art critic as well as a visitor to art galleries, but under the pretext of that, he is sensual and bodily too, a lover of flesh and blood, the glow shine of it, reading Vatsyayana's Kamasutra at midnight, hiding the text under a pillow, averting the gaze and calling it classical and artistic, yoga tending, demonstrating all his worldliness through the dharma-artha-kama-and-moksha motif,
"The pregnant woman
in the art gallery
stares at the nudes
that line the neutral wall:
her consternation
frightens me. The fear
of nakedness offends
the eye. I am ashamed
to witness it. The life
in the woman's belly
swelling her erotic lines
depresses me, the seed
and source denied by this
expression on her face."

(Vilas Sarang, Edited by, Indian English Poetry Since 1950: An Anthology, Disha Books, Orient Longman, Hyderabad, Reprinted 2007, p.43)
We generally come across such a scene, but keep the things muffled. But Nissim makes us burst into laughter just like a naughty and indecent boy. The girl's helplessness he understands it not. Under the pretext of visiting the art gallery, he sees not the paintings works, sketches and drawing on display, but the pregnant woman viewing the nudes. If this be the thing, he will definitely like to see the blues.

Philosophy and psychology are the assets of his poetry which go on adding to his poetic treasure. The first two stanzas from the poem Philosophy themselves certify it what the poet means to say hereunder,
"There is a place to which I often go,
Not by planning to, but by a flow
Away from all existence, to a cold
Lucidity, whose will is uncontrolled.
Here, the mills of God are never slow.

The landscape in its geological prime
Dissolves to show its quintessential slime.
A million stars are blotted out. I think
Of each historic passion as a blink
That happened to the sad eye of Time."
(Collected Poems, Ibid, p.129)
Enterprise, Marriage and Night of the Scorpion are the three poems which have been included in V.K. Gokak's anthology which appeared for the first time in 1970. Again, the second edition appeared in 1978. Night of The Scorpion as a poem is one of the most representative poems of Ezekiel where the scorpion is the spectacle of his faith and doubt,
"I remember the night my mother
was stung by a scorpion. Ten hours
of steady rain had driven him
to crawl beneath a sack of rice.
Parting with his poison flash
of diabolic tail in the dark room --
he risked the rain again.
The peasants came like swarms of flies
and buzzed the name of God a hundred times
to paralyse the Evil One."

(Vinayak Krishna Gokak Edited and Selected By, The Golden Treasury of Indo-Anglian Poetry, Sahitya Akademi, New Delhi, Reprinted 2006, p. 268-69)
The poet remembers the night when his mother was stung by a scorpion and thereafter started the whole process of suffering and recovery to senses.
Nissim Ezekiel is one such poet who suffered the alienation feeling most, some sort of rootlessness and uneasiness in being here and the nativity question baffled him as for to be called Indian and he was not, Indian in sentiment, feeling and emotion, thought, culture and tradition racially, as his mind dwelt it afar. Indian philosophy, religion, metaphysics, spirituality, morality and ethics never lured him so with its Vedism, Upanishadism and Puranism, nor did the things of Indology and Oriental studies, as most of the modern Indian poets are today. A modern poet, he was of the post-1947 period, the post-fifties, as he started writing from then, a Bombayan city dweller of cosmopolitan Bombay, of airports and shipyards, living in Bombay and reaming from and the India of villages with its soul in them never the enchantment of Nissim, who chose to dwell far from and this took him to England and returned back to after spending three and a half years there, studying Philosophy at Birbeck College, London. Before embarking upon these solid texts, he also authored a few. Generally the critics begin with them not. A Time To Change (1952), Sixty Poems (1953), The Third (1958), The Unfinished Man (1960), The Exact Name (1965), Hymns in Darkness (1976), Latter-Day Psalms (1982), the works published from time to time, tell of his literary attainment into the poetic field laced with wit, irony and humour and caricature, writing about Indianness and its hollow ethics, society, culture and jokes, realistic portrayal and discussion and his understanding of India just like an outsider's viewpoint.

A Maharashtrian Jew, instead of his attachment with the city of his birth, the growing island that saw he, he marked the nation as an alien insider and his view was outsiderish and if not, he was like the modern, hollow man, shallow man, exulting in urbanization, industrialization and commercialization, talking of city life and culture. Professorship and literary journalism continued side by side and this added to in getting name and fame.

A Time to Change, On an African Mask, Communication, The Double Horror, The Worm, An Affair, In Emptiness, History, Poetry, Something To Pursue, Morning Prayer, A Word for the Wind, The Great, Advice, Occupation, The Old Woman, And God Revealed, Commitment, Birth, To a Certain Lady, Failure, Year's End, Planning, Reading, eclaration, Encounter, etc. are the poems which lie in incorporated in A Time To Change collection. Mostly the simple poems of as simple heart are therein, meaningful or meaningless in their stature. Modernity, modern life and culture is mainly the play of Ezekiel. There is nothing to feel deeply, just to say what it is in mind. A modern man's ruminations are there in his poetry. He himself has stated it that as he is convent-educated so there is problem at all in taking English to be his own and it is his priority of being conversant with. The spoken English which he caricatures too is the poetic idiom of Nissim and he has never risen above this. Just in a simple way, he expresses the simple things. Private and personal, he goes describing in his own way. A Poem of Dedication, The Stone, The Crows, Song, Situation, Lines, A Visitor, Portrait, For William Carlos Williams, Marriage Poem, Boss, Two Nights of Love, etc. are the poems which figure in Sixty Poems collection. Portrait, Division, For Her, Waking, Admission, Memo for a Venture, Advice, Declaration, Tonight, etc. are the poems of The Third work of poetry. Counsel, Poverty Poem, Healers, Hangover, Jewish Wedding in Bombay, Minority Poem, etc. are the poems lie in included in Latter-Day Psalms collection of poems.
Nissim Ezekiel as a poet has evolved much in course of time as the works of then times suggest it. George Sampson's The Concise Cambridge History of English Literature but edited with further chapters by R.C. Churchill in 1968 and other texts published during that period tell of it. Even J.N. Mundra and C.L. Sahni and W.R. Goodman's literary essays books do not mention him as a new writer. K.R. Srinivasa Iyengar too includes him in the later editions of his book otherwise some others figure in as the new poets. One may talk highly about these modern poets, but what it is more problematic is this that the books by these all Indian English poets are unavailable. The books of an Indian English poet cannot be found in the market and book-stalls. Leave those which have been promoted keeping in view advertisement and sale. Nissim Ezekiel had not been a great poet, but has become, as the critics too supported him and the Indians too had been in search of a poet-spokesman and if there had been other poets, we supported them not. After having discussed Shahid Suhrawardy, Manjeri S.Isvaran, P.R. Kaikini, Krishan Shungloo, Adi K.Sett and others, Prof. K.R. Srinivasa Iyengar discusses Nissim and other companions in The New Poets chapter of Indian Writing in English.

Colloquial English, broken and conversational speech is the chief priority of the poet and he uses and distorts the idiom to create humour. In 'Goodbye Party for Miss Pushpa T.S.', the poet too keeps smiling, not only Pushpa. He even goes to the airport to see her off, but we are not sure whether he does the ta-ta, bye-bye to her or not, whether the relatives saw him doing or not. Or, maybe there had been a hushed love-affair in between. If that is not, why will one see off going to the airport? But if to see it otherwise, just for courtesy's sake, he went to see off the Gujarati girl speaking in English flying off to, departing for foreign with a Gujarati intonation of her own and Nissim heard her speaking or gave some time to her as himself had the foreign-returned experience with him.

Though he was a poet mostly, he wrote one slender book of playlets and just on the basis of that thinner stuff, we call him a playwright and this happens in Indian English writings as there is a dearth of and English is a foreign tongue and it is difficult to master a foreign language and to write in an alien tongue though many of the good oldies did not get a chance, nor did they dare to show as the age had not been in their favour. Then the people used to say, one should write in one's own mother tongue, but the definition changed drastically in the changed scenario and context, Editor C.M. Mandy gave a chance to many of the new writers and their bad verses with a view to imparting strength and verve, to promote Indian English verse and Nissim too served as an assistant editor, later on edited Imprint and the Indian P.E.N. It took time in developing, Nissim went on trying to hone in his sporadically written verses, meagre in output, not at all bulky, some poems meaningful, some meaningless and as thus peddled he the stuffs of his own, applying modern contexts of deliberation, approach and assimilation, fact and fiction, wit and intellect. Psychology and philosophy added to his idea of new poetry and he tried to think in a novel way, Indian or un-Indian or otherwise. Had the copies of Imprint, the Indian P.E.N. and the Illustrated Weekly of India been with us, the things could have been detailed otherwise.
We generally ask with regard to him, how far Indian is he in his picturisation and presentation of India, Indian ethos and milieu, what is Indian in his poetry and it is the theme of Indianness, ironical and realistic, which finally bails him out and it is true he failed to understand the ethos of India, but has portrayed it realistically like a Western man, seeing and presenting and cracking the joke and humour was his spirit. Instead of his frailties and foibles, he was a great poet as he contributed to an evolving literature, came of age, added to realistically and ironically, bagged the Sahitya Akdemi Award in 1983 and the Padma Shri in 1988, a notable acknowledgement of his creative contribution, a formerly head of the dept of English of Mithibhai College from 1961 to 72 before switching over to Bombay Univ. English Dept. finally and taught for a short tenure at the Univ of Leeds and the Univ of Pondicherry as visiting professor, worked as broadcaster on literature and arts for some time for All Indian Radio; an art critic, an editor, a prose writer he was writing conversationally-inspired poetry in a very technical and spirited way.

An overview of Selected Prose presents before us the random reflections of Nissim Ezekiel. On Poetry, How a Poem is Written, To Revise or not to Revise, Poetry as Knowledge, Poetry and Philosophy, Philosophy of the Literary Man, On Art and Culture, Art Appreciation and Criticism: A Statement, Some Problems of Modern Indian Culture, Naipaul's India and Mine, On Life and Thought, Uncertain Certainties, On Books, etc. are the contents. This book bridges a gap in perception by arranging together five sections entitled 'On Poetry,' 'On Philosophy,' 'On Art and Culture,' 'On Life and Thought,' and 'On Books.'

The moment when as we start reading Nissim Ezekiel, exactly at the same people start asking About his identity whether a foreigner as the name suggests it to be and thereafter if he resides, how much Indian is he in his theme and writing, relating to the selections of themes. Alienated from Indian ethos, myth and mysticism, philosophy, spirituality and metaphysics, nativity, historicity and narrativity, he explores the things of personal relationships in his own way rather than taking any interest in Indian stuffs. A Jew conventional and conservative, he plods in his way, barring the humours and jokes he does outside.
Nissim Ezekiel's poetry suffers from a sense of belonging, whereto and for what? Who is he writing poetry, writing from where and for whom? His audience is a Western audience and he trying his hands to be deft and controlled as because has taken a long time in to evolve a corpus of his own. Just like an outsider, which even a foreigner does not, he viewed India and took it for an assessment. No traces of Indian philosophy, history, culture, spirituality, religion, ethics, theology, myth, mysticism, this gives you a picture of how much orthodox would he have been? How much negative in his outlook and presentation? Even if Aldous Huxley has written an essay named Benares as a visiting tourist, E.M. Forster in his A Passage to India and Matthew Arnold his essay On The Modern Element In Literature quoting from and starting with a quote of the on-going dialogue between Pourna and Buddha, but Nissim takes India just as a conservative fellow and there is minorityism. You live in India and you cannot sing of her, how can it be? There must be something of the culture of the land, ancient thought and tradition of it which is perhaps missing in him. He has of course depicted a modern India presented in all its ugliness, bare realism just for humour's sake, irony and wit. The heart of ancient India, Nissim could not understand, the rock-built temples with the nautch girls or hosts saying with the folded hands, 'Swagatam' (Welcome). The heartbeat of modern India, urban and metropolitan may be it there in him which he has come to mark in free mix-ups, parties, clubs, theatres, cinema halls, parks, platforms, airports, marketing complexes, office places and other busy and entertainment establishments. At least Nissim could have changed his heart. But something of karma-dharma, bhoga and the path of karma-yoga definitely struck him as he talks of these in a muffled voice.

Enterprise is the name of the poem where the poet speaking of a joint venture, the earlier measured successes and gained through and milestones reached in a shorter time, results showing for future-time success stories, but the same succumbs to human frailty, weakness, suspense and doubt,
It started as a pilgrimage
Exalting minds and making all
The burdens light. The second stage
Explored but did not test the call.
The sun beat down to match our rage.
(V.K.Gokak, edited, ibid, p. 267)
The third stanza shows the fading of exaltation and exhilaration; the fading of all romance and colouring,
But when the differences arose
On how to cross a desert patch,
We lost a friend whose stylish prose
Was quite the best of all our batch.
A shadow falls on us − and grows.
(Ibid)
All the dreams seen too vanish away finally. The enterprise which came off as per their expectation and high hope tottered and fell down miserably. Just for human competition, doubt, suspense, enmity, malice and rivalry, the noble edifice which was began, disintegrated that, showing it in full, united we stand and divided we fall. Differences in opinion finished it all what it was good. The dreams shattered as glass pieces is the best image to present it.

Here in this stanza from Poet, Lover, Birdwatcher, he compares poetry to bird-watching and love-making,
"To force the pace and never to be still
Is not the way of those who study birds
Or women. The best poets wait for words.
The hunt is not an exercise of will
But patient love relaxing on a hill
To note the movement of a timid wing;
Until the one who knows that she is loved
No longer waits but risks surrendering −
In this the poet finds his moral proved
Who never spoke before his spirit moved."
(K.S.Ramamurti, Edited, Twenty-five Indian Poets in English, Macmillan India Limited, Reprinted 1996, p.127)
Poetry has here born out of D.H.Lawrence's love of Lady Chatterley'sLover and Salim Ali's love of ornithology. Similarly the new poet seems to be waiting for the best words to come to, going into the footsteps of Coleridge or taking opium.

There is something of Hindu philosophy of life, as that of bhoga and karma hereunder when the poet talks of the previous sin and its mitigation through the speeches of the gathering crowds in Night of The Scorpion,
"May he sit still, they said
May the sins of your previous birth
be burned away tonight, they said.
May your suffering decrease
the misfortunes of your next birth, they said.
May the sum of all evil
balanced in this unreal world
against the sum of good
become diminished by your pain.
May the poison purify your flesh
of desire, and your spirit of ambition,
they said, and they sat around
on the floor with my mother in the centre,
the peace of understanding on each face."
(V.K. Gokak, The Golden Treasury, ibid, p.269)
The Roman mob of Julius Caesar not, nor the Jewish mob, but the villagerly Hindu mob of Night of the Scorpion tell the things here.

The first two stanzas from the poem Marriage tell of the jocund presentation and picturisation of the poet, what it happens in love and marriage, be it a love-marriage or an arranged marriage, the heart in heart talks and the hand in hand moves, like the people feeling electro-magnetic sensations and the impressions forming,
"Lovers when they marry face
Eternity with touching grace,
Complacent at being fated
Never to be separated.

The bride is always pretty, the groom
A lucky man. The darkened room
Roars out the joy of flesh and blood.
The use of nakedness is good."
(V.K. Gokak, ibid, p.268)
Nissim is a master love-maker, a romancer chuckling in love, under the impact of it, but not openly, in a subdued tone of expression. He cannot propose before, just in the dark room of the studio he can reflect over the images.

Nissim as a lover is Hamletian, to be or not to be, between the two horns of a dilemma, should he love or not. Such a wavering is not good at all. Somewhere the things of love-marriage please him and somewhere those of an arranged marriage through a match-maker. We do not know what sort of man he is!

'The Couple' as a definitely makes a good reading, but the love-talk relates to man-woman relationship, as the characters of D.H. Lawence's do, as the drunk man and woman whisper in the Araby fair of James Joyce at midnight and the protagonist who has arrived late feeling nonplussed to see it all and that is why leaving the place in a huff,
"You are a wonderful woman, he said,
and she laughed happily,
having heard it before from many men
all trapped in the desire
to see her naked
and to know how she surrendered
who was so hard and vain.
In that moment of mutual deception,
she was truly quite beautiful
and almost lovable.
She did it prettily enough,
demonstrating
childlike glee,
a trick or two."
(Vilas Sarang, Edited, ibid, p.44)
A modern poet of the modern age, he takes the things in his own stride. Modernity and the sense of modernism is the key-word of his poetry and he basks in that sunshine. Had he not been to England, had he not got his education in a convent school and had the opportunities in journalism been not, he could not have reached the pinnacles of glory. Time, situation and circumstance too had been a factor behind his growth and development. Bombay too offered the best possible scopes to the poet through its cosmopolitanism and marine connectivity. A poem to Nissim is an episode finished in an hour or two, something said precisely or maybe it something more than that. His history of idea is like the one Daruwalla holds it and to define in such a way is no doubt an extraordinary penetration. Sometimes he turns theological and does the prayer, but an egoist's prayer cannot enlighten upon so much and the psalms he talks are not the Longfellowian psalms of life. Nissim is not a yogi, but a bhogi doing the prayer.

His sense of humour and caricature is there again in the poem named The Professor,
"Remember me? I am Professor Sheth.
Once I taught you geography. Now
I am retired, though my health is good.
My wife died some years back.
By God's grace, all my children
Are well settled in life.
One is Sales Manager,
One is Bank Manager,
Both have cars."
(Collected Poems, ibid, p.238)